Tessera Technologies, Inc. (NASDAQ:TSRA) has an activist shareholder catalyst for upside share appreciation. The Chief Executive Officer (CEO) Dr. Robert A. Young has a personal financial interest to spinoff of a Tessera business unit by March 15, 2015. Dr. Young will receive, if a spinoff occurs, an immediate vesting of 550,000 shares at a strike price of $13.71.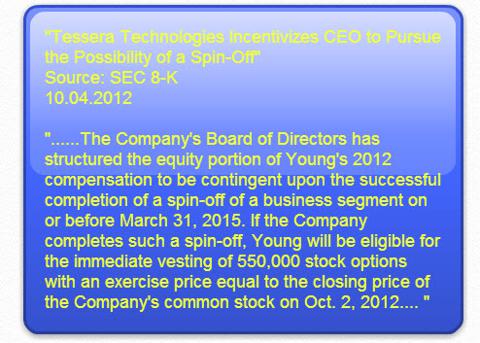 Spinoff
Shareholder Activism
In 2011, Tessera came under pressure from activist investors to stanch ongoing losses in its DigitalOptics business, to more aggressively push to capitalize on the $9 billion mobile digital camera opportunity and to explore strategic options to unlock shareholder value by exploring a spinoff of part of the company's business.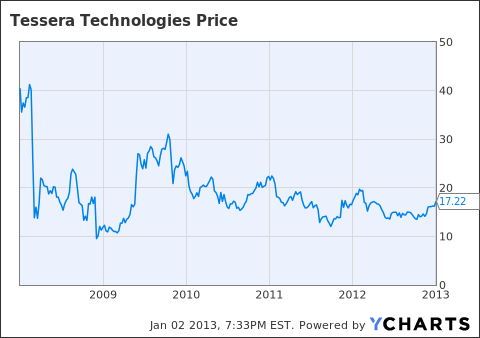 Corporate Response
In response, the company made significant management changes, hired an outside consultant to advise it on spinoff options and publicly announced its willingness to take concrete actions to address shareholder concerns. Tessera followed up by replacing half of its senior management team, hiring new executives to push the company forward and adding two new Directors to its Board.
In August 2012, Tessera appointed Rick Neely as the company's new chief financial officer. Neely brings over 30 years of management and finance experience in technology companies with global manufacturing and sales.
Also in August 2012, Tessera appointed Rick Hill and Tim Stultz to the board, both of whom are industry veterans with deep experience in building and operating technology companies, and could help DigitalOptics turn from a loss-making entity to a profitable enterprise that fully capitalizes on the digital camera opportunities ahead.
In October 2012, Tessera amended its CEO's compensation package with significant incentives (worth $7.5 million or more in added compensation) tied to a successful spinoff by March 15, 2015. This action virtually confirms the company's intent to spinoff some of its operations over the next few years.
Restructuring to Focus on MEMS Camera Modules
More recently, in November 2012, Tessera announced that DigitalOptics will redouble its focus on MEMS camera modules and, over the next few quarters, gradually reduce its workforce and operational activities that do not directly support this focus. This reorganization will cost $4 million to $5 million in the 4th quarter 2012, and $1 million to $2 million in 1st quarter 2013, and deliver annualized cost savings of $15 million or more.
In line with this new focus, in December 2012, DigitalOptics hired James N. Chapman as Senior Vice President of Sales and Marketing. Chapman earlier served as CEO of NuCore Technology, a leading global developer of digital and analog imaging devices for digital cameras, and his experience should considerably help DigitalOptics capitalize on the MEMS camera modules' opportunity.
Spinoff Next Steps
Over the next two years, the company will likely focus on restoring profitability to its DigitalOptics business, on streamlining its manufacturing operations in China and Taiwan, on developing a top tier list of MEMS customers in 2013 and beyond, and only then spinoff or sell DigitalOptics.
Tessera Technologies is a holding company with two operating businesses: Intellectual Property (IP) and DigitalOptics. The company's products and patents serve the computing, consumer optics and mobile markets with solutions for servers, personal computers, smartphones and digital camera. The company is based in San Jose, CA, and was founded in 1990.
Intellectual Property
Its IP business gets consistent royalty revenue from a portfolio of acquired and developed patents and supports an in-house R&D team focused on developing new patents for chip packaging, optical digital solutions and other electronics applications. Tessera's patent customers include the who's who of technology, with names like Intel, AMD, Siemens, Samsung, Sony and more, with over 60 billion chips (microprocessors that are the brains of computers) shipped with Tessera's IP.
DigitalOptics
Its DigitalOptics business is increasingly focusing on the $9 billion market for next-generation mobile phone cameras. The company intends to capitalize on this emerging market opportunity by introducing camera modules based on its MEMS technology (micro-electromechanical systems) that will make digital mobile cameras thinner, more accurate, faster and more power efficient -- for higher quality video and images. Tessera has since made significant progress, and is currently in talks with Tier One mobile handset manufacturers on adapting this technology.
Dividends
In May 2012, Tessera paid its first quarterly dividend of $0.10, with follow-up $0.10 dividend payments in September and December 2012. At $0.40 annualized and with shares trading at $17.19 as of January 2, 2013, Tessera shares offer a dividend yield of 2.4% and give the company a market capitalization of $897 million.
Quarterly Update
Intellectual Property
In the third quarter, the company's IP revenue was $57.9 million, boosted by a recent $19.9 million payment from Amkor Technology for infringement of Tessera patents. The company derives its IP revenue from royalties on patents used for semiconductor manufacturing, typically through long-term patent use licenses.
xFD for Intel Ultrabook, data storage, cloud computing
Tessera's significant recent wins include the adoption of its next-generation xFD technology (which more efficiently packages dual inline memory modules or DIMMs) for use with Intel's ultrabook.
The company is also in discussions with data storage and cloud computing vendors for use of its xFD DRAM packaging technology where it can deliver 30% more thermal efficiency than existing solutions and significantly reduce cooling costs and operating expenses by up to 50%.
DigitalOptics
Third quarter revenue from DigitalOptics was $14.8 million, of which $12.4 million was from sales of traditional camera modules. The company is currently focused on shipping its next-generation MEMS autofocus technology as a key differentiator for cameras in the mobile phone market. To that end, the company is in discussions with tier-one mobile phone makers and with China's leading OEMs to introduce this technology.
Q3 2012 Financials
The table below shows revenue contributions from both divisions. Total revenue for the third quarter was $72.7 million, above earlier guidance of between $66.5 million and $69 million, with an 80/20 split between IP and DigitalOptics. However, IP revenues growth of 15% was well below DigitalOptics' 64% year-over-year growth.
Overall, revenue grew 23% from the year ago quarter and 18% from the prior sequential quarter.
Third quarter IP revenue included royalties from Samsung Electronics and Hynix Semiconductor with renewed chip licensing agreements from Q2 2012. As mentioned earlier, IP revenue benefited significantly from Amkor's payment, but was offset by declining royalties from Micron Technology and Powertech Technology.
Increase in DigitalOptics' revenue was primarily from $9.6 million, contributed by its recently acquired manufacturing facility in Zhuhai, China. This revenue increase was partly offset by $3.2 million less in royalties related to its image enhancement technologies and weaker demand for its micro-optics products.
However, revenues were more than offset by operating expenses of $75.1 million, primarily due to higher cost of revenues as the company ramped up production of its camera modules in China, and a substantial rise in Research and Development (R&D), litigation and other operating expenses.
The company reported a net loss of $1.1 million, $0.02 per diluted share. This was down significantly from a loss of $44.7 million in the year ago quarter.
The company ended the quarter with cash, cash equivalents and investments of $465.9 million, down 5.4% from the prior quarter.
Total assets of $719 million and stockholders' equity of $667 million were significantly higher than total liabilities. Stockholders' equity included significant contributions from common stock sales and, to a lesser extent, retained earnings.
Over the nine months ended September 30, 2012, net cash from operations was $23.5 million, with $50.6 million from net sales of investments and $4.9 million used to pay dividends, net of cash received for equity.
In the quarter, the company spent $6.3 million to acquire property and equipment and $1.2 million to acquire additional intellectual property. In September 2012, the company paid $5.2 million in dividends of $0.10 per common share.
Summary
Tessera has challenges ahead, as well as significant opportunities. Fortunately, the company has sizable cash reserves that it can draw on to fund expansion of its MEMS camera modules business which, if done right, represents sizable market opportunity. The company's IP division appears to be doing well with innovations such as its xFD technology that's been incorporated into Intel ultrabooks and also appears compelling for data center applications. Though the company is serious about a spinoff, this outcome depends wholly on the success of its DigitalOptics business over the next few years. Success is by no means assured.
Should the company successfully operate to plan, its shares will deliver significant returns over the next three years and beyond. Investors should also watch carefully for the commercial acceptance of CAMS modules.
Management is aligned to create shareholder capital gains. As a shareholder, those words ring true to a winning investment.
Disclosure: I am long TSRA. I wrote this article myself, and it expresses my own opinions. I am not receiving compensation for it (other than from Seeking Alpha). I have no business relationship with any company whose stock is mentioned in this article.
Additional disclosure: I am long TSRA-shares and TSRA-call options.