By removing the uncertainty of Fiscal Cliff, investors cheered, and the market had a strong rally in the first trading day of 2013. Investors now turn their attention to the debt-ceiling as Senate Minority Leader Mitch McConnell called on the Senate to pass a debt-ceiling compromise by early February.
All three major indices continued the rally with Nasdaq led the gain again with 3.07% surge. S&P 500 followed with 2.54% increase while Dow Jones also achieved 2.35% rise. QQQ, SPY, and DIA all closed above their 50-day and 200-day Moving Averages. All sectors closed in green again, and the technology sector led the gain with 3.22% increase.
The market sentiment is driven by greed now with Fear & Greed Index at 79, increased from the previous close of 70. As reported by CBOE, the total put/call ratio for today was 0.97, and the index put/call ratio was 1.16. The equity put/call ratio was 0.55, and the CBOE volatility index (VIX) put/call ratio was 0.87. In the following, top stock had been identified through our daily options scanning process, with the scanning criteria where the daily call volume ratio was above 3.00 (3x of the average call volume) with a call volume above 10,000.
| | | | |
| --- | --- | --- | --- |
| Name (Ticker) | Call Volume | Average Call Volume | Daily Volume Ratio |
| Petroleo Brasileiro SA Petrobras (NYSE:PBR) | 31,627 | 10,156 | 3.11 |
Source: Schaeffer's Research
Petroleo Brasileiro SA Petrobras
PBR is a Brazil-based integrated oil and gas company, controlled by the Brazilian government. The company focuses on exploration and production for oil and gas in Brazilian offshore field. PBR operates 12 refineries in Brazil with a capacity of 2 million barrels a day and distributes refined products and natural gas throughout Brazil.
PBR appears to have a bright future with the discovery of vast oil and gas resources offshore Brazil; however, difficulty operations at more mature fields, potential government influence and development costs have added uncertainties to the outlook of PBR.
Latest Developments
On Jan 2, 2013, PBR announced that drilling has been completed in well 4-SPS-86B, located in block BM-S-8, in ultra-deep waters, in the pre-salt of Santos Basin. This is the third well drilled in the area of the Discovery Assessment Plan (PAD) of 1-BRSA-532A-SPS (Bem-te-vi). As reported,
"The various data collected from the well - logs, lateral cores, fluids and pressures -, as well as petrophysical analysis, combined with the expertise and experience of Petrobras in formation and long duration tests in pre-salt reservoirs, reinforce the expectation of an elevated oil flow potential in the reservoirs drilled. This will be confirmed with the ongoing exploratory activities in the area, which includes drilling an extension well in 2013, at which time it will be possible to assess the productivity of the reservoirs through a formation test."
On Dec. 19, 2012, PBR disclosed the targets of the Operating Costs Optimization Program, Procop, with potential savings of R$ 32 billion in the 2013-2016 period. As reported,
"This potential is now going to be gradually and progressively attained starting in 2013, according to initiatives planned in detail, and will allow Petrobras to lower its operating costs by R$ 32bn in the 2013- 2016 period. For comparison's sake, this amount is higher than the total investment portfolio of the Gas and Power segment (US$ 13.8 billion), higher than the divestment program (US$ 14.8 billion) and equivalent to the annual funding needs (US$ 16 - US$ 18 billion a year) considered in the PNG 2012-2016."
On the same day, PBR also confirmed the presence of oil at the Guando SW 1 well l, in the Upper Magdalena Valley, Tolima Department, Colombia. The Guando SW 1 well reached a total depth of 1,576 meters. Tests have confirmed the presence of oil of approximately 23,9º API and initial production rates of 500 barrels of oil per day. PBR also announced that it had reached agreement for the acquisition of a 100% stake in Araucaria Nitrogenados SA from Vale SA (NYSE:VALE). As reported,
"It is located in Araucaria, in the state of Parana in Brazil. The transaction value is BRL 234 million. Araucaria Nitrogenados SA has a production plant with the capacity of 700,000 tons per year of urea, 475 tons per year of ammonia and 450,000 cubic meters per year of Arla 32."
Earnings Estimates, Key Stats, and Valuation
Analysts are estimating an EPS of $0.59 with revenue of $39.12B for the quarter ending in December, 2012. Analysts are also predicting an EPS of $1.78 with revenue of $143.99B for full 2012 fiscal year. For 2013, analysts are projecting an EPS of $2.45 with revenue of $146.04B, with 1.40% increase compared to 2012, as seen from the table below.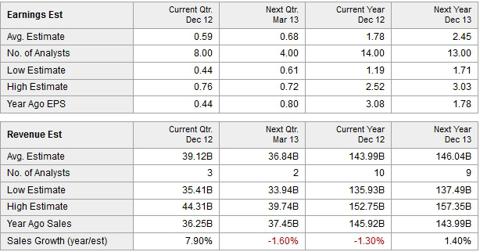 Source: Yahoo! Finance
PBR has an enterprise value of $192.65B with a market cap of $127.84B. PBR has a total cash of $25.96B and generates an operating cash flow $27.87B with a levered free cash flow of $-18.64B, ttm. By using the data obtained from Morningstar, PBR's key stats will be compared to its competitors in the oil & gas integrated industry, including Exxon Mobile Corporation (NYSE:XOM), Chevron Corp (NYSE:CVX), and Statoil ASA (NYSE:STO). PBR has lower revenue and EPS growth (3 year average) of -0.3 and -16.8, comparing to the industry averages of 1.6 and 1.2. PBR generates higher operating margin of 13.3%, ttm, and net margin of 7.5%, ttm, as compared to the averages of 12.5% and 7.3%, ttm, respectively. PBR has a lower ROE of 7.9, comparing to the industry average of 17.0, and a lower debt-to-equity ratio of 0.5, as compared to the average of 0.7.
PBR has a P/E of 11.6, which is higher than the industry average of 9.8 and PBR's 5 year average of 9.7. However, the P/B of 0.8 is lower than the industry average of 1.5 and PBR's 5 year average of 1.4. PBR has a forward P/E of 7.3, which is lower than the S&P 500's average of 14.2.
Technical Analysis
PBR closed at $19.60 with 0.67% gain on Wednesday. The volume of 15.02M is close to the 30 day average volume of 15.03M. PBR had been trading in the range of $17.27-$32.60 in the past 52 weeks. PBR has a beta of 1.46. The MACD (12, 26, 9) is showing a bullish sign since Dec. 5, 2012 but the MACD difference did not change on Wednesday. The momentum indicator, RSI (14), is near neutral at 50.99. The next resistance is $19.95, the 50-day MA, followed by $21.36, the 200-day MA, as the major resistance. The next support for PBR is $18.14, the S1 pivot point, followed by $16.69, the S2 pivot point, as seen from the chart below.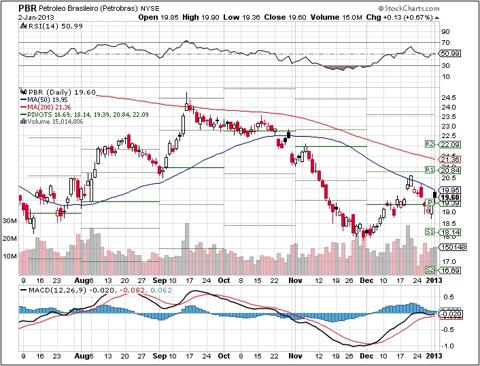 Source: StockCharts.com
Unusual Call Activities
The most active call was Jan. 18, 2013 call at the strike price of $20.00 with a volume of 28,391 with an open interest of 32,394. The implied volatility is 33.0, and the chance of breakeven is 27.87. The second most active call was Jan. 18, 2013 call at the strike price of $21.00 with a volume of 23,872 with an open interest of 16,494. The implied volatility is 31.8, and the chance of breakeven is 13.17. The historical volatility for PBR is 27.35 for 1 month, 27.48 for 3 months, and 34.42 for 1 year. If PBR can break its 50-day MA of $19.95, a debit call spread of $20/$22 can be considered to capture the upside potential.
Note: All numbers/prices are quoted from the closing of January 2, 2013 with the data provided from Barron's, MorningStar, Schaeffer's Investment Research, Inc., Google Finance, and Yahoo! Finance. Investors and traders are recommended to do their own due diligence and research before making any trading/investing decisions.
Disclosure: I have no positions in any stocks mentioned, and no plans to initiate any positions within the next 72 hours. I wrote this article myself, and it expresses my own opinions. I am not receiving compensation for it (other than from Seeking Alpha). I have no business relationship with any company whose stock is mentioned in this article.