A little over a week ago, I wrote optimistically that Skullcandy (NASDAQ:SKUL) could make 2013 a comeback year. Those hopes were dashed right at the gate of the New Year as Jeffries downgraded SKUL from Buy to Underperform with a $6 price target. As the general market was enjoying a tremendous rally, SKUL spent the day selling off to fresh all-time lows. The stock closed the day with a 12.7% loss. Perhaps only the closing bell saved SKUL from hitting the price target on the day as well.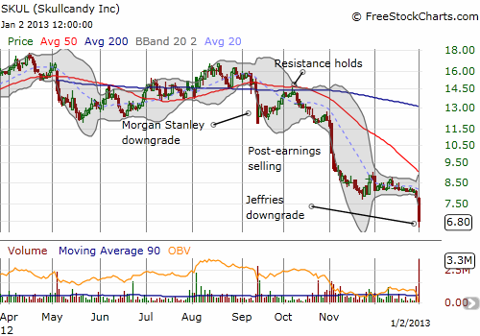 Jeffries slams Skullcandy
Source: FreeStockCharts.com
Streetinsider quoted Jeffries as blaming competition for the downgrade:
Jefferies downgraded Skullcandy from Buy to Underperform and slashes its price target from $17 to $6 citing a lack of pricing power and increasing competition.

'The in-ear headphones which comprise over 60% of SKUL's revenues are under significant pressure from a variety of competitors, and we believe this trend will likely continue in coming quarters…And though SKUL is diversifying into more on-ear and over-ear headphones, these growth categories inherently carry lower margins.'
This assessment is readily discernible from the last earnings conference call, and I cited most of it in my last piece on SKUL. While I expressed optimism, Jeffries clearly thinks the opposite. Unfortunately for SKUL investors, the market has shown a keen interest in analyst action on SKUL and has moved with lightning speed in response. While I recommended trading the Morgan Stanley downgrade back in September by buying the stock for a bounce, I am not recommending the same here.
Morgan Stanley placed a $15 price target on SKUL at the time, and the stock sank FROM $15 to $14. This time, the stock remains above this latest price target. If you do not already own shares in SKUL, it could be worth a flier to start scaling in here, otherwise, it makes sense to just wait out this latest analyst-driven pounding.
The next potential catalyst for SKUL is that more shorts might start to cover once/if the stock closes in on $6/share. Short interest has dropped about 50% over the past 4 months or so, but it remains about 40% of the entire float. At some point, the risk/reward for continuing to hold these massive short positions gets poor enough where more substantial short-covering will commence. The $6 price target from Jeffries provides one likely milestone for this event.
Be careful out there!
Disclosure: I am long SKUL. I wrote this article myself, and it expresses my own opinions. I am not receiving compensation for it (other than from Seeking Alpha). I have no business relationship with any company whose stock is mentioned in this article.