On Wednesday, Copper hit its highest price in almost 11 weeks as both Chinese and U.S. manufacturing data signaled a much higher-than-expected demand for the industrial metal during its first trading session of 2013.
The most actively-traded copper contract for March delivery rose 8.35 cents, or 2.3%, to settle at $3.736 a pound on the NYMEX, and traded nearly $0.02/pound higher in the after-hours session. Wednesday's close was the highest settlement price since mid-October.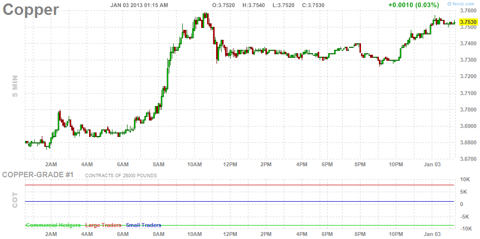 According to Matt Day of WSJ.com,
"Copper was also supported by the approval late Tuesday of legislation preventing most of the impending U.S. tax increases set to take effect in January. Congress also signed off on a two-month delay of planned spending cuts, prompting relief and rallies across markets as the U.S. seemed to avert the so-called fiscal cliff. Copper, which tends to take cues from shifts in economic sentiment because of its widespread uses across industries, had been pressured in December by the pending U.S. policy change. Some economists said the shock could push the world's largest economy into recession."
For U.S.-based investors of the iPath Dow Jones-UBS Copper Total Return Sub-Index ETN (NYSEARCA:JJC), I think Wednesday's positive session (and slight rally) could be a step in the right direction. Those who held positions in the ETN saw shares return a mere 3.88%, over the course of the last 12 months which saw inventories rise during the second half of the year. That said, a rally in copper may actually improve the bottom line of such companies as Freeport-McMoRan (NYSE:FCX), BHP Billiton (NYSE:BHP), and Rio Tinto plc (NYSE:RIO).
The 2013 market outlook for Copper seems conservatively positive. According to an article written by my fellow SA Contributor Metal Miner, "an average price of $7,500 per metric ton is predicted for 2013, with only a modest upside in 2014 to $8,000 per ton." On the other hand, Goldman Sachs remains far more bullish on the metal, setting a $9,000 per ton target on Copper for the first six months of 2013. If Copper can continue to show signs of life and meet and/or exceed Goldman's' full-year price target of $4.50/pound, a 20.44% full-year rally (based on yesterday's closing price) could be well within reach.
Disclosure: I have no positions in any stocks mentioned, and no plans to initiate any positions within the next 72 hours. I wrote this article myself, and it expresses my own opinions. I am not receiving compensation for it (other than from Seeking Alpha). I have no business relationship with any company whose stock is mentioned in this article.