Mortgage rates fell for the first time in aeons yesterday (to 5.5%) giving homebuilding stocks a bid and driving a tentative late rally. There is an expectation that this could soon fall to 4.5%, giving hard pressed homeowners a chance to refinance or mitigate their burdens.
Todays Market Moving Stories
Announcement-A-Day Federal Reserve said it will conduct weekly auctions of fixed rate non-callable senior GSE debt (Fannie Marx and Freddie Engels paper). They are also proposing to step up GSE bonds purchases in an effort to drive down interest rates on some fixed rate loans to 4.5%. So after 15 months of ad hoc, reactive attempts, there finally seems to be some joined up thinking on how to solve this crisis.
The US plan to buy its own Treasury bonds (monetizing the debt) has seen yields fall to record lows. The US 10 year yield is now 2.60%. They are now seeking to massage downwards the sticky spread over Treasuries from which fixed rate mortgages are set. And it's beginning to actually pay dividends.
Meanwhile back in the real world, the Fed's Beige book continued to paint an ever more gloomy anecdotal picture of the economy. The key services ISM survey collapsed to a record low of 37.3, boding ill for the nonfarm payroll numbers on Friday.
The downside of this worldwide collapse in bond yields is that it places a massive additional burden on pension schemes, many of which are already hugely under funded. This of course is a double whammy. The lower the risk free rate (the yield on government bonds) the higher their future liabilities. The dramatic fall in equity markets means that their asset base has been seriously eroded i.e. their ability to meet these payouts. Very surprised no one has penned a serious, learned piece on this in the popular press yet.
Credit spreads ballooned out again to fresh highs yesterday. The degree of the logjam was demonstrated by the plight of NY Port Authority who may not even be able to get any bank to underwrite (guarantee) a 3 year $300m issue.
The interest cutting frenzy continued overnight with the Kiwi Royal Bank of New Zealand (RBNZ) taking the chainsaw to official rates and lopping off another 1.5%. Sweden's Riksbank went one step further, slashing by a jaw dropping 1.75%!
There are still some eternal optimists about the equity markets out there. I'm still sticking to what I wrote yesterday about a recession's impact on equities.
What Does A Trillion Dollars Look Like
"We make money the old fashioned way. We print it." said Art Rolnick, Chief Economist for the Minneapolis Federal Reserve Bank.
Most people can not even fathom how much a trillion dollars is! The following analogy will help. The mighty Royal Bank of Canada have had their tape measure out on this one and tell us that just ONE million dollars would equal a 4 inch high stack of 1000, $1000 bills. How high of a stack of $1000 bills would ONE trillion dollars be? Answer: A one trillion dollar stack composed of $1000 bills would be 63.13 MILES HIGH!
In the last 11 months, the US government has added 7.6 TRILLION dollars in bailout money, equal to a 780 mile stack of $1000 dollar bills! United States' combined debt is 67 trillion, equal to a 4230 mile stack of $1000 dollar bills! Milton Friedman would not be impressed. This is completely out of control!!!! We will soon be in either a total economic collapse or hyperinflation!!!
Equities
Credit Suisse (NYSE:CS) is to axe 5,300 staff (some 11% of their workforce) after reporting another dismal set of kitchen sink figures.
There is a rumour doing the rounds that Goldman Sachs (NYSE:GS) and Morgan Stanley (NYSE:MS) are to merge.
Hedge funds Fortress, De Shaw and Farallon have all followed the lead of Tudor Jones in restricting redemptions. How the once mighty hedge fund industry has fallen.
GM (NYSE:GM) and Chrysler are considering a "pre-arranged bankruptcy" as a last resort price of getting a Federal bailout. Rating agency Moody's in a rare proactive move downgraded the rating of both basket cases to Ca (its second lowest rating). This is code for saying that they are a bust. Bail baby bail.
Data Today
Today is interest rate decision day. We've already seen big cuts from New Zealand and Sweden. Next up is the Bank of England at noon GMT and the ECB at 12.45. Will they bear seasonal monetary gifts too? One hopes the ECB opts for gold rather than frankincense or myrrh!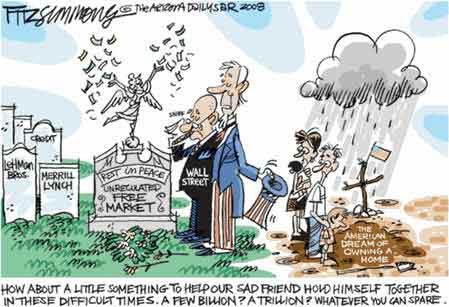 Disclosures: None