Duke Energy (NYSE:DUK) is currently the largest utility by market cap in the US. On July 3, Duke completed a $32 billion merger with Progress Energy. The stock for Duke is currently trading for $65.01 and offers a $0.76 quarterly dividend for a dividend yield of 4.7%.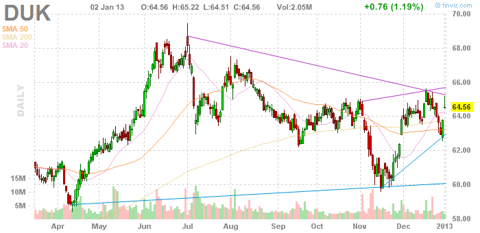 Before I get started, I need to state that I have some reservations about Duke's current CEO James E Rogers. Bill Johnson, former CEO of Progress Energy, was supposed to take over as CEO of the combined company. However, hours after the merger completed, a boardroom coup was staged, presumably led by Rogers, and Bill Johnson was ousted as CEO. Thankfully, James Rogers will be leaving Duke by the end of 2013. The end result of these shenanigans are upset regulators in North Carolina, and Bill Johnson leaving with a $44.7 million golden parachute. Please keep these events in mind when considering Duke as an investment.
Now, with that out of the way, let us take a look at some of the numbers for Duke:
Dividend and Dividend Yield
Duke currently offers a high dividend yield of 4.7%. However, this yield has historically been higher, with Duke yielding north of 5% for most of the past 5 years. Duke has also been raising its dividend, though not by much, increasing the payout by 16% in 5 years. Duke's price may be getting ahead of its dividend.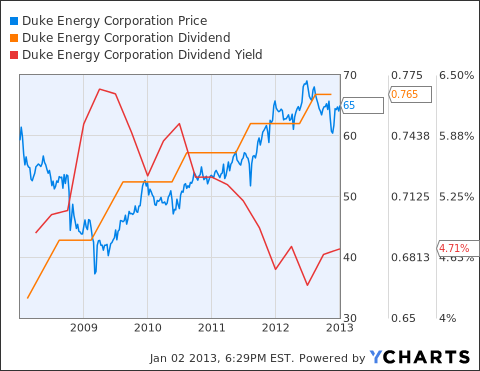 Payout Ratio using EPS
Duke's dividend payout ratio using EPS has been rather high over the past 5 years and is currently 95%. Duke's earnings barely cover the dividend. Current shareholders should expect very modest dividend increases until the payout ratio is lowered. EPS for Duke is anticipated to increase 3% in 2013.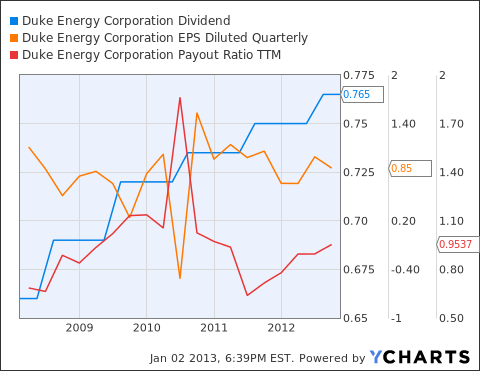 DUK Dividend data by YCharts
Revenue and Revenue per Share
Looking at revenues, we can clearly see the spike in revenues provided by the Progress Energy merger. TTM revenues for Duke have increased 33% to $17.3 billion in 5 years, while per share revenues have increased 10% to $34 per share. While these results are hardly impressive, keep in mind that as a utility, Duke's revenues are highly regulated. Duke is seeking approval for rate increases in Ohio and North Carolina.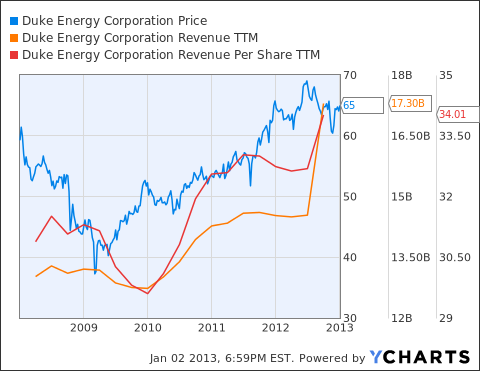 Cash from Operations, Capex, and Free Cash Flow
An area of concern for Duke has to be its current free cash flow. TTM free cash flow for Duke has so far been negative in 2012. Capex spending has exceeded cash from operations for most of 2012. Duke also has to pay for its dividend, which on a TTM basis is currently $1.5 billion. Due to negative free cash flow, Duke has to be using debt to finance part and or all of its dividend.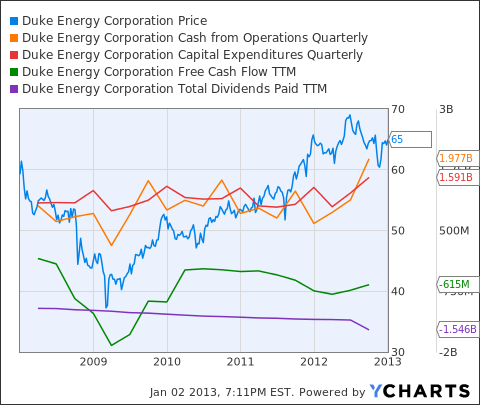 Net Financial Debt, Debt to Equity and EBIT to Interest Expense
We can clearly see the spike in debt from the Progress merger in mid-2012. Duke's net financial debt is currently $37.8 billion. However, Duke's debt to equity ratio has remained near 1X, current at 0.96. EBIT currently covers interest expense at 2.7X, though this has declined from a high of 4.5X in 2011.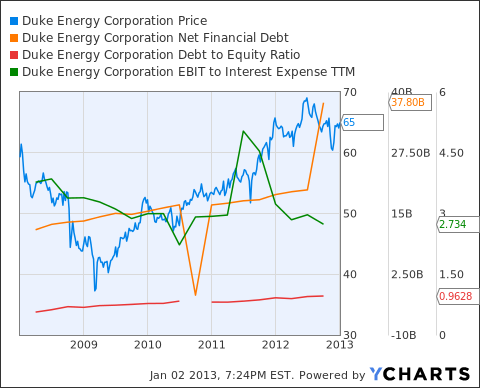 Conclusion
Duke, while offering a high yield, is not an attractive investment in my opinion. Duke has a massive debt load and is reliant on regulators to improve revenues. Also, Duke's dividend payout ratio is extremely high, at over 90%. And as if that were not enough, free cash flow has been negative for most of 2012. One area that may help improve these metrics is by cost cutting. Duke is expected to rely on cost-cutting to achieve its profit targets, according to CFO Lynne Good. IMO, PPL (NYSE:PPL) offers not only a larger yield at 5%, but better financial metrics than Duke. Duke Energy risks outweigh the rewards of holding the stock.
Disclosure: I have no positions in any stocks mentioned, and no plans to initiate any positions within the next 72 hours. I wrote this article myself, and it expresses my own opinions. I am not receiving compensation for it (other than from Seeking Alpha). I have no business relationship with any company whose stock is mentioned in this article.