Canadian National Railway (NYSE:CNI), a profit-hungry company operating in the railroad industry and through substantial growth prospects, presents a feasible investment opportunity. This article provides a brief introduction to CNI's business model, captures the highlights of CNI's most recent performance as well as the performance of its peers. In addition, I will discuss the fundamentals that enable CNI to produce the highest profit margins industry wide such as its free cash flow generation and target capital structure. To conclude, investors will be given forward looking valuation metrics that I have modeled with accurate, yet conservative growth estimates. For a good primer, here is a broad overview of CNI's business model.
Overview
As I previously mentioned, CNI's operations revolve around the rail and related transportation business. CNI's network consists of approximately 21,100 route miles that span Canada and mid-America, from the Atlantic and Pacific oceans to the Gulf of Mexico, serving the ports of Vancouver, Prince Rupert, British Columbia, Montreal, Halifax, New Orleans, and Mobile, AL and the areas of Toronto, Buffalo, Chicago, Detroit, Duluth, Minnesota/Superior and Green Bay, WI, Minneapolis/St. Paul, Memphis and Jackson, MS, in North America. In addition, CNI's extensive network, and its co-production agreements, routing protocols, marketing alliances and interline agreements, provide its customers with easy access to all three North American Free Trade nations. CNI turns over the greatest profit and produces margins for investors that are significantly greater than any railroad company in North America. Figure 1 illustrates CNI's strong levels of profitability have rewarded investors over the past five years.
Figure 1: CNI's Five Year Price Graph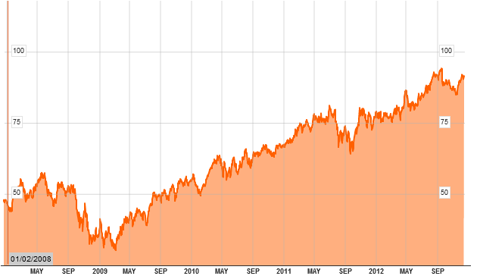 Relative Performance
To further illustrate CNI's performance, I constructed a graph below using YCharts that compares the relative performance of CNI and its peers benchmarked to the S&P. The peers used in figure 2 below include Norfolk Southern Corp (NYSE:NSC), Union Pacific Corp (NYSE:UNP), CSX Corp (NYSE:CSX), and Kansas City Southern Corp (NYSE:KSU).
Figure 2: CNI's Relative Performance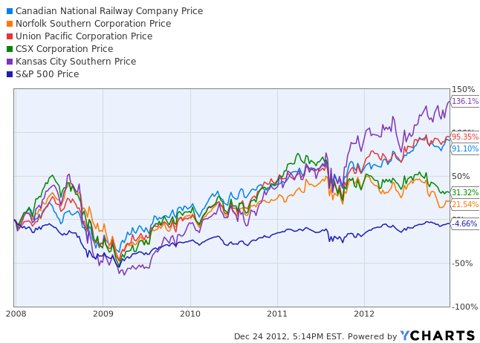 In addition to the growth exhibited by CNI over the past five years, KSU also reveals a strong pattern of growth and has the potential for a substantial upside from its current value in the short-run. However, KSU is not CNI and its operating efficiency in not there for surpassing CNI in terms of stable long-term growth. CNI substantial profit margins and ability to generate and maintain high levels of free cash flows ultimately add value to CNI as a firm and are crucial to what will enable CNI to outperform the market as well as its peers over the next five years.
Capital Structure
For a company operating in the railroad industry, CNI reveals capital structure that is higher than the average target of its peers. In practice, it is common to often see companies operating in the railroad industry to carry a sufficient large amount of debt, which is the case for CNI. CNI's current debt to equity ratio is approximately 0.57 and as you will see in figure 3 below that a high debt to equity ratio is rather common for CNI. While in many cases a high level of debt financing raises concerns for investors, however CNI's high EBIT to interest coverage ratio of 9.7 makes this factor irrelevant.
Figure 3: CNI's Debt/Equity Ratio Past Five Years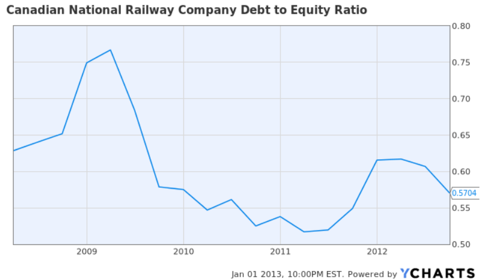 Valuation
Among its peers CNI maintain the lead in generating free cash flow from their high returns on equity. CNI exhibits extreme growth in its level of free cash flows in the last five years. Figure 4 below illustrates this increase and you will see CNI's free cash flows have increased over 800% over this period. More specifically, CNI's current value of free cash flows is $508.95 million.
Figure 4: CNI's Five Year % Change in Free Cash Flows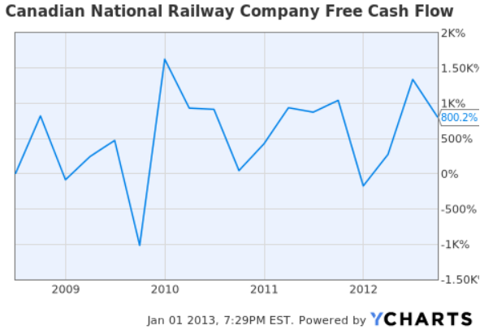 From a brief glance below, CNI is fairly price along side if its peer UNP whose P/E ratios are right around 15x. Note KSU, who also exhibited peak performance over the same time period as CNI, is not fairly priced. KSU's P/E ratio is nearly 24.13.
Figure 5: P/E Ratios TTM of CNI versus Peers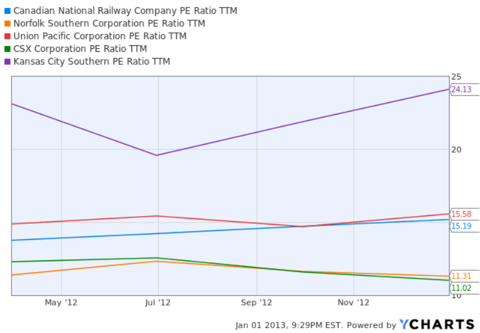 Value of Equity and Operations
Nearly 82.59% of CNI's common stock outstanding is owned by a combination of insiders and institutional investors, with institutions owning approximately 73.06% and the remaining 9.53% by insiders. The remaining 26.94% is owned by individual investors with a majority of the owners residing within the U.S. From a current valuation standpoint focusing on free cash flows and the value of operations, I estimated CNI is trading about 8% below fair value. Now this alone is insignificant for denoting it to be a value play with an extreme short-term upside, however CNI's managements history of repetitive buy backs is taken into account and incorporated into modeling the intrinsic value of CNI, the end result it rather appealing.
To evaluate the potential upside for investors, I used the corporate valuation model. The objective of this model is to calculate the intrinsic value of the firm based on the future value of operations by first projecting free cash flows forward. It then uses a modification of the constant growth model taking into account the firm's expected growth rate and weighted average cost of capital estimate. This allowed me to derive an intrinsic share value for the following years. Figure 8 below provides a two-case scenario modeling an intrinsic value that is precise, yet conservative. For clarity, the variation between the inputs used and the outputs derived are distinguished by red and orange text respectively.
Figure 6: CNI & The Corporate Valuation Model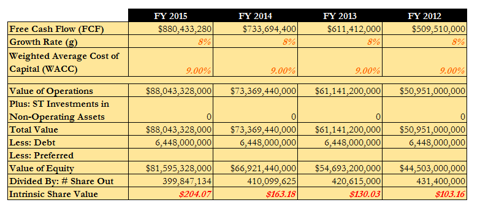 The free cash flow estimate I used for the first period was the most recent value available and for the remaining estimates I used conservative approximations for the free cash flow values. Using CNI's weighted average cost of capital, 9% and a constant growth rate of 8% I computed an intrinsic share value of $103.16 for the end of FY 2012. Using the same methods I calculated the intrinsic share value estimates for FY 2013, FY 2014, and FY 2015 as well. The only alterations I made to the model were the number of shares outstanding for FY 2013 through FY 2015. As I previously mentioned, CNI's management has displayed a history of repurchasing shares outstanding from investors and for greater accuracy I have factored this in the model provided below.
Conclusion
CNI's favorable operating ratios tend to be heavily admired by investors who are long advocates of CNI. High profit margins and excessive sums of free cash flows have yielded favorable returns for investors in recent years. CNI has established a capital structure that may be high relative to its peers, but is optimal in relevance to CNI's operations. In addition, intrinsic valuation estimates are highly favorable and in support of stable growth in the firm's operations over the next few years. While CNI is an investor friendly company and provides for great long-term investment, it is essential investors enter and purchase shares at the right time. CNI's market value per share is high, but its P/E ratio is fair. That being said, the practice of dollar cost averaging when accumulating shares of CNI for a portfolio with the objective of long-term growth is crucial for initiating a strong position in CNI.
Sources: TD Ameritrade, Google Finance, FinViz, The Street, S&P Capital IQ, and The Wall Street Journal.
Disclosure: I have no positions in any stocks mentioned, and no plans to initiate any positions within the next 72 hours. I wrote this article myself, and it expresses my own opinions. I am not receiving compensation for it (other than from Seeking Alpha). I have no business relationship with any company whose stock is mentioned in this article.