Global investments serve as a great hedge for poor US economic conditions. This article analyzes an exchange traded fund that provides exposure to international companies in the market for energy solutions, yet still allocates a portion of its funds to US companies with the same focus. iShares S&P Global Energy (NYSEARCA:IXC) is the exchange traded fund covered in this article and provides investors with a slight variation from Energy Select Sector SPDR Fund (NYSEARCA:XLE), which I outlined in a previous article, XLE: A Low Risk Gateway To Investing In Energy. Both exchange traded funds are excellent investment products, however this article highlights the different attributes IXC provides investors concentrating specifically on its exposure to the global energy market and the firms which operate within it.
Overview
IXC is an exchange traded fund that provides a broad range of exposure to energy firms operating in international markets. IXC received a four star rating from Morningstar as well as an overweight rating from S&P Capital IQ yesterday. IXC strives to achieve investment results that mimic the price and yield performance of the S&P Global 1200 Energy Sector Index, which is denoted as the underlying index of this fund. At a minimum, IXC invests 90% of its assets in US securities and american depositary receipts that comprise the underlying index. Technically speaking, IXC in nature is not considered a diversified fund, however in practice IXC can be utilized as an excellent tool for adding diversification to ones portfolio. Figure 1 below illustrates IXC's performance over the past five years.
Figure 1: IXC's Five Year Price Graph

IXC is currently trading at roughly $39 per share. Its expense ratio is only 0.48%, which is a bargain in comparison to competing funds. IXC has yielded a relatively low risk return to investors with a fund specific beta value of 1.23, slightly higher than the market beta of 1. Using IXC's monthly holding period returns with distributions for the past six months, I computed an alpha value of -1.3 indicating IXC is currently overvalued. This is merely a warning sign to investors who are looking to enter a short-term position because with this alpha value there is a potential for a slightly pull back in its market value per share. On the other hand, for investors considering a long term position this metric is less relevant and should solely be used to gage the correct time for an entry point in the security. To provide investors with a better idea of what to expect over the next year, I computed an expected return of 14.5%. This value represents a base case scenario and takes into account the funds current valuation as well as the financial condition of its top holdings.
IXC is currently managed by BlackRock fund advisers with roughly $1.011 billion in assets under management. Since IXC's inception in 2001, it has experienced its fair share of ups and downs in its relative asset value, but overall IXC is a well managed fund that has yielded a strong long-term return to investors. Figure 2 below illustrates IXC's performance when financial markets have revealed indications of distress.
Figure 2: IXC's Performance During the 08'/09' Credit Crisis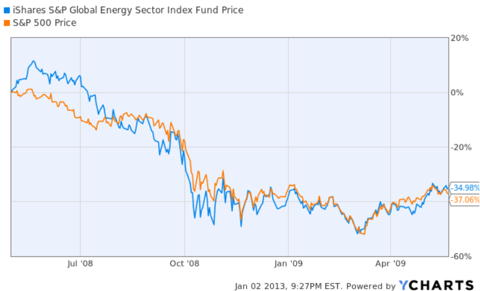 IXC's Asset Allocation
IXC's asset structure follows roughly a 50/50 breakdown with approximately a 50% allocation to US firms and 50% to firms outside of the US. Figure 3 below illustrates this in further detail.
Figure 3: Demographic Breakdown of IXC's Asset Composition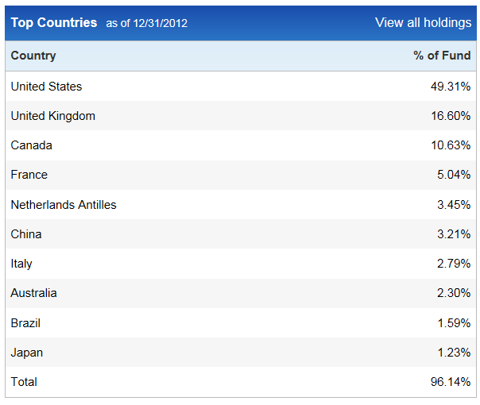 IXC invests a majority of its funds into the oil & gas and consumable fuels sector with nearly an 88.6% allocation weight to this sector. Approximately 11.16% of its funds are allocated towards the energy equipment and services sector. The remaining 0.24% of IXC's funds are divided among various short-term securities and other instruments. IXC's top ten holdings in terms of a percentage of its total asset value are shown below in figure 4.
Figure 4: IXC's Top Ten Holdings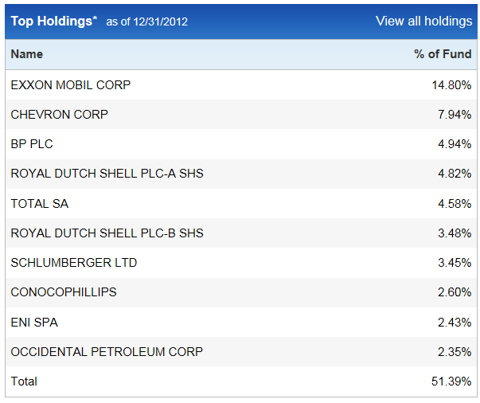 Aside from evaluating IXC's individual holdings on an individual basis, it is essential investors analyze the macroeconomic factors that pose implications with the ability to augment or decay the profitability of the firms within IXC's holdings. One factor investors need to consider is when prices of commodities such as natural gas and oil fall, a majority of the firms within the underlying index cannot shut off production quickly enough. As a result, profit margins suffer drastically as there becomes a surplus in commodity markets. Overall, the volatility among commodity markets for crude oil and natural gas does entail implications that can significantly impact the growth of IXC.
Conclusion
IXC's funds are allocated to companies operating in an industry where risk is prevalent, however the demand for these companies and products are not dying. Short-term oriented investors may want to allocate their funds somewhere else given the level of volatility associated with these investments sudden short duration fluctuations in market value are common. In conclusion, for investors with a investment objective of long-term growth IXC serves as an excellent holding.
Sources: TD Ameritrade, Google Finance, S&P Capital IQ, Morningstar, and The Wall Street Journal.
Disclosure: I have no positions in any stocks mentioned, and no plans to initiate any positions within the next 72 hours. I wrote this article myself, and it expresses my own opinions. I am not receiving compensation for it (other than from Seeking Alpha). I have no business relationship with any company whose stock is mentioned in this article.