With 2012 in the history books, we look back at the top percentile performers in the S&P 500 index (NYSEARCA:SPY) to see if we can glean commonalities that drove performance, and whether there is still a little momentum left in these trades for 2013.
PulteGroup Inc. (NYSE:PHM) was founded in 1956, and is the holding company for chief homebuilding businesses Pulte Homes, Centex, and Del Webb, as well as a financial services business consisting of mortgage banking and title operations. Pulte and Centex predominantly focus on first-time homeowner and first-move up clientele while Del Webb is a builder of active senior communities.
The housing market malaise that drove the company's market capitalization from $10.1 billion at the end of 2005 to just $2.4 billion at the start of 2012 has been well chronicled. Even with this past year's 188% return, the company's $7.2 billion dollar market capitalization is only 60% of its pre-crisis peak.
Given the dramatic changes in the housing and mortgage markets, examining the financials of PulteGroup today, before 2012's scintillating return, and its pre-crisis results could give us an idea of where the company is now positioned.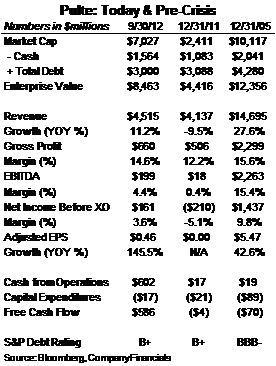 Looking at these summary numbers, the first thing that jumps out at me is the shape of the balance sheet. Net debt is about 65% of its pre-crisis level. While EBITDA has dropped precipitously, increasing leverage metrics, PHM has effectively been running the business for cash, generating really strong free cash flow numbers as it sells down some inventory.
Profit margins returning to their pre-crisis levels is another promising sign, demonstrating that PHM might be a more efficient builder given that we know that they have necessarily been squeezed on the top line by lower house prices. While revenue growth is not as strong as the go-go pre-crisis days of yore, expected new order growth is estimated at 20%.
There are tailwinds to this trade: government induced low mortgage rates, rebounding home prices, and household formation trends that may outflank the negatives in limited home credit availability and outstanding vacancy issues. The market capitalization obviously has above market growth rates baked into the valuation though as well. I do not believe that a revenue growth rate in the 20% area, consistent with projected new order growth, is inconceivable (PHM growth rates from 1994-1997 after the last meaningful real estate downturn were in the mid-teens). Factoring in upside to home prices that boosts revenue growth, let's estimate a growth rate of 25% per annum from 2013-2017. This would take revenues to $14.4bn in 2017. Applying the ratio of revenues/market capitalization for the ten years pre-crisis (1997-2006) of 0.47x, this would equate to a 2017 market capitalization of $6.8bn. Since PHM trades at a higher level than this today, then my aggressive growth assumptions are too low, or consolidation in the industry dictates that a stronger PHM should trade at a higher multiple than its historical average. I believe that these facts signal that the current valuation for Pulte is full. Homebuilders have become the preferred method of expressing a bullish view on the housing markets. A lot of things will have to go right for PHM to produce risk-adjusted excess returns in 2013.
Sprint (NYSE:S), the nationwide wireless and long-distance network provider, rose 142% in 2012. Do not expect that performance to be repeated as it is impossible for a Japanese telecommunications giant to offer to buy another 70% of the company. With the capital that Softbank is contributing, Sprint will strengthen its balance sheet, make additional strategic investments, like its recent $2.2 billion transaction for the remainder of Clearwire, and hopefully glean operational efficiencies from its better run acquirer. At over 6x EBITDA/EV, a lot of positives have already been priced into a stock that has produced these results since 2005: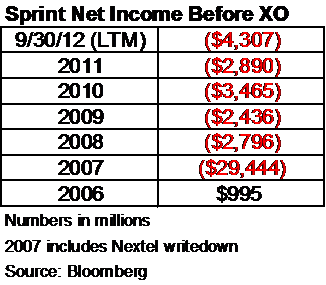 Softbank is trying to make domestic wireless competition in the U.S. a three horse race, but AT&T (NYSE:T) and Verizon (NYSE:VZ) are far in the lead. We know that the FCC/DOJ wants increased competition in this space after raising objections to the late 2011 proposed combination of AT&T and T-Mobile. The performance of Sprint's equity will depend on whether they can close the gap with their peers and begin to produce repeatable and sustainable operating performance. If Sprint's performance justified an equivalent EV/EBITDA multiple to AT&T at around 8.2x, this would signal a 50-55% upside to the share price all else equal. I think that the current Sprint discount is justifiable, and that the stock will perform equivalently to its above-market beta.
On the other side of the balance sheet; however, the government's aversion to a mobile provider duopoly may be a backstop to Sprint's debt. If you believe in the Softbank/Sprint combination long-term, then you can buy some of the Sprint's long duration bonds in the 6.25% yield area, roughly 200bps wide to AT&T and Verizon debt. Even with large capital expenditures to revamp Sprint's network, and despite flagging profitability, the company has been free cash flow positive annually since 2001. The company's spectrum assets are valuable, and net fixed assets likely cover the company's sizeable long-term debt. Expect Softbank to begin to refinance higher cost debt (notably at the Clearwire entity), reducing interest expense and strengthening the balance sheet. The financial transformation will be a quicker fix than the long-term operational turnaround.
Whirlpool (WHR), the world's largest home-appliance manufacturer, rose 114% in a housing recovery trade akin to the aforementioned Pulte. The company successfully implemented cost-based price increases while simultaneously instituting cost reduction measures, driving operating margins despite a small reduction in total unit shipments. The company has successfully grown its footprint in higher growth emerging markets with half of the Michigan-based company's revenues now coming from its international operations.
An examination of Whirlpool in the most recent quarter, year-end 2011, and pre-housing crisis year-end 2005 is below: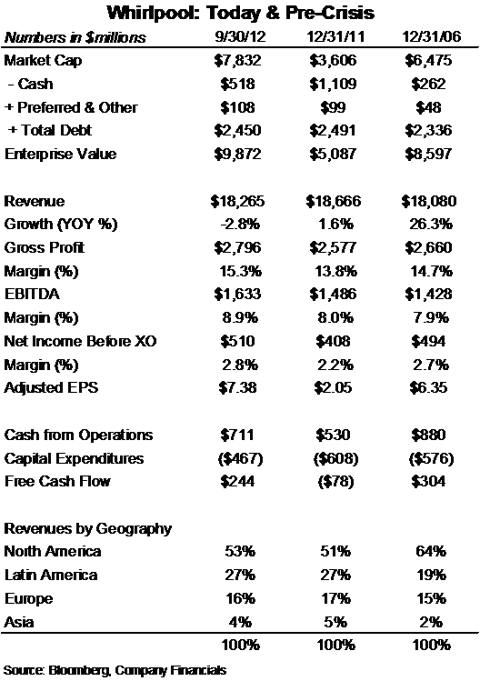 Click to enlarge
Revenue is roughly flat today versus pre-crisis. Public debt is still rated in the mid to low BBB area. Margins are slightly improved. Geographic diversification is tilted more towards emerging markets. The question to ask is whether the forward growth trajectory is enough to warrant the 15% higher enterprise valuation relative to an eerily similar company position at year-end 2006.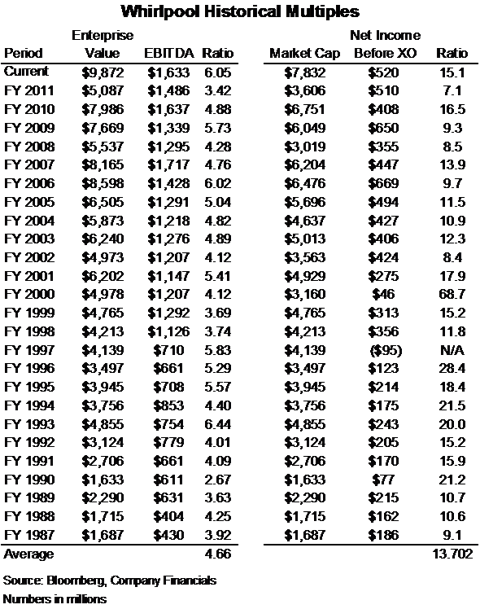 Click to enlarge
Whirlpool is currently trading at roughly a thirty percent premium to its average year-end enterprise multiple over the last twenty-five years. I do not expect that there is a developing secular growth story in home refrigerators and washers and dryers that changes this historical dynamic dramatically and justifies a new higher valuation than its long-run average. While increased access to emerging markets could increase growth, Seeking Alpha readers should decide the extent to which this should increase the valuation. There is likely still pent-up cyclical demand. The highest EV/EBITDA valuation before the current multiple came at the end of 1993 as EBITDA advanced post-recession. Perhaps a multiple expansion consistent with this cyclical peak is still in the cards for Whirlpool. There is more likely to be another cyclical trough to buy the business at 4x. The money in this stock has been made, and I expect that the company will market perform in 2013.
Bank of America (BAC), the much maligned banking giant, rose 112% in 2012. The market capitalization of one of the nation's largest commercial banks is roughly three times the size of the other notable market movers on this list, demonstrating the breadth of the company's advance in 2012. Of all the names on this list, it is the company that I think will offer the best risk-adjusted returns over the next three to five years.
Like the historical comparisons of homebuilder Pulte and home appliance manufacturer Whirlpool, Bank of America was punished by the housing and mortgage market correction, making a comparison to year-end 2006 equally justifiable.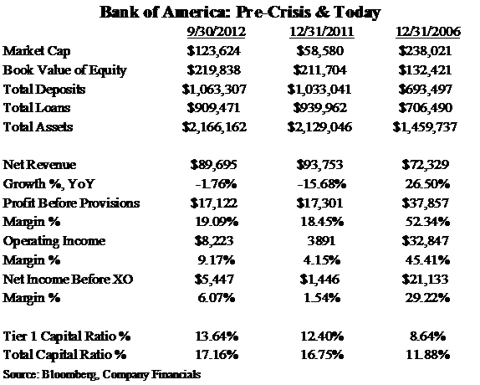 Click to enlarge
As you can see above the company's market capitalization and book value of equity, defined here as the sum of share capital, additional paid in capital, and retained earnings, have essentially transformed places from 2006 to current as the market to book value has inverted from 180% to today's 56%. Despite the fifty percent reduction in market capitalization, the balance sheet has continued to expand, fueled in part by the crisis purchase of Merrill Lynch and the ill-fated acquisition of Countrywide.
The stock doubled in 2012 as operating income doubled, but margins are still well off their pre-crisis peaks. Legacy credit costs from soured loans are beginning to abate, which has in part driven the advancement in net earnings. For a view of potential margin expansion, below is a side-by-side comparison of Bank of America's recent results with those of J.P. Morgan (NYSE:JPM) and Wells Fargo (NYSE:WFC), peers who navigated the credit crisis more ably.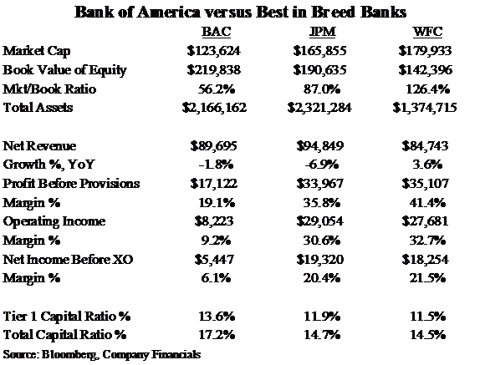 Click to enlarge
Despite Bank of America's strong 2012 advance, the company still trades at roughly half of the market/book of the average valuation of its two similarly sized peers. It is easy to understand partly why - margins at the two national banking leaders are much stronger and Bank of America still can not find its way out of the headlines or courtroom.
However, Bank of America has made remarkable progress since the crisis doldrums - enhancing liquidity, reducing long-term debt (by half since year-end 2009), growing its deposit base, and enhancing its capital. Capital ratios at Bank of America are stronger than at either J.P. Morgan or Wells Fargo, and in time the Federal Reserve will allow the bank to distribute more excess capital and to shareholders.
Mortgage rep and warranty litigation remains an uncertainty (the company has now paid out $14 billion and reserved and additional $16 billion). However, what has emerged from the credit crisis is a more focused, deposit funded, traditional spread lending institution with market leading positions in a host of products. While the litigation overhang will remain an intermediate term headwind, this must be balanced against a much stronger balance sheet and major leverage reduction.
The trailing ninety day volatility of BAC's equity is still three times that of the broader market. Equity markets will eventually reward the strong balance sheet that BAC management has assembled, volatility will reduce and this stock will outperform the broader market on both an absolute and risk-adjusted basis,
Expedia (NASDAQ:EXPE), a leading online travel agent, rose 112% in 2012. Examining the one year price chart below, stock spikes on April 27th (23.5%) and July 27th (20.1%) were driven by beats of earnings estimates, and cumulatively drove nearly half of this year's market move.
Comparing Expedia's current valuation to industry behemoth Priceline (NASDAQ:PCLN), which rallied by 32% in 2012, should give readers a glimpse into relative value.
At a 9x EV/EBITDA, Expedia trades at a materially lower multiple than Priceline, but roughly in line with the S&P 500. Admittedly, of the five company's on this list, this is the industry with which I have the least experience. Above market growth rates signal that there is still industry growth ahead, arguing for an above market multiple. However as the industry ultimately matures and growth slows, I would expect competition to be fierce and Expedia's extremely high margins to compress. Network effects are inherent in this business; increased use of one travel site could tie airlines and hotel chains to the dominant player, reducing or eliminating the value of other providers. These facts should account for some of the disconnect in multiples between Expedia and Priceline.
Expedia receives roughly sixty percent of its revenues domestically, which signals that their are avenues available for international growth, although an entrenched Priceline looms large in many markets. The late December purchase of German metasearch operator (think Priceline's kayak) signals the company is serious about advancing its global footprint.
Revenues based in part on hotel occupancy are inherently ultra-cyclical. Unlike other commercial properties that have longer-term leases, hotels are leased a night at a time, and prices as we saw in the Great Recession, can correct mightily and quickly.
I am going to punt on the valuation of Expedia, but believe that the business is interesting and given the market's seeming inability to forecast quarterly earnings, it will be one to watch around earnings events.
In summary, I believe Bank of America is the best pick for 2013 of the top performers in 2012, and of these five companies the one most likely to offer risk-adjusted outperformance.
Disclosure: I am long SPY. I wrote this article myself, and it expresses my own opinions. I am not receiving compensation for it (other than from Seeking Alpha). I have no business relationship with any company whose stock is mentioned in this article.