In the press release following an Investor Day presentation on December 3rd, Vale S.A. (NYSE:VALE) commented "our priority has shifted from the marginal volume to the capital efficient volume, a move that has deep implications for the way we manage capital."
As discussed in our earlier note, the first part of this comment is a response to a likely change in conditions in the iron ore business (accounting for substantially all of VALE's operating cash flow) from "scarcity" pricing where supply is constrained so that demand falls, through buyer self-rationing, to meet supply to "sufficiency" pricing where the capacity exists for supply to increase to meet demand.
This note addresses the second part of the comment: the implications of the change in the industry's pricing regime for VALE's capital budget and balance sheet. We conclude that the firm is likely to issue new shares rather than putting at risk its production target or credit rating.
EBITDA Flat As Margins Compress
VALE has a production target of ~400 million tonnes of iron ore in 2017 representing 6-7% annual growth from ~300 million tonnes in 2012. In the table below, the green bars represent "sustaining" investments in existing operations while the yellow bars reflect new projects.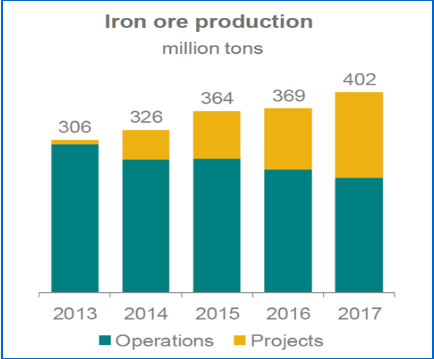 This growth is in the face of expected secular decline in iron ore prices as supply catches up with demand and high-cost suppliers leave the business. Forecasting long-run iron ore prices is obviously fraught but, to illustrate the margin squeeze faced by VALE, we will take $110/tonne as a working estimate for 2017 (above some forecasts calling for $75 by 2019). This represents an annual decline of 3-4% from the average price in 2012 of $130 using monthly data from IndexMundi.
Of course, this decline is levered via VALE's cost base. Assuming a production cost including freight of ~$60/tonne (being ~$40+ as the cash production cost plus ~$20 for freight, royalties, and customer incentives etc. as calculated for China delivery in our earlier note), the above decline in ore prices will reduce VALE's margin from ~$70/tonne in 2012 to $50/tonne in 2017, representing negative growth of 6-7% annually.
In other words, the impact on cash margins of likely ore price declines could offset, if not overwhelm, that of VALE's forecast production increases over the next 5 years, leaving EBITDA approximately flat.
Further Cuts to Capital Budget Unlikely
After a near doubling over the two years to 2011, the capital budget stabilized at ~$18 billion in 2012 and is budgeted to decline to ~$16 billion in 2013 - see chart. Given approximately 40% of VALE's planned production in 2007 is from new mining "projects" necessary to meet the 2017 production target, we do not expect the capital budget to be able to accommodate further cuts beyond 2013.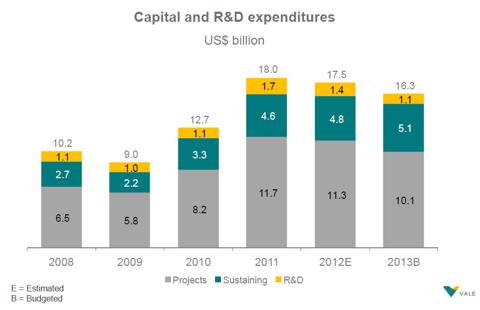 The Funding Gap
The challenge for VALE is that the capital budget is only just covered by cash flow from operations. Specifically, we expect operating cash flow in 2012 of $17-18 billion. This is based on EBITDA of ~$19 billion (being ~300 million of iron ore sales at a cash margin of just under $70/tonne less the drag from other products - see table).
| | | | | | |
| --- | --- | --- | --- | --- | --- |
| $mm (unless otherwise indicated) | 1Q12 | 2Q12 | 3Q12 | 4Q12E | FY12E |
| Iron Ore Sales - million tonnes | 65.2 | 75.3 | 78.2 | 81.4 | 300 |
| Cash Margin/tonne | 73.2 | 74.4 | 56.0 | 67.0 | 67.6 |
| Iron Ore EBITDA | 4,774 | 5,597 | 4,375 | 5,454 | 20,200 |
| Adjustments for Other Products | 191 | (478) | (637) | (400) | (1,324) |
| Total EBITDA | 4,965 | 5,119 | 3,738 | 5,054 | 18,876 |
After adjusting EBITDA for working capital, tax, and other items - such as the effect of minority interests and currency effects - we generate an estimate for operating cash flow of ~$17-18 billion. On the basis of this analysis, there does not seem to be enough cash flow to support the dividend which, in 2012, is expected to total $6 billion.
Impact on the Capital Structure
In the short run, VALE can boost operating cash flow through more efficient management of costs and working capital, and supplement it through the sale of non-core assets. Furthermore, temporary cash shortfalls can be met with borrowing: at the end of the last quarter, long-term liabilities stood at 51% of stockholders equity compared with a recent year-end peak of 56% in 2009; raising the ratio to this level would generate funding of ~$4 billion.
However, the relative dynamics of operating cash flow and capital expenditures must eventually assert themselves on the balance sheet, presenting VALE with a difficult choice:
1. Defer capital expenditures and risk falling short of production targets.
2. Structurally increase leverage putting credit ratings at risk.
3. Raise capital.
Management has publicly committed to "consolidating global leadership" in iron ore, and is unlikely to be willing to cede share of the seaborne market, currently standing at ~25%, to Rio Tinto (NYSE:RIO) and BHP Billiton (NYSE:BHP) with shares of ~18% and 14% respectively. In addition, management has set the preservation of its credit ratings as a "key priority."
This leaves the third option which management has already shown a willingness to exercise; in July 2008, and without disrupting dividends, VALE raised ~$12 billion in common stock to fund "the investment plan, strategic acquisitions, and increased financial flexibility." We can see the same rationale being presented in 2013 or 2014.
Conclusion
VALE's planned production growth for iron ore of 6-7% annually through 2017 is likely to be fully offset, if not overwhelmed, by cash-margin compression if iron ore prices decline as expected.
If so, operating cash flow will likely not grow from the expected $17 billion in 2012, notwithstanding VALE's initiatives to improve cost and working capital efficiency. While there is a short-term lift available from the sale of non-core assets, VALE's longer-term challenge will be the funding of a capital budget set at ~$16 billion in 2013 and unlikely to be cut from there if the 2017 production target is to be met.
While the firm has used borrowing to manage cyclical variations in cash flow, a structural increase in leverage is not consistent with management's commitment to the current credit ratings. Management also seems committed to maintaining the dividend. It therefore seems likely that VALE will follow the precedent of July 2008 and fund investment through issuing common stock.
Disclosure: I have no positions in any stocks mentioned, and no plans to initiate any positions within the next 72 hours. I wrote this article myself, and it expresses my own opinions. I am not receiving compensation for it (other than from Seeking Alpha). I have no business relationship with any company whose stock is mentioned in this article.