Yesterday's market rally was quite impressive. In fact it was very impressive. There were 586 new 52-week highs from what we saw and there were a good many names which even novice investors would be able to recognize off of that list. All of the indices were up, but the Russell 2000 hit a new 52-week high which was an all-time high. That certainly is indicative of a risk-on trade forming for 2013.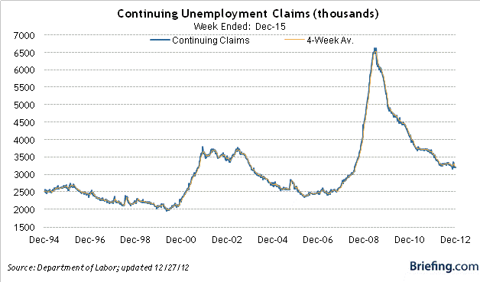 Chart courtesy of Briefing.com.
As one can see by the above chart we have come a long way from the depths of the recession, however we are just below levels seen during the recession of the Bush years. This indicates that we have a considerable ways to go for improvement and even further when one considers that there are many who have simply given up on the job market and will come back once the prospects improve.
We have economic news due out today, and it is as follows (these are the consensus estimates):
MBA Mortgage Index (7:00 AM EST): N/A
Challenger Job Cuts (7:30 AM EST): N/A
ADP Employment Change (8:15 AM EST): 140k
Initial Claims (8:30 AM EST): 365k
Continuing Claims (8:30 AM EST): 3200k
Auto Sales (2:00 PM EST): N/A
Truck Sales (2:00 PM EST): N/A
FOMC Minutes (2:00 PM EST): N/A
Asian markets finished mixed today:
All Ordinaries - up 0.82%
Shanghai Composite - CLOSED
Nikkei 225 - CLOSED
NZSE 50 - up 0.39%
Seoul Composite - down 0.58%
In Europe markets are higher this morning:
CAC 40 - down 0.55%
DAX - down 0.26%
FTSE 100 - down 0.13%
OSE - down 0.13%
Technology
We finally saw Sirius XM (NASDAQ:SIRI) break through the $3/share resistance level as shares rose $0.13 (4.50%) to close at $3.02/share during yesterday's market rally. The company traded 74.9 million shares as a new 52-week high was hit and the action has us thinking. We are going to watch this one to see if it needs to be moved back to our watchlists in order to trade in and out as we have led readers to do successfully in the past. The reason we think something might be up? Well the prolonged languishing may have created a solid base and this $3/share level might be a solid base. It will take a few sessions to confirm our thinking, but right now this is our take.
It hit us over the holidays just what an amazing job Larry Ellison has been able to do at Oracle (NASDAQ:ORCL), especially when looking at the acquisitions that the company has done over the years. Most tech mergers and acquisitions, especially those where a much larger company swallows a smaller one, do not turn out so well, but Ellison & Company have managed to avoid the fate of many other acquisitive companies, most notably HP. When compared to HP it is a tale of opposites with Oracle currently trading at 52-week highs and HP closer to 52-week lows. Big Tech has been a big disappointment with many of the major plays lagging behind the overall market the past decade, yet Oracle has found ways to continue to muscle their way into new markets and offer current customers more options (from hardware to software to services).
Manufacturing
Investors saw shares of US Steel (NYSE:X) outpace the sector after receiving an upgrade by Credit Suisse yesterday morning. Shares were upgraded to 'Outperform' from 'Neutral' with Credit Suisse simultaneously raising its price target to $30/share which was a major catalyst in the $2.04 (8.55%) move higher in the shares yesterday. The outlook for the industry as a whole is improving, but at this time we still favor gaining exposure to the industry via the 'blue chip' names rather than the more speculative ones. There will be a time when allocating capital to the lesser names in the industry will be appropriate, however in our opinion that time is not now as it is still a bit too early.
Entertainment
Yesterday saw Las Vegas Sands (NYSE:LVS) and others with exposure to Macau rise sharply after the latest figures for gambling revenues were released for the Chinese gambling mecca. Shares finished the day at $48.75/share after rising $2.59 (5.61%) on volume of 15.5 million after it was revealed that gambling revenues rose 20% in December (year over year) to a new record. Total revenue for the month of December was $3.5 billion and for the year revenue came in at $37.7 billion. The total revenue for the year figure was an increase of 14%, which also resulted in a new record. It is obvious that Macau is the premier Asian gambling destination but over the next few years it should receive some new competition from other areas which might at least slow some of the growth.
Financials
As we have stated before, financials and commodities were the areas one wanted to be involved in for when the fiscal cliff was passed. Financials across the board were higher yesterday after the deal was announced with quite a few names hitting new highs. We wanted to point out The Hartford Financial Services Group (NYSE:HIG) which closed at a new 52-week high and also announced that the company had completed the sale of three business units (all of which were previously announced). The sales included the company's retirement plan division to Mass Mutual, their individual life division to Prudential Insurance and the individual annuity line to Forethought Financial Group. The entire insurance industry was on the move, but as we mentioned earlier this was a super bullish story as the stock finished at the highs for the day with one of those nice intraday charts we like where the shares rise from the lower left to the upper right.
Disclosure: I have no positions in any stocks mentioned, and no plans to initiate any positions within the next 72 hours. I wrote this article myself, and it expresses my own opinions. I am not receiving compensation for it (other than from Seeking Alpha). I have no business relationship with any company whose stock is mentioned in this article.