The past month has been tough for active management. Economic indicators have been improving in the U.S. and China, but the U.S. market had been subject to significant downside risk from the "fiscal cliff" and looming "debt ceiling". Meanwhile, China has once again produced improved manufacturing statistics which drew all manner of caveats from interested observers. So, the investment and trading climate is confusing.
At the quantitative level, my non-propriety "Indicator" is stuck in neutral, and my risk/reward ratio for SPY is also static. However, the market is going up, and this produces performance anxiety, as I pointed out in a recent Instablog.
So, in these circumstances, the conservative in me says "stay in cash", but I feel uncomfortable doing that because of performance anxiety. The alternative is to look for specific short-term opportunities promising limited risk with a prospect of profit. While the talk is of the "stock market" in aggregate, it isn't homogeneous and my thought is to search for outliers, that is stocks which are not behaving as expected.
To recap, in the past I have advocated "High Beta" investing as a viable strategy. Stocks are selected by comparing the risk/reward ratios for stocks versus the risk/reward ratio for the S&P 500 Index (NYSEARCA:SPY). An example is shown in the following graph with Caterpillar (NYSE:CAT) in red and Terex Corp. (NYSE:TEX) in blue. In the past few years, both have tended to increase at a higher rate than the S&P 500 Index during up-trending markets, Therefore I classify them as "High Beta" stocks and would buy in as the risk/reward for SPY increased. However, in the past month or so, SPY was not performing and CAT wasn't performing either. But it was evident that TEX in particular was nevertheless plotting along a different but superior path to the historical (the yellow markers), and was therefore considered an outlier.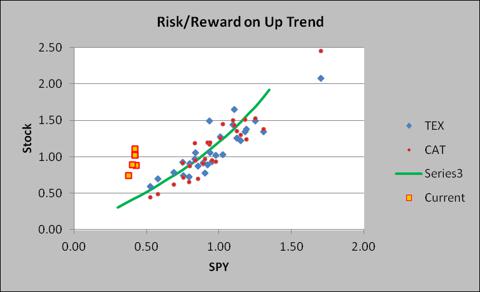 The price graph for CAT and TEX is easier to follow and is shown below illustrating this trend.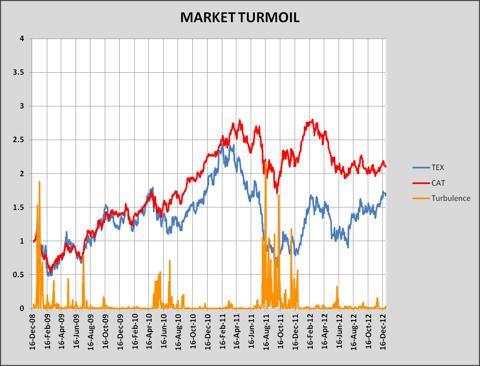 So, on the basis that Terex has displayed "High Beta" characteristics in the past, and is producing positive outlier results currently, unlike Caterpillar, I classified my stock universe to align with Terex, and then put together a stock portfolio with similar characteristics. The portfolio I ultimately selected comprised:
| | | |
| --- | --- | --- |
| | Brunswick Corp | Recreational Products |
| | CVR Energy | O&G Exploration & Production |
| | Discover Financial | Consumer Finance |
| | Eastman Chemical | Commodity Chemicals |
| | Energy Solutions | Waste & Disposal Services |
| | Horace Mann | Property & Casualty Insurance |
| | Industria Bachoko | Food Products |
| | Lenox Int | Building Materials & Fixtures |
| | Regal-Beloit Corp | Electrical Components & Equipment |
| | Terex Corp | Commerical Vehicles & Trucks |
| | Tata Motors | Commerical Vehicles & Trucks |
I recorded this portfolio as at December 12th on the Seeking Alpha portfolio service with a nominal equal weighted allocation. The performance to date is around 7%, with the volatility as shown in the following graph. My view is that this approach indicates an interesting trading strategy. It is proving attractive both as a long only portfolio, or as a market neutral portfolio, which is the strategy I advocated at the time.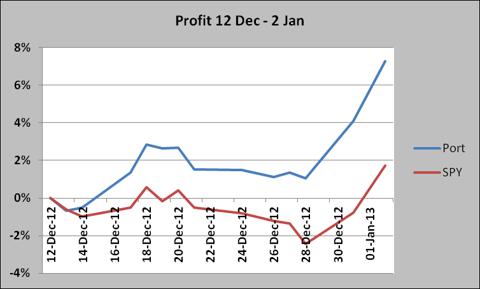 Disclosure: I have no positions in any stocks mentioned, and no plans to initiate any positions within the next 72 hours. I wrote this article myself, and it expresses my own opinions. I am not receiving compensation for it (other than from Seeking Alpha). I have no business relationship with any company whose stock is mentioned in this article.