Enterprise Products Partners (NYSE:EPD) is an integrated US pipeline company. It provides services for natural gas, NGLs, crude oil, petrochemicals, and refined products. It transports over 4 million bpd of NGLs, crude oil, refinery products, and enterprise value of approximately $62B. It has $7.7B of growth projects underway. Even with all of this, a major achievement like the expansion of the Seaway Pipeline is a positive achievement for the stock. By the end of next week (January 12, 2013 at the latest), EPD expects the new full capacity of 400,000 bopd to be in service. This represents an increase of 250,000 bopd from the previous 150,000 bopd of capacity. This pipeline is sure to have 100% or near 100% use soon after it opens. It will help to alleviate the bottleneck of crude oil in Cushing, Oklahoma.
The Seaway Pipeline is a 500 mile pipeline from Cushing, Oklahoma to the Texas Gulf Coast. It will allow WTI oil in Cushing to get higher prices on the Texas Gulf Coast. Louisiana Light Crude currently sells for approximately Brent Crude prices. Newly available light sweet crude from this pipeline should be able to command roughly the same price. Alternatively, heavy sour crude could also be shipped from Cushing to some of the high complexity refineries in Texas. In either case, the producers will be happy to have the extra pipeline capacity available.
The initial shipping rate for the Seaway Pipeline reversal in May 2012 was $3.82 per barrel. If you estimate a relatively quick ramp up to an 85%+ usage rate, you get approximately an extra 200,000 bopd transported. This is approximately another $800,000 per day in revenues. EPD is a 50% partner with Enbridge inc. (NYSE:ENB) on this pipeline project. EPD's share of the revenue would come to about $400,000 per day or approximately $150 million per year. Even for a company as big as EPD, this is not a negligible amount of extra revenue. When you consider that much of this will go directly to the bottom line, you see the benefit more clearly.
EPD is forecast to earn $2.69 per share in FY2013. With 891.71 million shares, this translates into approximately $2.4B in earnings. Another $50 to $100 million in earnings is a non-negligible amount. Further, the Seaway Pipeline expansion should have a positive effect on EPD's stock price due to its sensational nature. It is bringing Cushing crude to the Texas Gulf Coast. It will help to bring the WTI prices more into line with the Brent Crude prices. Good publicity is always good for a stock's price.
Some may say this will just be hype that will be driving EPD upward temporarily. However, EPD has many other very real projects coming online soon. These will more than justify the extra hype. The following projects have been or are set to be completed in Q3 and Q4 of 2012:
The Eagle Ford Crude Oil Pipeline & Terminal -- Lyssy to Sealy
The Eagle Ford Yoakum Gas Processing Facility (Phase II) (an additional 300 MMcf/d)
The Eagle Ford Crude Oil Pipeline -- Houston Area
The Mont Belvieu NGL Fractionator 6
The ECHO Terminal & Oil Pipeline Interconnect Houston Area
The Eagle Ford Natural Gas Gathering & Transportation
The Eagle Ford 36" Natural Gas Pipeline -- Word to Wilson
The Mont Belvieu West Storage
The Eagle Ford Extend Mixed NGL Pipeline -- Alvin to Mont Belvieu
All told they should provide a real pop to earnings, and those $2.2B worth of projects are just the beginning ($3B in projects for all of 2012). EPD has another $2.5B in projects that are supposed to be completed in 2013. Most of these are scheduled to be completed in 1H 2013. The near term pop on EPD could be sizable. The good news should be constant. The projects to be completed in 2013 are:
The Seaway Crude Oil Pipeline Reversal to 400,000 bopd capacity (Q1 2013)
The Eagle Ford Yoakum Gas Processing Facility (Phase III) (additional 300 MMcf/d) (Q1 2013)
The NGL Export Facility Expansion at the Houston Ship Channel (Q1 2013)
The Mont Belvieu DIB & Propylene Splitter 4 Expansions (Q1 2013)
The Enterprise / Plains JV -- Eagle Ford Crude Oil Pipeline (Q2 2013)
The Texas Express NGL Pipeline -- Skellytown to Mont Belvieu (Q2 2013)
The Avalon / Bone Springs Gathering System (Phase II) (Q2 2013)
The Eagle Ford Mixed NGL Pipeline (Phase II) (Q2 2013)
The Mont Belvieu Mixed NGL Pipeline & Pump Expansion (Q2 2013)
The Mont Belvieu NGL Fractionators 7 & 8 (Q4 2013)
The Front Range NGL Pipeline (Q4 2013)
Further, large projects are planned for 2014 and 2015 amounting to $4.2B so far (mostly in 2014). The good news scheduled for 1H 2013 should provide a steady stream of positive announcements and possible analyst upgrades to either EPD's stock rating and/or its analysts' stock price target. The above good news is forecast by analysts to raise EPD's revenues from an estimated $43.76B for FY2012 to $48.90B for FY2013 (almost +12%). With this in mind, one has to think EPD is likely a great investment, especially when the company has an enterprise value of approximately $62B. This is even more true when 77% of the company's revenues are fee based (mostly guaranteed with long term contracts). When the fee based percentage of revenues is set to go up to 80% by the end of 2013, the company is in even better shape for a possible US slowdown and a possible US recession in the near term.
On a global basis the December Chinese PMI reading of manufacturing activity of 50.3% is a positive for energy related stocks. The US fiscal cliff deal by the US Congress is also a positive, although it is an incomplete measure. Both of these news items may mean that energy stocks, especially fairly "safe" ones such as EPD, may be able to rally.
With regard to valuation the following table contains some comparable information for EPD an a few of its major competitors such as Enbridge, TransCanada (NYSE:TRP), and Kinder Morgan Energy Partners (NYSE:KMP).
| | | | | |
| --- | --- | --- | --- | --- |
| Stock | EPD | ENB | TRP | KMP |
| FPE | 19.28 | 23.74 | 20.05 | 33.04 |
| 5 yr avg. Avg. Analysts' EPS Growth Estimate per annum | 7.14% | 12.60% | 7.99% | 16.45% |
| Enterprise Value/Revenue (TTM) | 1.45 | 2.13 | 5.76 | 5.90 |
| Price/Book | 3.57 | 5.07 | 2.10 | 3.79 |
| Avg. Analysts' Recommendation | 1.6 | 1.8 | 2.7 | 2.6 |
| CAPS Rating | 5 stars | 4 stars | 5 stars | 5 stars |
| Annual Dividend | 5.01% | 2.91% | 3.69% | 6.03% |
| Profit Margin | 5.86% | 2.76% | 15.43% | 14.32% |
| Enterprise Value | $62.24B | $55.21B | $54.19B | $49.46B |
| Market Cap | $46.24B | $34.94B | $33.79B | $30.48B |
| Beta | 0.66 | 0.51 | 0.65 | 0.49 |
EPD compares very favorably to its peers in virtually every category. With all of EPD's new projects coming online soon, it is no wonder that it is the analysts' favorite. It does have a lower next 5 years average analysts' EPS growth per annum estimate of 7.14%. However, historically EPD has been one of the best growers over time of any US equity. Including dividends, an investor's investment since 1998 is closing in on a 2000% return. Few stocks can claim this.
With all of EPD's new projects, I am not worried about growth. With the fee-based revenue percentage of EPD going to 80% by the end of 2013, I feel safer investing in EPD even if there is a US recession. Most fee based contracts are long term. A lot of fee based contracts are virtually guaranteed income. With very safe characteristics and a dividend of 5.01%, EPD is a buy in this uncertain market. Most of the other above mentioned stocks look like reasonable investments too, although perhaps not as good as EPD. The charts below confirm the most recent years' growth in revenues and distributions. I like the trend.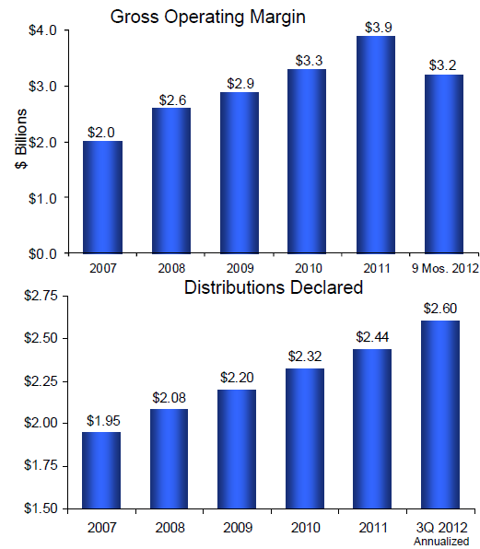 Click to enlarge
I note the gross operating margin figure for 2012 is only a 9 month figure in the above chart. The actual end result for FY2012 will likely be $4.4B or more.
The five year chart of EPD provides some technical direction for this trade.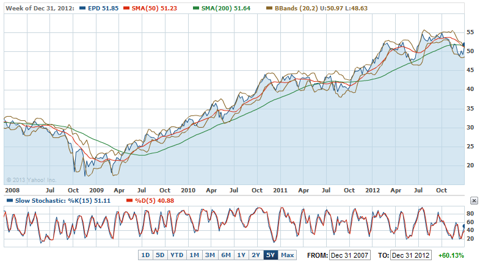 Click to enlarge
The slow stochastic sub chart shows that EPD is just starting to rebound from an oversold state. The main chart shows that EPD has been in a weak long term uptrend for the last two years. This trend has been weakening of late. The Chinese Manufacturing PMI data, the fiscal cliff deal, and EPD's own news (and pipeline of coming good news) should help to push EPD further upward.
As a downside argument, a possible US recession looms. A battle over the US federal budget deficit and federal budget cuts may push the overall market downward. EPD has good support at $40 per share if a recession does hit. With 80% free based revenue by the end of 2013, EPD should be able to weather a downturn easily. It is a buy. In the near term, the direction is likely to be upward.
In the medium term the direction will likely depend on the US economic performance in 2013. In the long term EPD is likely to perform well. Averaging in around further US budget discussions and austerity in 2013 should yield an average good entry point. It you are more a trader than an investor, you may want to try to capture the short term upside move.
Note: Some of the fundamental data above is from Yahoo Finance.
Good Luck Trading.
Disclosure: I have no positions in any stocks mentioned, but may initiate a long position in EPD over the next 72 hours. I wrote this article myself, and it expresses my own opinions. I am not receiving compensation for it (other than from Seeking Alpha). I have no business relationship with any company whose stock is mentioned in this article.