Taking a look at BMW and Mercedes-Benz's US based websites (bmwusa.com and mbusa.com respectively) and it's easy to see that both are featuring their new diesels front and center. The Benz's are currently on sale in the US with Beemer's soon to come.
Both vehicles are impressive with fast 0-60 times, more torque than their gasoline counterparts and of course, better fuel economy; both claim nearly 600 miles on just one tank of fuel. This statistic instantly made me wonder how big the fuel tanks were but that took a little digging, or in BMW's case, a lot of digging because it's not posted anywhere on their site. Size of the tank aside, both post mpg figures in between 23-26 highway for SUV's and BMW claims 36 mpg highway for its diesel 3 series. These are certainly impressive numbers, more impressive in my opinion than traditional hybrids that may only improve your gas mileage by a couple gallons per mile.
As with most new fuel efficient vehicles that have made their way onto the scene I figured prices of these vehicles would be significantly more than their gasoline counterparts but surprisingly they aren't. Only able to research MB pricing I found costs to be either equal or slightly higher than the base gasoline version of each vehicle, not bad! Couple this minor price premium with a decline in diesel prices and this could be a match made in heaven.
So which of these brands is capitalizing on the new diesel craze the most? I decided to see which sites were people visited the most when searching for "diesel cars." To my surprise Volvocars.com was ranked eighth, mbusa.com twenty-second and bmwusa.com was not even in the top 50.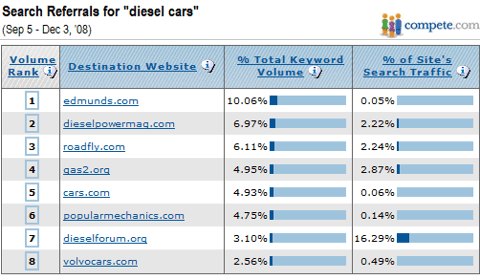 Volvo is going to be releasing a new series of diesel cars under the name Drive, in Europe at least. These diesels achieve about 53 mpg but there is no US plan for them for now.
It appears the manufacturers with vehicles actually in or soon to be in the US market, and in particular Beemer, need to focus a little more attention on search engine marketing and search engine optimization to ensure their brands rank at the top of the search heap. Until then, Volvo is winning the diesel keyword battle.