Ruth's Hospitality Group (NASDAQ:RUTH), a $250 million market cap restaurant company, gives long-term investors the opportunity to potentially generate returns of over 13% a year, with additional upside due to its attractiveness to potential acquirers and modest growth prospects. While the company is certainly subject to the standard macro risks of any restaurant company, such as recession and high commodity costs, I believe the company's ability to generate minimum sustainable free cash flows of $30-$35 million a year (12%-14% free cash flow yield), combined with a growing franchise income stream and the potential for incremental unit growth to boost free cash flow makes it a reasonable investment.
As a value investor, I am always interested in looking at a company that generates substantial amounts of free cash flow as a percentage of its market cap. On Wall Street there is a saying, "Earnings are an opinion, cash is a fact." By focusing on sustainable free cash flow, an investor begins to think like an owner and not the typical transient trader who seems to dominate "investing" these days. A company's sustainable free cash flow calculation has to incorporate numerous factors such as changes in working capital, cash taxes and capital spending. Investors are becoming lulled into the "illusion of control" of their analysis by the proliferation of websites that provide screen-able financial data and calculations of every ratio and even, "free cash flow." Almost 30 years of successful investment experience has taught me that it is better to be "approximately right" on many details than "precisely wrong." This article looks at Ruth's Hospitality Group as a potential investment with consideration for its substantial free cash flow generating capacity.
Another old adage of value investing is to "try not to pay for growth."An easy way to do this is to not make too many assumptions about growth rates improving or accelerating in the future. If you need a substantial change in growth or outcomes that historically have not materialized for the company in order for the idea to be attractive, then you could be disappointed with the idea. If you assume no change in a company's prospects and that it can just keep the status quo over a few years, then a company that produces sustainable free cash flow can provide long-term shareholders the same benefit that private equity investors receive. That is, the free cash flow is either used to pay down debt or it piles up on the balance sheet. Either way, assuming there is no change in the enterprise value of the company over time, a conservative assumption of a company with improving liquidity is that the cash has to accrete to the equity component of the enterprise equation (EV = net debt + equity valuation). This results in a higher per share price for equity shareholders.
Of course, as a non-control investor, we are dependent upon management to allocate that free cash flow in shareholder friendly ways. This does not always happen and in the case of RUTH, previous management was not prudent in the way they utilized the shareholder's capital. This is a major risk of investing in companies with large amounts of free cash flow as a non-control investor. However, I believe that current management has shown its willingness to be more shareholder-friendly and in this article I will show several ways in which they could reward patient shareholders by returning that free cash flow back to them in the form of perhaps a 5% dividend or more. I view the growth potential as upside to my base case and will discuss this in future articles.
The focus of this article is not to analyze current operating trends like same-store sales or near-term headwinds such as higher beef costs or another recession. The purpose of this article is to highlight free cash flow yields and to help educate investors to think like an owner and concentrate on what is important and ignore all the daily noise.
Brief Summary of the Company's Operations and Operating Model
Instead of regurgitating data that is readily available on the Internet to any interested investor, I am just going to look at the general attributes of the company. RUTH is nearly twice as large as its main fine dining steakhouse competitors. It is the first fine dining chain to exceed $500 million in revenue. While I do not view scale as a major competitive advantage, it does show that the chain is reasonably successful and more diversified than its peers. The chain also is consistently voted #1 by consumers in the National Restaurant News annual survey.
Click to enlarge images.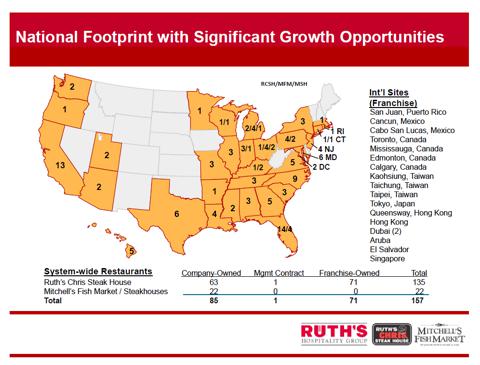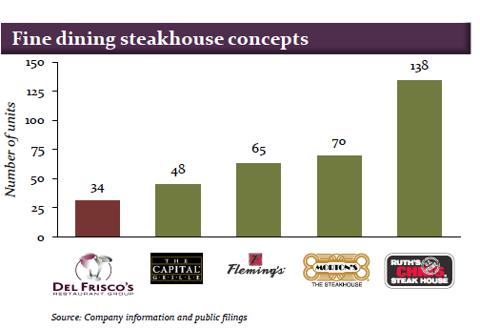 In order to give investors a sense for the volatility of various categories on a longer-term basis, the following table shows the five-year range of expenses as a percentage of revenue. Cost of goods (COGS) is currently at the top of the historical range due to higher beef prices. I view these expenses as somewhat variable and cyclical and do not get too concerned unless it starts to get outside of the five-year range, and then it is time to decide if a permanent change in the cost structure has changed. In order to get any real improvement in the operating expense line to get it back toward 50%, the company will need to continue to see 2%-4% positive comps to leverage labor and rent. This is not something that I am expecting to happen in order to make the investment work. In fact, I am going to assume no real change will occur in margins as a base case.
| | |
| --- | --- |
| Expenses | 5 year range |
| COGS | 30.5%-33% |
| Operating Expenses | 49.3%-52% |
| Advertising | 3%-3.5% |
| SG&A | 6%-7.5% |
| Depreciation | $14-$15M |
| Interest | $2M |
| S/O | 35 |
The table below shows that EBITDA and cash from operations have been relatively stable as a percentage of revenue. This characteristic makes investing in RUTH attractive. Stable cash from operations as a percentage of revenue helps to address any quality of earnings or sustainability of cash flow issues.
| | | | | |
| --- | --- | --- | --- | --- |
| | 2009 | 2010 | 2011 | 2012E |
| Revenue | $340.00 | $353.00 | $370.00 | $394.00 |
| EBITDA | $36.00 | $41.00 | $41.00 | $44.00 |
| CFO | $28.00 | $40.00 | $39.00 | $42.00 |
| Cap Ex | $5.00 | $6.00 | $9.00 | $11.00 |
| FCF | $23.00 | $34.00 | $30.00 | $31.00 |
| | | | | |
| EBITDA % of sales | 11% | 12% | 11% | 11% |
| CFO % of sales | 8% | 11% | 11% | 11% |
| Cap Ex % sales | 1% | 2% | 2% | 3% |
| FCF % sales | 7% | 10% | 8% | 8% |
Unlike its peer Del Frisco's and many other restaurant chains, RUTH has 71 franchised units. This provides the company with a growing $13-$14 million (approximately $200K a unit), high margin cash flow stream that requires almost no investment capital. Many franchise concepts trade at an EV/EBITDA in the 8-12X range depending on their growth rates. In fact, Marcato Capital recently filed a 13D on DineEquity (NYSE:DIN) pointing out the attractive business model and valuations that franchise business models receive. At a 10X multiple on that cash flow stream, for example, one could see how the franchise revenue stream could account for over one-third of the company's current enterprise value. This can provide additional support to valuation in tougher times.
Stable Free Cash Flow Provides Management With Several Shareholder-Friendly Options
When I look at a company like RUTH that is not in a rapid growth phase and generates reasonably stable free cash flows, I like to see what the potential uses of the free cash flows are and how they could enhance the equity valuation of the company. A simple calculation shows RUTH could pay a 5%-6% dividend and still have ample cash flow for debt pay down, stock buybacks or continue measured incremental unit growth if warranted.
On February 14, 2012, RUTH amended its credit agreement with Wells Fargo Bank. The most relevant changes to the agreement were 1) the maximum leverage ratio will not exceed 2.50:1.00 and 2) the company is limited to "junior stock payments" (i.e. dividends and stock repurchases) of $100 million through the end of the agreement. The agreement matures on February 14, 2017. The company recently spent $60.2 million to repurchase the 10% coupon preferred stock from a private investment company. The preferred stock was issued when RUTH was trying to reduce liquidity concerns in 2010. This means that the company has the ability to return almost $40 million to shareholders over the next four years under its current agreement and debt balances. As the debt balance is reduced with free cash flow, the amount increases.
As the table below shows, RUTH could pay a dividend in the range of 4%-6.5% as still have $16-$20 million available to pay down the $55-$60 million in net debt. The company would still be well under its convent restrictions under all three scenarios. Considering that the company's debt to EBITDA ratio is less than 1.50:1.00, compared with the covenant restriction of 2.50:1.00, the company's need to de-lever is not mandatory. If management chose to return the company to the $20 million in debt it had before taking out the convertible and use all of its free cash flow for debt repayment in 2013, a potential dividend would be delayed until 2014. Shareholders would still benefit by the accretion of equity to the enterprise value, however. Unless there is a significant drop off in revenue this year, I believe a divided of at least 2%-3% will be initiated in 2013. This would be a significant first step in giving shareholders access to the $30-$35 million in free cash flow.
| | | | | |
| --- | --- | --- | --- | --- |
| | 2012 | 2013 | 2014 | 2015 |
| Revenue | $395.00 | $410.00 | $410.00 | $410.00 |
| EBITDA | $44.00 | $48.00 | $48.00 | $48.00 |
| CFO | $42.00 | $45.10 | $45.10 | $45.10 |
| CAP EX | $11.00 | $12 | $12 | $12 |
| FCF | $31.00 | $33.10 | $33.10 | $33.10 |
| | | | | |
| 30% of FCF | | $9.93 | $9.93 | $9.93 |
| 40% of FCF | | $13.24 | $13.24 | $13.24 |
| 50% of FCF | | $16.55 | $16.55 | $16.55 |
| | | | | |
| S/O | 35 | 35 | 35 | 35 |
| | | | | |
| | | | | |
| Yield at $7.25 stock price | | Yield | | |
| 30% of FCF | | 3.9% | | |
| 40% of FCF | | 5.2% | | |
| 50% of FCF | | 6.5% | | |
Potential to Be Acquired Is High
I believe that RUTH is a prime acquisition candidate and any sell-off in the shares due to macro concerns or a shortfall in same-store sales should be viewed as an opportunity to "front run" potential acquirers. There are several reasons to believe that RUTH would be attractive to a large number of acquirers.
Not only does the company have scale, potential for unit growth and great brand equity, it has the previously mentioned $30-$35 million in free cash flow. At least one-third of that amount can be attributed to its annuity like income stream from its franchise operations. Since this revenue stream is a function of revenue and not operating margins, it is much more stable than the cash flow derived from owning and operating restaurants. This is an attractive attribute when an acquirer wants to use leverage to complete a transaction.
Numerous transactions in the last year imply a minimum 8X EV/EBITDA potential valuation. While it is true that many acquisitions were done in the 6.5-7.5X EV/EBITDA range, it should be noted that most of the concepts that were acquired in that range had significant operational issues occurring at the time of their acquisition, meaning that a lower multiple due to turn around risk was warranted. It should also be noted that few of these companies had the franchise revenue stream that RUTH has.
| | |
| --- | --- |
| Company | EV/EBITDA |
| McCormick & Schmick's | 6.6 |
| California Pizza Kitchen | 6.9 |
| Landry's | 7.2 |
| Morton's | 7.5 |
| O'Charley's | 7.6 |
| J Alexander's | 8.9 |
| PF Chang's | 8.9 |
| Benihana | 9.0 |
| Average | 7.8 |
Two of the most likely acquirers are Fidelity National Financial (NYSE:FNF) and Landry's Inc. FNF acquired O'Charley's in 2012. It has also acquired Village Inn and Bakers Square restaurant chains in 2009 and Max & Erma's in 2010. The company's subsidiary, American Blue Ribbon Holdings (ABRH), currently has an annual revenue run rate of $1.45 billion in revenue with a stated objective to reach $2 billion through "internal growth and potential acquisitions." Because FNF has a substantial infrastructure in place, the company can pay a higher EV/EBITDA multiple than a private equity firm, it can cut out layers of SG&A and add purchasing synergies not available to private equity. The O'Charley's acquisition highlights this point. The company announced it believes it can achieve $20 million in synergies, which would boost EBITDA from $30 million to $50 million, thus substantially lowering the multiple to FNF.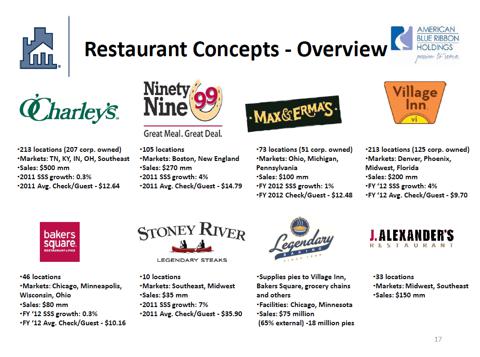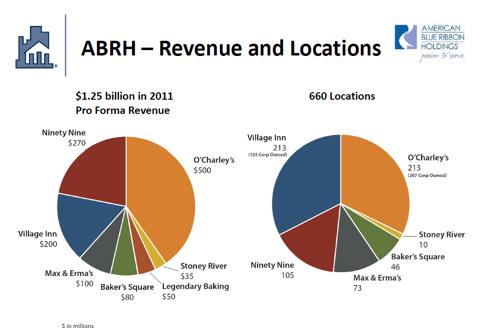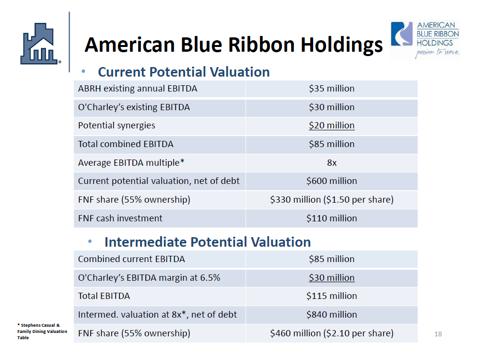 Landry's is the other logical acquirer having acquired both Morton's and McCormick and Schmick's in the last two years. I believe RUTH would fit nicely into its restaurant division, which also includes Bubba Gump, Landry's Seafood, Vic & Anthony's Steakhouse and Saltgrass Steakhouse.
Potential Acquirer Has Laundry List of Reasons to Entice Shareholders to Accept a Bid
RUTH's use of capital since 2006 has not been shareholder friendly. While current management has been in place subsequent to these transactions, the company has been burdened by the actions that were taken. In 2006, the company bought back seven units from a franchisee for $39 million or $5.6 million a unit (AUV were $5.7 million, operating profit $1.6 million per store). In 2007, the company bought back three units for $13 million or $4.3 million a unit (AUV were $5.6 million, operating profit $1.4 million per store). In, 2008, the company acquired 19 Mitchell's restaurants for $93 million or $4.9 million a restaurant. Assigning no value to the franchise revenue stream, RUTH's 72 restaurants are valued at $4.3 million per unit (AUV $4.5 million operating profit $800,000 per store) The depreciated value of the restaurants is approximately $2.7 million and the cost of a new restaurant is running $2-$4.0 million.
Other examples of value-diluting actions include issuing $25 million worth of convertible securities (8.6 million shares) with a 10% coupon and issuing 10 million shares of common stock at $2.50 a share during the financial crisis. While management will argue that it was necessary for liquidity purposes, it was significantly dilutive to shareholders. The company recently bought back the convertibles at a cost of $61 million.
A Turnaround at Mitchell's Could Also Add Upside
To say the 2008 acquisition of Mitchell's for $93 million has not been successful would be an understatement. Since acquiring the 19 unit chain, Average weekly sales (AWS) have dropped approximately 16% in 2008 and 11% in 2009. They have since stabilized and in fact, increased by 4.6% in Q3 including a 5.6% increase in traffic. Boosting traffic is the first step necessary to turnaround the concept. While I have no positive expectations that the concept will achieve pre-2008 levels, there are signs that the chain is turning around to some degree. Considering the company spent nearly 35% of the current market cap for the chain, it is clear that investors are not assigning much value to concept at this point.
If the company decides to sell the chain (which would probably be somewhat difficult considering it is a 22 unit chain with sales between $60-$70 million) perhaps it could receive $30-$45 million for it, which could be used to further pay down debt. It should be noted that subsequent to the acquisition, RUTH has lost 1,000bps of restaurant operating margin. This shows the magnitude of the potential improvement in margins that are possible. No improvement is assumed in our base case.
Risks Are Real, Well-Known and Not Life Threatening
Investors with a top down focus, or a time horizon of less than a year or more will clearly question the timeliness of an investment in a restaurant stock when the "obvious downside risks" of a high unemployment, a potential for a recession and higher beef costs in 2013 loom ahead. The impact to the company's bottom line of higher beef costs appears to be in the $0.06-$0.08 per share range (10%-15% of current FY 2013 estimates) assuming a 10% increase in the cost of beef with no price increase or change in portions. As a long-term investor, one has to accept the risks as they are and decide what "margin of safety" they view is adequate to be compensated for risks that any company will encounter. Perhaps a 12% current free cash flow yield is not enough for some investors. Perhaps as much as 10%-15% of free cash flow could be at risk over the next 12 months if these risks materialize, meaning a 10%-15% decline in the stock price would be required to produce the same 12% free cash flow yield.
These scenarios are entirely possible. It is up to each investor to decide what to do. In my view however, none of these risks is unique to RUTH and certainly if they occur, unlike 2008-2009, the company will not be forced to pursue the highly dilutive transactions and destroy shareholder value in order to survive. As far as liquidity is concerned, the company's credit agreement doesn't expire until February 2017 and the interest rate is only 2.75% on the outstanding balance.
The Bottom Line
Ruth's Hospitality is a high-quality restaurant concept that offers investors the potential for low double-digit annual returns with upside, assuming only modest growth in units or same-store sales. The company's history of shareholder-destroying actions seems to be a thing of the past. Shareholders should start receiving a generous portion of the estimated $30-$35 million in annual free cash flow in the form of a dividend within the year.
At the current valuation, the potential of a 5%-7% dividend, modest debt reduction that accretes to the equity, substantial improvement in restaurant operating margins and modest unit growth should more than compensate investors for the well known and potential macro risks. In future articles we will analyze in detail the potential margin improvement and the impact of growth on future cash flows.
Disclosure: I am long RUTH. I wrote this article myself, and it expresses my own opinions. I am not receiving compensation for it (other than from Seeking Alpha). I have no business relationship with any company whose stock is mentioned in this article.