Overnight, oil traders anticipated a bullish inventory report when they took futures higher on light short covering. Oil analysts, however, were bearish, calling for continued inventory building.
When the numbers came out from the U.S. Energy Information Administration Wednesday morning, the traders were proved right. Domestic crude oil inventories decreased by 400,000 barrels last week. After the 7.3-million-barrel build reported for the previous week, analysts expected a 1.7-million-barrel increase.
NYMEX WTI Spot Crude Oil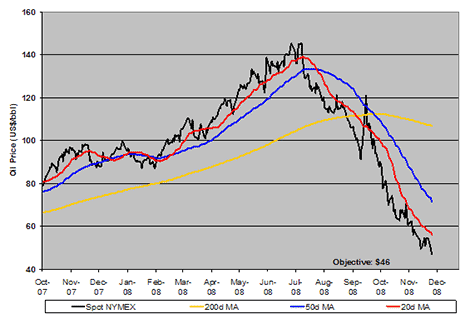 Refinery usage, expected to come in slightly higher at 86.6%, fell to 84.3% last week as gasoline and distillate fuel production slipped.
The production drop may have accounted for the not-so-near misses in Oil Patch calls for refined fuel inventories. Gasoline stocks, forecast to rise by 1.4 million barrels, fell instead by 1.6 million. Lower pump prices might at last be spurring demand, though consumption is still down 3.2% from this time last year.
Distillate supplies - including heating oil and gasoline - expected to remain flat, fell by 1.7 million barrels. Demand remains soft, down 2.2% from year-ago levels.
The nearby NYMEX crack spread widened to $6.22 a barrel on weak product prices Tuesday. The move boosted refining margins to 13.2%, a level not seen since June when the oil market slipped into contango.
(For more about crack spreads, see: "Time For Crack Spreads?".)
NYMEX-Implied Refining Margins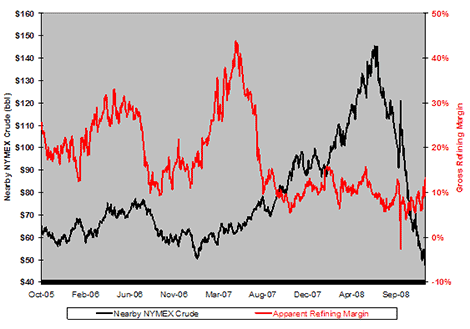 Speaking of contango, the quarterly NYMEX spread widened to more than $4 a barrel Tuesday, increasing the potential profit oil hoarders could command in a cash-and-carry trade. By purchasing oil in the spot market for $47 a barrel, and selling it forward in the futures market for $51, traders could pocket better than $2.50 after finance and storage costs. If traders could earn this return over a full year, they'd be making 22% on their money - a heck of a lot better than Christmas Club savings rates.
Refining Margins Vs. Contango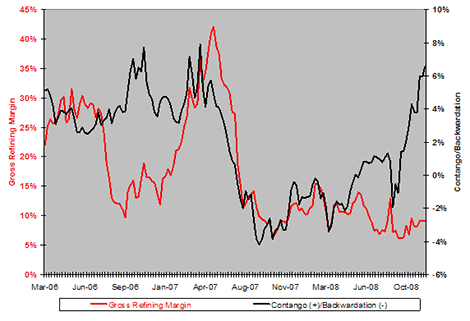 Oil's contango steepened over the past month as demand eased and credit conditions worsened. There's a spirited debate about storage capacity that's also stoking the market. In the past, steep cash-and-carries were seen when inventories filled available storage. Now, however, traders are demanding premiums for selling oil forward because of lending constraints.
Storage issues can be resolved a lot quicker than the amelioration of the lending environment, so we're likely to see the cash-and-carry for a while.
(For more on contango, see: "The Battle Against Contango.")
Technically, the WTI oil market remains weak as the spot contract now works the $46 level. The January NYMEX delivery settled at $46.96 a barrel after Tuesday's floor session. Primary resistance rests just above $56.