With the Senate approving the fiscal cliff deal, the US seems to have averted another crisis. In response to this news, US equities surged with some upside movement observed in gold as well. This article focuses on the outlook for gold in 2013 and the reasons to believe that the precious metal will trend higher during the year and beyond 2013.
Before I discuss the bullish case for gold, I would like to mention here that I expect gold to correct further from these levels over the next 2-3 months. I had discussed the reasons for believing that gold will correct by 10-15% on one of my earlier articles. With the fiscal cliff crisis averted, the focus will now shift to the debt ceiling issue, corporate earnings and the economic growth data. I did discuss the reasons for believing that corporate earnings will disappoint in the near-term along with the expectation of sluggish economic activity. Also, the next few months will witness another series of debate related to the debt ceiling, which will keep asset markets relatively nervous. These critical factors and concerns will lead to a stronger dollar over the next 2-3 months. As such equity markets, commodities and precious metals will witness some correction. Therefore, I would be slow in taking fresh exposure to any risky asset class and hard assets in the near-term.
For the full year 2013, my outlook for gold is very bullish and I believe that 2013 will be another golden year for the precious metal. Discussed below are the primary reasons for this outlook for the precious metal.
Gold is not in a bubble territory
Investors might be wary of exposure to gold after a significant surge since the financial crisis. However, gold is far from being in a bubble and I expect the precious metal to trend higher over the next 5-10 years. It is important to mention here that the long-term bull and bear markets can last for at least two decades. Gold itself was in a bear market from 1980 to 2000. Given the current economic scenario globally and continued expansionary monetary policies by central bankers, gold has the potential to trend higher for another decade. Talking about a gold bubble, the precious metal constituted only 11% of the outstanding amount of marketable potentially safe assets as of April 2011. This has not changed much with government debt swelling globally. Therefore, in terms of gold holdings, one can safely say that gold is still under owned. Any asset class is significantly over owned at times of a bubble. Clearly, that is not the case with gold. Also, I still don't see a very high percentage of individuals holding physical gold as compared to equities and other common asset classes.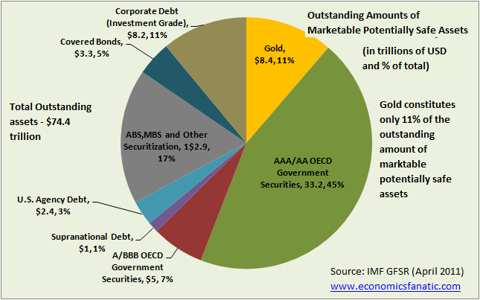 Debt Growth Has Outpaced Gold Price Increase Significantly
One of the ways to check if gold is undervalued or overvalued is to compare it with other asset classes. Further, a comparison of debt growth and increase in gold prices also gives an idea about the possible value of the precious metal. Over the last 32 years, S&P 500 has increased by 13.8 times as compared to an increase of 3.2 times for gold. More importantly, total credit market debt and government debt has surged by 12.5x and 17.0x respectively. With debt being money in the current financial system, the price of gold has not increased in sync with money growth in the system. I am certainly not suggesting that gold should have increased by 17x or 12.5x. All I am suggesting is that the rate of growth of paper money has been far more than the rate at which gold has appreciated. As such, gold does have more upside potential in the foreseeable future.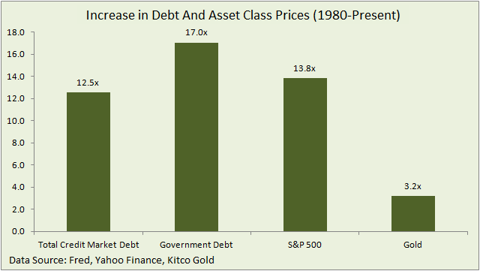 Asian Central Banks Will Continue to Buy Gold
The current crisis is expected to be prolonged for the US and the Euro zone. The fact that the Fed has committed to keep interest rates near-zero levels until 2015 underscores my point on prolonged weak economic activity. Under these circumstances, expansionary monetary policies will lead to the gradual devaluation of all major currencies. As a part of their reserves holding diversification, the Asian central banks will continue to increase their gold holdings. This trend was evident in 2012 with central banks increasing their gold holdings. The emerging markets (primarily China and India), have nearly 84% of their reserves in paper money. I expect central banks to continue to ramp up their gold holdings leading to incremental demand and higher prices.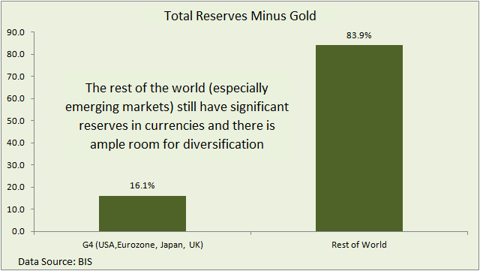 Monetary Base Will Continue to Surge
Gold prices have surged in the recent past in line with an increase in the US adjusted monetary base. With unlimited bond purchase program and continued weakness in the US economy, the US monetary base will continue to surge over the next few years. In line with this money creation, gold will trend higher. One might argue that the US economy is doing relatively well. However, I would look at real economic indicators such as money velocity and U6 rate to determine the state of the economy. I had discussed these indicators and the real weakness in the US economy in one of my earlier articles.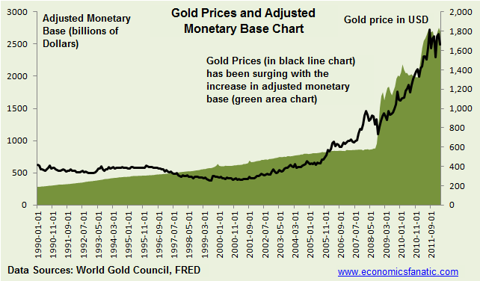 Dollar Will Continue to Trend Lower
A stronger dollar is negative for gold prices and a weaker dollar is positive. With USD10 trillion of deficits projected by the CBO for the next ten-years, the dollar will continue to trend lower. In line with this, gold will trend higher. Gold has surged by 376% in the last ten years in dollar terms, while it has increased by only 270% in terms of currencies making up the dollar index. This underscores the importance of currency strength or weakness for gold prices.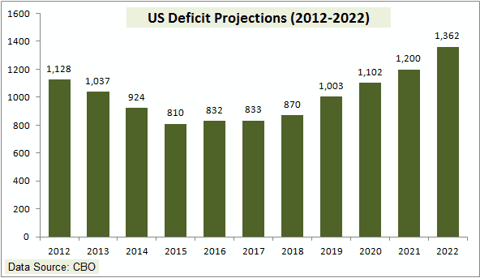 2013 - Another Year of Expansionary Monetary Policies
All the factors discussed above come into play in 2013 as expansionary monetary policies will continue during the year. Economic weakness is evident as US registered its worst festive season retail sales since 2008. As the fiscal cliff issue is sidelined and the debt ceiling has been raised, money printing will ensue. This will lead to an increase in the monetary base and decline in the dollar. A weaker dollar will lead to investors (including central banks) taking refuge in hard assets like gold.
In conclusion, the first quarter of 2013 will be a time for accumulating the precious metal. As the year progresses, investors will see gold surging to new highs in all probability. My recommendation would be exposure to physical gold. However, investors can also consider gold ETF's and gold mining stocks.
Specific Investment Suggestions -
SPDR Gold Shares (NYSEARCA:GLD) ETF. The investment seeks to replicate the performance, net of expenses, of the price of gold bullion.
Market Vectors Gold Miners ETF (NYSEARCA:GDX) is a good investment option for long-term. The ETF seeks to replicate as closely as possible, before fees and expenses, the price and yield performance of the NYSE Arca Gold Miners Index.
Market Vectors Junior Gold Miners ETF (NYSEARCA:GDXJ) is another excellent long-term investment option. The ETF seeks to replicate, net of expenses, the Market Vectors Junior Gold Miners index. The index tracks the overall performance of foreign and domestic publicly traded companies of small- and medium-capitalization that are involved primarily in the mining for gold and/or silver. Therefore, the risk related to exposure to GDXJ would be relatively higher as compared to GDX.
Rio Tinto plc (NYSE:RIO) - Rio Tinto is a leading international mining group with a diversified geographical presence and a diverse product offering. Most of Rio's assets are in Australia and North America, but it also operates in Europe, South America, Asia and Africa. Gold and silver are produced primarily as by products of Rio Tinto's copper operations. Investors can consider exposure to this 2.5% dividend yielding stock as it is one of the best commodity plays other than having gold as a part of its diversified commodity portfolio.
Newmont Mining Corp. (NYSE:NEM) - with a 3% dividend yield and high cash operating margin, Newmont is a good long-term investment option for investors bullish on gold and gold miners. Newmont engages in the acquisition, exploration, and production of gold and copper properties. The company's assets and operations are located in the United States, Australia, Peru, Indonesia, Ghana, New Zealand, and Mexico. As of December 31, 2011, it had proven and probable gold reserves of approximately 98.8 million ounces.
Disclosure: I have no positions in any stocks mentioned, and no plans to initiate any positions within the next 72 hours. I wrote this article myself, and it expresses my own opinions. I am not receiving compensation for it (other than from Seeking Alpha). I have no business relationship with any company whose stock is mentioned in this article.