Below is an updated look at our trading range charts for the S&P 500 and its ten sectors. For each chart, the blue shading represents the sector's "normal" trading range, which is between one standard deviation above and below the 50-day moving average (white line). The red zone represents between one and two standard deviations above the 50-day, while the green zone represents between one and two standard deviations below the 50-day. Moves into or above the red zone are considered overbought, while moves into or below the green zone are considered oversold.
Wednesday's big move higher has pushed the S&P 500 well into overbought territory at two standard deviations above its 50-day. While the index is now overbought, it's still slightly below its prior bull market high reached last September. The index now needs to gain a little less than 4 points to eclipse its closing high on September 14th.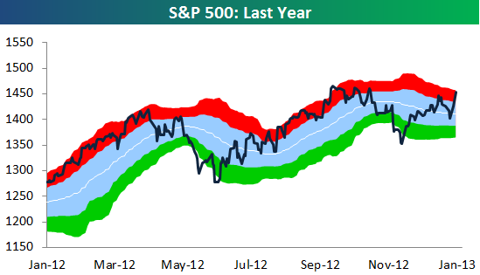 Three sectors experienced nice breakouts to new 52-week highs today -- Financials, Consumer Discretionary and Industrials. What had been acting as resistance will now act as support for these sectors. The Materials sector is also knocking on the door of a breakout.
Not all sectors look great, however, even after today's big gains. Energy, Consumer Staples, Health Care and Utilities have still not broken above their short-term downtrend channels. And while a lot of Technology stocks soared today, the sector as a whole is still well below its 2012 highs due to the extreme weakness we saw in Apple (NASDAQ:AAPL) in the fourth quarter.