Sometimes you can get a clue of what's in store for the next year by looking at a single stock. Of course, the stock should be a very big one and representative of an important industry, and that industry should also be a bellwether for the economy as a whole.
Our pick for such a stock is Australia-based BHP Billiton Ltd. (NYSE:BHP), which is by a wide margin the largest commodity company in the world. Its production and assets cover the gamut from iron ore - the largest contributor - to oil (where it has a major stake in the Eagle Ford shale), to coal (where it is a major supplier to China), to a wide variety of base metals and silver.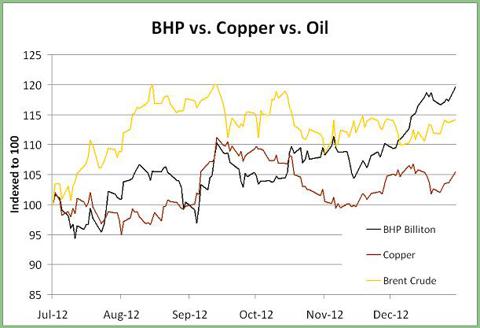 As our chart shows, over the past six months BHP has outperformed major commodities. That may not seem surprising, as since the beginning of the century the stock has dramatically outperformed virtually every commodity (even including gold, which has climbed every year since the century began) by increasing nearly 6-1/2 fold. It turns out, though, that neither the past six-months nor the whole period really tell the complete story. Because from the end of 2007 to the present BHP has underperformed virtually all commodities.
We think the right interpretation of the stock's underperformance since 2007 is fairly straight forward: At the beginning of the century the commodities were generally viewed as cyclical. Most were thought to vacillate around a particular value - a value which might, modestly trend up or down over long periods of time, but was never expected to move wildly. Indeed, at the end of 1980, Julian Simon and Paul Ehrlich recorded one of the most famous bets in the commodity area, namely, that the average price of commodities - which had exploded in the late 70s - would fall in the coming decade. Simon bet that commodities would fall, and he won.
The Simon-Ehrlich wager may have been only a small indication that the commodities market had reached a point of inflection two decades before the turn of the century. But it remains the case that early in the 2000s when commodities started to rise in earnest, brokers almost uniformly expected them to fall back.
I remember speaking at a conference sometime in 2004 or 2005, when oil was trading near $50 a barrel. I attended a presentation on the utility industry given by a major brokerage firm representative. Something seemed funny to me about the margins and profits he imputed to the various companies under discussion, and sure enough, I spotted a footnote at the bottom of one of his handouts saying all calculations assumed oil prices of $35! He was hardly alone in making such an assumption. At that time, virtually every Wall Street firm also had forecast that the then-current uptrend in oil was merely an aberration.
What does all this have to do with BHP? At the beginning of this decade, with all predictions pointing to a reversal in commodity trends, BHP along with other major commodity producers tailored capital expenditures and other costs to the expectation of slower gains in demand going forward than subsequently in fact materialized.
As a result, BHP's internal productivity shot up as additions in manpower and equipment proportionally lagged the increase in demand. Thus, its costs advanced far less than commodity prices, and for some five or six years the company's profits benefited highly from leverage on the gains in commodity prices. Specifically, between 2002 and 2007 profits burgeoned 8-fold, and BHP entered the world of giant companies. Capital spending, which tends to lag capital plans by more than a year, also soared, and by the latter part of the decade BHP's capital expenditures had climbed commensurately.
Now, however, the developed world on average has experienced no growth for the last five years, while in the last two years China, by far the world's most important source of commodities demand growth, slowed down. Consequently, BHP's capital plans and budgets have been slashed and the company currently projects that capital expenditures will cumulatively fall by over 30 percent for the rest of the decade. Moreover, those prospective cuts understate the imputed decline in supply as in many commodity areas - if not nearly all - the easily extracted resources (or low hanging fruit) has already been picked. New resources will cost more to develop going forward. In short, increasing production from current sources will be much more difficult and costly than it was at the beginning of the 21st century.
What is true for BHP is also true for other commodity players such Rio Tinto PLC (NYSE:RIO). The latter is likewise cutting capital plans and expenditures. So the question is whether we will see a repeat of what happened during the first part of the previous decade, when commodity demand increased while supply lagged and was therefore insufficient. Indeed, the past six months have been characterized by a minor comeback in many commodities, which had faltered in 2011 and in early 2012. Indeed, Brent oil, which fell by more than a third between its first quarter high and mid-year, rebounded enough to raise the yearly average for Brent to the highest on record.
What BHP tells us is that the world is positioned for a deceleration - and possibly a sharp deceleration -- in demand for commodities. All things being equal, if this deceleration occurs commodity prices would likely flatten out, and could return to their cyclical days of the 1980s and 1990s.
A word of caution, however. We view that scenario as very unlikely. The major reason is growth from China, whose spending on urbanization and new energies -both commodity intensive - will total $2 trillion dollars or more between now and the end of the decade.
We have been through these arguments before but here are a couple of new data points. Firstly, the Chinese target for photovoltaics, a few years ago set at only 5 gigs by 2015, could now easily exceed 50 gigs. Such a dramatic increase also implies that China will have built out its smart grid far more quickly than previously expected. Large new renewable capacity would naturally track the speed with which a smart grid could accommodate different energy sources. Secondly, PetroChina's recent announcement of plans to purchase assets from BHP at premium prices - prices higher than comparable transactions elsewhere in the world - will add to BHP's net asset value.
This planned Chinese purchase is just one of many suggesting that the Chinese expect their appetite for resources to greatly expand. Meanwhile other developing countries are also likely to acquire "infrastructure religion" in the not too distant future.
Our analysis of BHP, along with our expectations about China and other developing countries, tells us that 2013 could see a strong revitalization in commodity markets. Clearly this means that we expect commodity-based ETFs to be strong performers. Our favorites remain the iPath Dow Jones UBS Copper Subindex Total Return ETN (NYSEARCA:JJC), iShares Silver Trust (NYSEARCA:SLV), and SPDR Gold Trust (NYSEARCA:GLD).
One other point on BHP supports our commodity view: its P/E. At the beginning of previous commodity runs - in particular at the start of the 21st century, the P/E was about 20 - comparable with the forward estimate for June 2013. As commodities continue to climb the P/E tends to drop into the low double digits.
So no, we have not forgotten about BHP itself. Will this be a repeat of the beginning of the 2000s, with BHP and other major commodity players dramatically outperforming the underlying commodities? Our guess is no, it won't.
What's changed is that major commodity players will no longer be extracting natural resources easily. Even increasing production from current mines and fields will involve sharply rising marginal costs. Moreover, future capital projects will be far more expensive than in the past. However, at least partially offsetting that major negative will be relatively low personnel and related costs. Pricing leverage will be far lower this time around and likely turn negative by mid-decade. On the other hand cash flow will stay relatively high in the years ahead and capital costs will remain low.
Our best guess is that BHP, RIO and other major commodity producers will slightly underperform commodities, but still outperform the stock market. Given decent yields, these stocks therefore should be strong and safe ways to participate in the expected resumption of the commodities bull market.
Disclosure: I have no positions in any stocks mentioned, and no plans to initiate any positions within the next 72 hours. I wrote this article myself, and it expresses my own opinions. I am not receiving compensation for it. I have no business relationship with any company whose stock is mentioned in this article.