After Congress finally approved a deal to thwart the fiscal cliff Tuesday night, investors throughout the U.S. finally have a clear picture on the tax treatment of investments going forward. Assuming no deal was reached, the U.S. income tax code would have reverted to pre-Bush tax cut era rates, which included higher marginal rates at all income levels, higher capital gains taxes, and dividends being treated as ordinary income. Assuming several tried-and-true dividend aristocrats are valued by many on a yield basis, equity prices for high-yielding and overvalued stocks could have suffered a substantial price decline as the after-tax yield would have been meaningfully reduced.
We felt the repercussions of uncertainty in the portfolio of our Dividend Growth Newsletter. Shares of constituent Kinder Morgan (NYSE:KMP) retreated from $86 to the high $70s.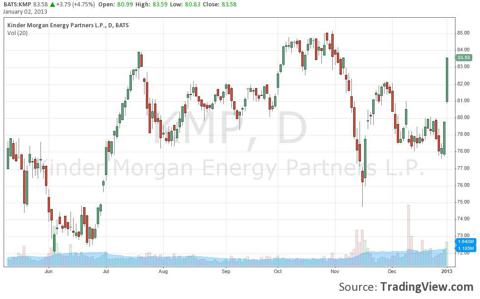 Cigarette maker Altria's (NYSE:MO) share price also declined meaningfully even though its fundamentals remained intact.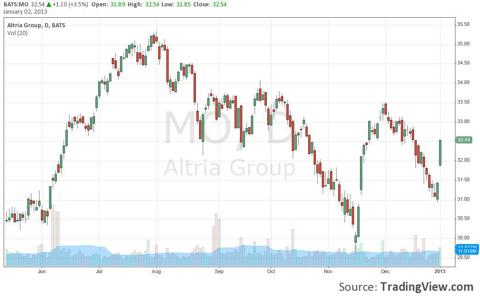 With a deal in place, capital gains on individuals earning less than $400,000 and households earning less than $450,000 will remain at 15%, with the rate for those earning above the threshold jumping to 20%--a lot less than many had feared. Dividends will continue to be taxed at the capital gains rate rather than jumping to the ordinary rate.
We believe the tax rates will have several advantages for dividend growth investors. For one, real after-tax yields will remain at the current rate. Although this doesn't affect our intrinsic valuation of a company, it does mean income yields for most investors will remain the same (so a negative catalyst has certainly been removed). Further, growing payouts will not be hindered by increased taxes, allowing dividend growth investors to capture higher dividends/distributions that can be used for supplemental income or reinvestment. These higher dividends might have otherwise gone toward share repurchases in the event of higher taxes.
We are confident that the fiscal cliff deal will be a net-positive for dividend growth investors, and it appears the market agrees. Shares of the aforementioned Dividend Growth Newsletter portfolio holdings rallied more than 3% after the deal was announced, as did shares of portfolio holdings Energy Transfer Partners (NYSE:ETP) and Emerson Electric (NYSE:EMR). More importantly, we expect our dividend growth strategy, which combines the search for higher yield, growth, and safety, with a focus on valuation, will continue to provide fantastic returns.
Disclosure: I have no positions in any stocks mentioned, and no plans to initiate any positions within the next 72 hours. I wrote this article myself, and it expresses my own opinions. I am not receiving compensation for it (other than from Seeking Alpha). I have no business relationship with any company whose stock is mentioned in this article.
Additional disclosure: Some firms mentioned in this article may be included in our Dividend Growth portfolio.