Even though the hierarchy of volatility among asset classes has remained unchanged, their levels are all close to pre-2008-crisis lows.
(click images to enlarge)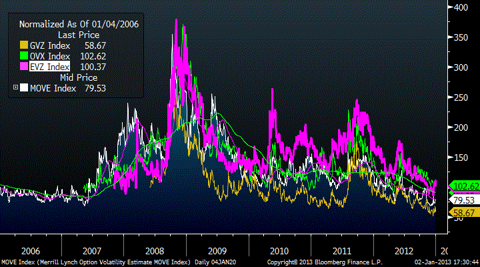 Click to enlarge
There are several reasons why volatility could increase across the board in 2013:
Monetary policy: Even though some investors believe that the Fed's new mandate provides greater clarity with explicit targets, we believe that the targets are more volatile than when the Fed alluded to future dates for rate hikes. The BOJ will be under Abe and the MOF scrutiny. It will have to deal with a 2% inflation target that is deemed unreachable, while its balance sheet will be part of the arsenal of tools dedicated to weakening the yen. Last but not least, the ECB will not only cut its repo rate in late winter, but will bring the interest rate on excess reserve deposits below zero. Not only will this push banks to bring forward their VLTRO reimbursement (instead of delivering more credit to the private sector), but it will also wreak havoc on the money markets.
Political risk. Not only will elections be held in Germany and Italy, but the post fiscal cliff volatility should increase given the high potential opposition on the U.S. debt ceiling and sequester, which has been postponed for only 2 months.
Growth risk may not be as high as it was in 2012, but the lingering discussion on how to fix public finance sustainability in the long run in the U.S. will probably add to the ongoing uncertainty.
The expected continuity in central banks' balance sheet expansion (in the case of the Fed, it would be a resumption, as 2012 saw the total asset side remaining broadly unchanged thanks to the Twist) could be considered a cap to volatility.
In addition, volatility is often considered directional: VIX goes down when SP 500 is up, EUR/USD 3M implied volatility is up when EUR/USD is down, Bund or T-note Future implied vol is up when the price is up (hence when the yield is down). Betting on more volatility would imply having a strong downward view on stocks and the EUR/USD and much lower sovereign rates.
It is not necessary, though, as over the last few quarters, directionality has broken down. Both charts below highlight what happened: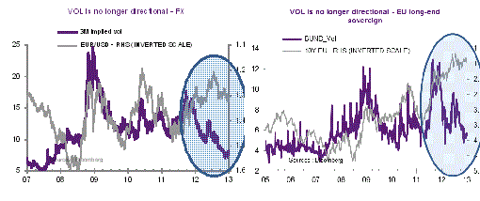 Click to enlarge
The current level of EUR/USD implied volatility would be consistent with a EUR/USD close to 1.50. In addition, the Bund implied volatility has completely disconnected from its yield. The same picture is at play with bond prices (see the U.S. case below). The only market where there is no apparent mispricing is the equity market.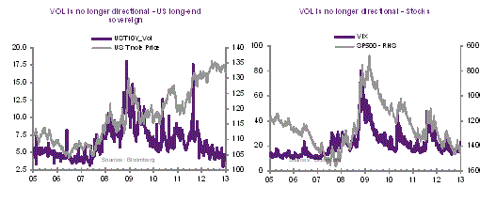 Click to enlarge
The reason why I fret about an increase in volatility is the combination of:
1. Very accommodative monetary policies in a context of economic improvement (U.S. + Emerging and eurozone in the second half);
2. The disappearance of real systematic risk (in Europe, but also in the U.S., where the debt ceiling episode during the summer of 2011 suggests that an agreement will be found and a downgrade would be only mildly unwelcome) coupled with high valuation of safe haven assets.
Unconventional monetary policies have capped volatility over the last years. There would be good reason to believe that the forthcoming quantitative operation will continue to do so. Yet, in many cases, volatility is low due to safe-haven related positioning. In addition, the new mandates of G3 central banks, coupled with the uncertainty pertaining to their reaction to a better economic environment in the second half of 2013, suggest that shorting volatility may be part of the don'ts for 2013.
Disclosure: I have no positions in any stocks mentioned, and no plans to initiate any positions within the next 72 hours. I wrote this article myself, and it expresses my own opinions. I am not receiving compensation for it (other than from Seeking Alpha). I have no business relationship with any company whose stock is mentioned in this article.