Contrary to popular belief, Closed-End Funds (CEFs) do change their relative valuations in the face of a changing market and 2012 will go down as a year in which those changes began to take shape, albeit slowly.
Many income investors find high yielding CEFs confusing and arbitrary in their market price moves and I will agree that on a short term basis, anything can happen to a fund's market price. However, over time, funds with extreme over and undervaluation levels start to weigh on the funds market price and you'll start to see valuations begin to make more sense as the worm slowly turns.
What am I talking about? I put out a 2012 Equity CEF Performance Spreadsheet which I update every two weeks and so I tend to see up close what is happening below the surface of these funds that many investors probably don't see. This spreadsheet is an invaluable resource to spotting under and over valued funds based on their relative valuations and Net Asset Value ((NYSE:NAV)) performances. If you'd like to sign up for my year end 2012 Equity CEF Performance Spreadsheet, visit my website, here, and subscribe at the bottom of the homepage. You will need Excel 2007 or later to load the spreadsheet.
2012 Market Price/NAV Price Performance Difference
I include 3 tables in the spreadsheet and the first one I'm going to show is the difference between a fund's 2012 market price total return performance and a fund's NAV total return performance. Total return performance is defined as the market price or NAV price performance plus all distributions added back but not reinvested. The fund's are sorted by this difference with green representing funds which had total return NAVs outdistancing their total return market prices and red represents fund's which had market prices outperform their NAVs by more than 5%. Since I can only show about 35 out of about 80 funds in a screenshot, all of the funds are shown in green in the Mkt/NAV Difference column but there are a number of funds which were red for 2012 and whose market prices were able to outperform their NAVs by over 5%. I picked 5% as a cutoff but some funds may have more or less of a reason why their market price outperformed their NAV price in 2012.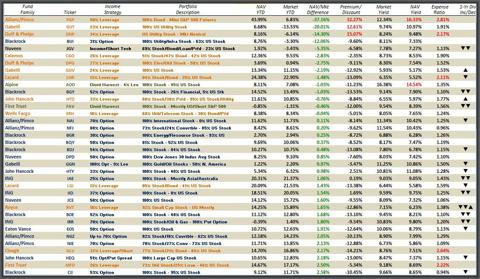 The first thing you will notice is that the top three funds that had the highest difference in market price vs. NAV performance were three of the highest premium funds of all equity CEFs. The top spot, held by the PIMCO Global StocksPlus & Income fund (NYSE:PGP), saw its NAV rise by a whopping 44% for 2012 and yet its total return market price was only 6.8% for a difference of 37.2%. That's what happens when you have a fund that started the year at an incredible 75% market price premium over its NAV and even with one of the best total return NAV performances I have ever seen for a CEF, could not maintain its lofty premium. Why did PGP lose its huge premium in 2012 when its NAV rose so much?
It was really only a matter of time for the worm to turn on PGP since its distribution has not changed since inception despite an NAV that started 2012 at less than half of its $23.83 inception value, but I suppose you could blame it on a "how much better does it get?" mentality as much as any other reason. Then again, articles from the Wall Street Journal or Barrons last year citing PGP's extreme over valuation probably didn't help but then there is the fact that PGP is not even a stock fund, despite its name. PGP owns a mostly a heavily leveraged fixed-income bond portfolio and then goes out and buys large positions in S&P 500 mini futures. Is PGP undervalued now at a 32% premium? Who knows...but keep an eye on the fixed-income markets because a rush for the door in bonds in 2013 will not be good for any heavily leveraged bond fund despite PIMCO's prowess at fixed income investing.
The other two funds at the top of the list, the Gabelli Utility fund (NYSE:GUT) and the Duff & Phelps Select Income fund (NYSE:DNP), both saw their large premium valuations reduced substantially in 2012 as well, as utility stocks finally underperformed after two years of outperformance. However, take a look at the number four position, the BlackRock Utility and Infrastructure fund (NYSE:BUI), another utility fund that has suffered along with all utility funds but in my analysis, is a screaming buy here. BUI, unlike GUT and DNP, trades at a -9.6% discount instead of a premium and yet offers a very generous market price yield of 8.1%. Then consider that BUI uses an option-income strategy as opposed to a leveraged strategy like GUT and DNP. This means that if utility stocks have a subpar year in 2013, that actually works into BUI's more defensive option-income strategy very well. Then also consider that BUI is a global fund with 1/3 of its utility and infrastructure stock portfolio overseas in mostly Europe and Brazil. The bottom line is that BUI is relatively undervalued especially if the utility sector underperforms in 2013.
2012 Total Return NAV Performances
The next table shows the top 35 or so funds out of about 80 sorted by their total return NAV performances with funds in green outperforming the S&P 500 and funds in red underperforming. I place a lot more emphasis on funds that can outperform the S&P 500 at the NAV level than at the market price since the NAV is the true value and performance measure of the fund.
As you can see, not too many funds were able to outperform the S&P 500, as represented by the SPDR S&P 500 Trust (NYSEARCA:SPY), either because the funds used more defensive income strategies or because of their portfolio mix of global stocks and/or bonds. Either way, it's been difficult for any fund, mutual fund or ETF included, to keep up with the S&P 500 over the last couple years. NOTE: Most quoted returns for the S&P 500 do not include dividends whereas in my comparisons, they do. SPY, including dividends added back on a non-reinvested basis, was up 15.9% for 2012.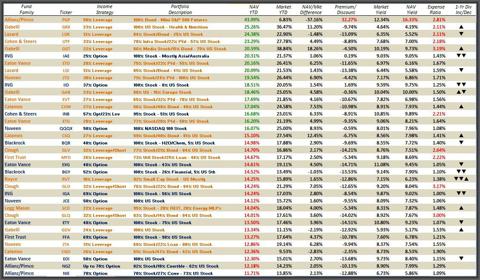 Of the 15 or so funds that were able to outperform the S&P 500 at the NAV level, I wrote positive articles on nine of them in 2012, most early on in the year. One fund I recommended multiple times was the Gabelli Healthcare & WellnessRX fund (NYSE:GRX) which ended up having the second best NAV total return performance in 2012, up 25.3%. Not to be outdone, GRX's total return market price was up 36.5% in 2012.
I first wrote about GRX last February 1st and followed up my buy recommendation with articles in April and May when the fund was at a -14% and -15% discount but had shown solid NAV performance and had just announced the adoption of a distribution policy, something I had argued was necessary for the fund to start reducing its wide discount. You can read the May article here. Obviously these were all good entry points because by the end of 2012, GRX had reduced its discount to -9.7%, which was a big reason for the fund's market price outperformance in 2012. Though the worm turned a bit for GRX in 2012, I still believe GRX is significantly undervalued and continues to be a great growth story despite its relatively low 4.6% market price yield.
One of the things you'll notice in the table is that most of the top performing funds use a leveraged income strategy, shown in orange, as opposed to a option-income strategy, shown in blue. Option-income funds tend to perform better in flat to trendless up and down markets whereas leveraged funds perform much better in strong up markets. In 2011, I had recommended investors focus on the option-income funds, many of which went on to outperform the S&P 500 at the NAV level, though virtually all equity CEFs had horrible market price performances in 2011 and most closed the year at their widest discounts since the bear market recovery in early 2009.
However, early in 2012, I recommended investors overweight the leveraged funds in anticipation of a better market environment, both domestically and overseas, and this turned out to be the right call. Another top performing leveraged fund I recommended for 2012 was the Cohen & Steers Infrastructure fund (NYSE:UTF), a global utility and infrastructure fund which ended the year up 23.3% on its NAV and 27.8% on its market price. Though UTF is classified as a utility fund and was actually downgraded by Morningstar to an unbelievable 1-star fund in 2012, I stuck with my recommendation and UTF went on to solidly outperform both at the NAV and market price levels. Even now, Morningstar has UTF as only a 2-star fund despite its superior short and long term performance history and instead, continues to recommend another utility fund first mentioned above, DNP (the Duff & Phelps Select Income fund) as a 4-star fund. I'll let investors decided which was the better utility and infrastructure fund to own in 2012.
Conclusion
I will show all of my performance recommendations for 2012 in a later article but suffice to say that, despite picking some of the best equity CEFs in 2012 both on an NAV and market price performance basis, the worm has yet to turn for many of them. In other words, despite superior NAV and market price performances in 2012, many funds continue to trade at relatively low valuations and have not reduced their wide discounts materially. This could change in 2013, since we will probably see more distribution increases this year than in years past. That will be the basis of another future article, i.e. which funds are in a position to start raising distributions and if I'm right and that turns out to be the case, the worm may start to perk up and we may start to see that worm turn a little faster.
Disclosure: I am long GRX, UTF, BUI. I wrote this article myself, and it expresses my own opinions. I am not receiving compensation for it (other than from Seeking Alpha). I have no business relationship with any company whose stock is mentioned in this article.