Bridgeline Digital, Inc (NASDAQ:BLIN) develops iAPPS, a platform that enables companies and developers to create Websites, Web applications, and online stores. The stock experienced a sharp decline in price in December after it reported an increase in profits and positive cash flow generation. Bridgeline Digital also announced it had won a major, multi-year multi-million dollar contract with a large franchise. Given that the stock had doubled in the month prior to the announcement, some profit taking was to be expected. However, the extent of the drop, and the fact that Bridgeline posted both profits AND positive cash flow generation, leads one to believe the drop was more related to the year end selling that was prevalent in many small cap stocks in December.
A look at the Bridgeline Digital chart shows a stock ready for a nice rebound in January. After the selloff in December the stock found very strong support at its 200-day moving average at $1.43. A positive MACD cross yesterday is indicating the stock is ready to begin its bounce higher. A break if the 20-day EMA at $1.56 should set the stage for a recovery back to the $2 area. A 38% Fibonacci retracement of the December drop gives a first target of $1.82.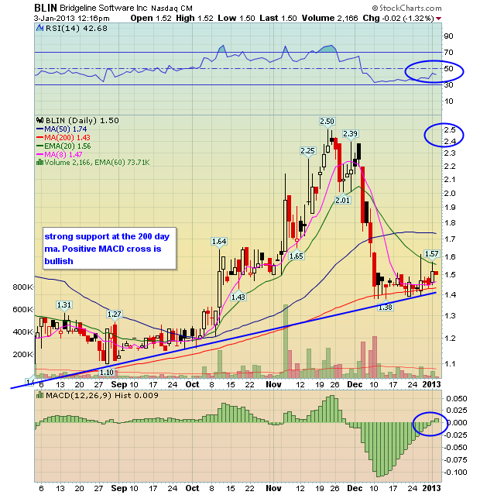 As for the fundamentals of Bridgeline we need only look to their recent earnings report from December. As mentioned previously the company is profitable posting Non-GAAP adjusted net income of $268 thousand compared to $250 thousand in the fourth quarter of 2011. Cash generated from operations was $1.1 million in the fourth quarter compared to $314 thousand in the fourth quarter of 2011. It is actually pretty rare to find small cap stocks trading under $2 that are both profitable AND generating positive cash flow. The cash flow generation is a sign of a healthy business. The renewed focus on their iAPPS business is paying dividends with iAPPS revenue up 37%, licenses sold up 25% and recurring revenues increasing 27%.
The market has ignored the news that Bridgeline Digital signed a major contract in December. This multi-year multi million dollar contract will start to impact an already good earnings report in the upcoming quarter. Companies in the Bridgeline Digital sector trade at an average of 2-times sales making Bridgeline appear very undervalued. A move to $3 would give the company a valuation within the range of its peers making for some very nice upside for investors in 2013. They are profitable, generating cash and recently signed a large deal. There is much to like here.
Disclosure: I am long BLIN. I wrote this article myself, and it expresses my own opinions. I am not receiving compensation for it (other than from Seeking Alpha). I have no business relationship with any company whose stock is mentioned in this article.