United States Natural Gas Fund (NYSEARCA:UNG) dropped 3.5% Wednesday to fall below the 200-day simple moving average for the first time since September. Relatively warm winter temperatures and lingering supply glut worries are pressuring the commodity's price.
UNG, the natural gas ETF, was down 26.9% over 2012.
Natural gas plunged as much as 9% after the Commodity Weather Group projected that the colder-than-average weather will turn to above-normal temperatures from January 7 through January 11, reports Christine Buurma for Bloomberg.
Natural gas futures was down 3.3% to $3.2 per British thermal unit in late afternoon trading Wednesday.
"We're going to see some warm weather across the primary gas-consuming regions," Gene McGillian, an analyst and broker at Tradition Energy, said in the article. "As we get into the new year without signs of sustained cold weather, the fundamental picture is going to force us lower."
According to the National Oceanic and Atmospheric Administration, 2012 was probably the warmest year on record in the U.S..
U.S. gas inventories hit 3.652 trillion cubic feet in the week ended December 21, or a record for that period of the year, with supplies 12.8% above the five-year average, but it was lower than the 3.929 trillion cubic feet all-time high for the week ended November 2.
The U.S. is currently experiencing a boom in oil and natural gas production -- America has met 83% of its energy needs in the first nine months of the year. The government estimates that natural gas output rose 0.6% over 2012.
United States Natural Gas Fund
(click image to enlarge)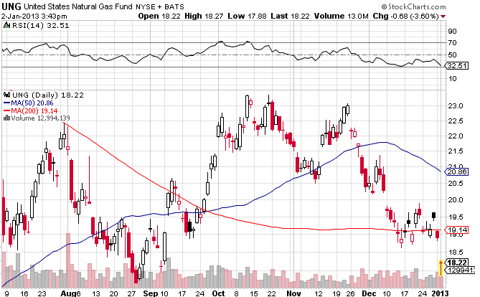 Max Chen contributed to this article.
Disclosure: I have no positions in any stocks mentioned, and no plans to initiate any positions within the next 72 hours. I wrote this article myself, and it expresses my own opinions. I am not receiving compensation for it. I have no business relationship with any company whose stock is mentioned in this article.