Still on the trail of high dividend stocks, this week we'll profile a high yielder from the Healthcare sector. Although this micro-cap stock doesn't yield 9% like the Basic Materials stock from last week's article, it does have one of the highest dividend yields in its sector, and it actually has good growth forecasts and financial metrics, unlike many of the Big Pharma and Healthcare facilities stocks that are known for generous dividends.
A Boston-based drug testing firm, Psychemedics, (NASDAQ:PMD), was founded in 1987, and has obtained FDA clearance on all drug categories and is the only lab to have clearance not limited to head hair (including head and body hair clearances).
WIth its 5%-plus dividend yield, PMD is also listed in our High Dividend Stocks By Sector Tables. PMD raised its quarterly dividend by 25% in 2012, to $.15, from $.12. Its dividend payout ratio is 100%, higher than most of the major drug manufacturers, but appears sustainable, given its growth prospects and zero debt load. PMD has paid 65 consecutive dividends. It did cut its payouts to $.12 from $.17 during the 2009 crisis, but appears to be back on track.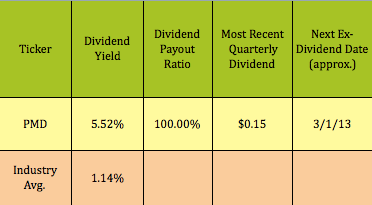 Earnings Growth: PMD's current P/E is just over 18, which is in the middle of its 5-year range. Although earnings dropped in its most recent quarter, due in part to the company absorbing "one-time development costs for the re-engineering of several operational processes and system changes, and finalizing development and putting into production new proprietary custom designed enzyme immunoassay (NYSEMKT:EIA) technology," these investments should increase future business.
CEO Kubacki stated in its third quarter earnings release, "New business accounted for all our growth, including making up for lost volume on our base business."
"As I reported on last quarter, the FDA granted the Company 501(k) clearances for five new, additional assays to test for the detection of cocaine, opiates, PCP, methamphetamine and marijuana using our custom designed EIA analysis of head and body hair. The newly developed immunoassays produced by the R&D team at Psychemedics were uniquely designed specifically to meet and even exceed the standards of radioimmunoassay, and represent a significant technological breakthrough." (Source: PMD website)
WIth 20% growth forecasted for 2013, PMD looks undervalued, with .91 PEG ratio for 2013: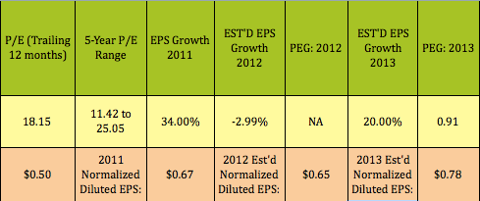 PMD is currently commanding a premium on its Price/Tangible Book value, but looks undervalued on a Price/Sales basis: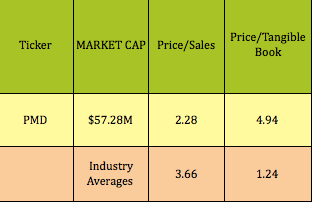 Financials: In addition to being debt-free, PMD's management efficiency and operating margins are greatly superior to industry averages: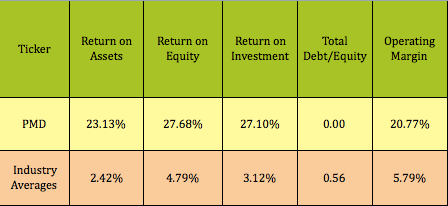 Technical: PMD performed well in 2012, rising over 18%: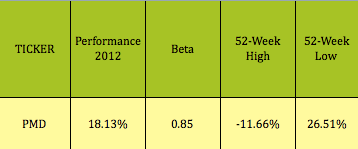 Although it isn't currently oversold, PMD is near the lower end of its long term stochastic chart: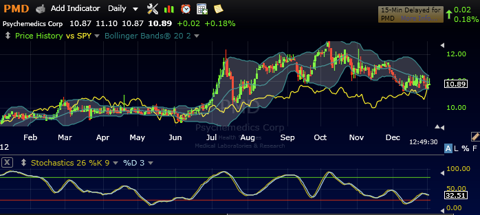 Disclaimer: This article was written for informational purposes only and isn't intended as investment advice.
Disclosure: I am long PMD. I wrote this article myself, and it expresses my own opinions. I am not receiving compensation for it (other than from Seeking Alpha). I have no business relationship with any company whose stock is mentioned in this article.