Carriage Services (NYSE:CSV) provides death care merchandise and services including funerals, cremation, caskets, funeral home and cemetery facilities etc. The company operates 136 funeral homes and 32 cemeteries in 11 states.
CSV shares have plummeted from over $11 after a proposed buyout of the company was cancelled. Management has been actively taking advantage of what they feel is a major undervaluation in the share price by repurchasing shares. Through October they had retired over 1.347 million shares [out of 19.22 million outstanding at Y.E. 2007] at an average cost of $3.68 /share.
Company insiders have been steady buyers also with 11 separate open-market purchases since July 3rd at prices ranging from $7.17 down to $1.99.
Recent Insider Trading Activity: Carriage Services Inc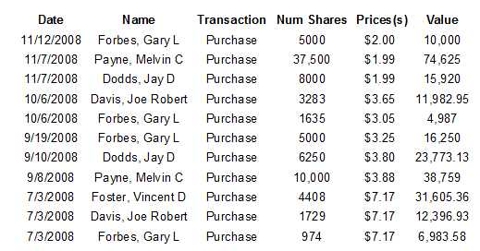 Earnings have been decent with the past three years' per share numbers shown here:
Year……Sales ….. Cash Flow …… Earnings …. Book Value
2006 …..$8.12 ……. $0.67 ……….. $0.20 ……… $5.18
2007 …..$8.73 ……. $0.89 ……….. $0.39 ……… $5.56
2008 …..$9.75 ……. $0.99 ……….. $0.23 ……….$5.80
2008 figures include Q4 consensus estimates
Regardless of how bad economic conditions may get, people are still going to die. Carriage Services shares now trade at just under 10 times 2008 estimates and 6.7 times the company's own projection of $0.34 for 2009. CSV also now trades at a 60% discount to book value.
Management has expressed confidence in their future by buying shares for themselves and for the company. They have shown a willingness to sell the entire firm and a renewed offer by another industry player is a distinct possibility for the future. Even a lower offer than was on the table previously might see a doubling or tripling of today's share price.
What price target seems reasonable here? CSV shares hit peak prices of more than book value in 2005 – 2006 and 2007. Even one times current book value would bring shares back towards $6 within a year or up more than 160%. A price/earnings of just 10x 2009 projections leads to a $3.40 price over the next 13 months or + 49%.
Is it realistic to think we could see $5 or higher over the next year or two?
These shares traded at $5.50, $6.75, $5.25, $11.09 and $9.45 at their highs in each calendar year from 2004 right through 2008. In fact, excepting recent weeks, the absolute lows in those same years ran from $3.72 (in 2004) to $4.12 (in 2006). Even those old lows would provide a very nice return from the current price.
Disclosure: Author is long shares of Carriage Services.