Commodity Chart Of The Day
Daily Euro-Currency
(click image to enlarge)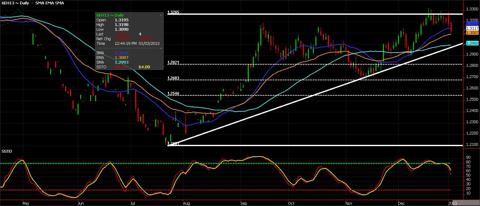 Click to enlarge
There is no denying the trend has been higher, as prices have experienced a steady rise since late July. Within that time frame, the euro appreciated 10%, but my initial take away is we may have put in an interim top last week. After multiple attempts, March futures were unable to get through $1.33, and with the fourth consecutive day of losses today, one can see a trade under the 20 day MA -- identified by the dark blue line. A settlement under this level indicates to me we should come down near the 50 day MA -- identified by the light blue line -- which would also mean we challenge of the trend line that has supported for the last six months.
My recommendation is to use the Fibonacci levels on the chart above as your targets on the way down. Regular readers probably know where I'm going with this, but my favored play is short futures while simultaneously selling out of the money puts 1:1. A 50% Fibonacci drags futures back near under $1.27 and represents roughly a $5,400 move in the futures market per contract from current levels. Depending on the exact option sold, you should be able to pick up 30-50% of that appreciation if you factor in the loss in the options verses the gain in the futures contracts.
The strong currency has done very little to help the economies in Europe recover, so perhaps some back and fill in the coming weeks would help goose exports and give a bit of relief to countries that should benefit from a weaker currency. Not to mention the other European currencies appear that they should back off, as the swissie and pound have been very correlated in recent weeks and months.
Risk Disclaimer: The opinions contained herein are for general information only and not tailored to any specific investor's needs or investment goals. Any opinions expressed in this article are as of the date indicated. Trading futures, options, and Forex involves substantial risk of loss and is not suitable for all investors. Past performance is not necessarily indicative of future results.
Disclosure: I have no positions in any stocks mentioned, and no plans to initiate any positions within the next 72 hours. I wrote this article myself, and it expresses my own opinions. I am not receiving compensation for it. I have no business relationship with any company whose stock is mentioned in this article.