This article is a continuation of a monthly series highlighting the top net payout yield stocks that was started in June (see article). The series highlights the best stocks for the upcoming month. Please review the original article for more information on the net payout yield concept.
December Returns
Below are two charts highlighting the monthly returns of the top 10 stocks from December (see list here). Due to limitations with YCharts, the chart was broken into the Top 5 and Next 5 lists.
The Top 5 stocks had a strong reversal after a horrible month in November. Seagate Technology (NASDAQ:STX) reversed a weak November with a 22% gain in December. Other than the 3% loss for Kohl's Corporation (NYSE:KSS), the stocks of Motorola Solutions (NYSE:MSI), DirecTV (DTV), and ConocoPhillips (NYSE:COP) had positive months exceeding the S&P 500 gain of 0.91%.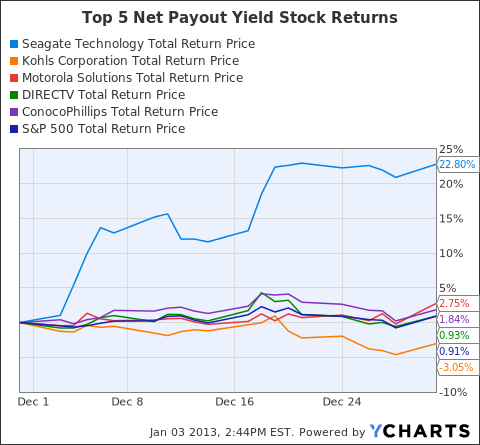 STX Total Return Price data by YCharts
The Next 5 stocks had a good month with a big gain by WellPoint (WLP) that approached 10%. In addition, Dell (NASDAQ:DELL) and Ameriprise Financial (NYSE:AMP) had solidly positive months. Unfortunately, Amgen (NASDAQ:AMGN) and Annaly Capital Management (NYSE:NLY) had negative months.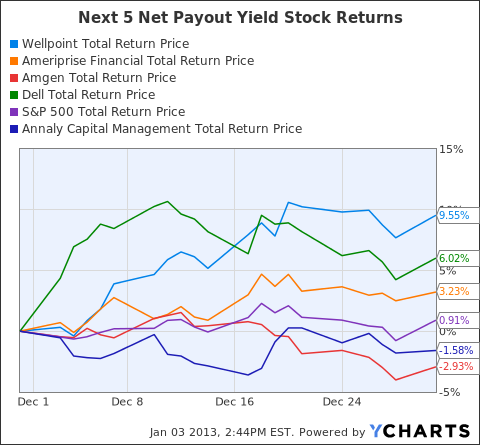 WLP Total Return Price data by YCharts
With seven out of 10 stocks beating the S&P 500, the list substantially outperformed the market. The three stocks that had losses only saw limited negative returns.
The list is full of retailers, healthcare, and tech companies that most investors won't touch. These results continue to highlight the concerns over the influx of tech companies in the top yielding stocks. Even in the large cap sector, those stocks tend to be more volatile.
January List
The list encountered some very minor changes since December, as only the last stock on the list dropped off. Several companies continue to dramatically reduce stock buybacks year-over-year, causing yields to drop.
Only Applied Materials (NASDAQ:AMAT) joined the list due to the plunging yields by Dell. With a yield around 12%, Applied Materials offers a solid 3% dividend, along with a big 9% buyback yield.
Top 10 Net Payout Yield Stocks For January
Company

Buyback Yield

(%)

Dividend Yield

(%)

NPY

(%)

Seagate Tech

20.5

5.0

25.5

Motorola Solutions

15.0

1.9

16.9

ConocoPhillips

11.5

4.5

16.0

DirecTV

16.0

0.0

16.0

Kohl's

12.2

3.0

15.2

WellPoint

13.1

1.9

15.0

Amgen

11.0

2.2

13.2

Annaly Capital

0.0

12.8

12.8

Ameriprise Financial

9.2

2.9

13.1

Applied Materials

9.3

3.1

12.4
* Data sourced from SmartMoney.com.
Conclusion
Even after strong market gains in 2012, the stocks on the Top 10 list continue to support yields exceeding 12%. In fact, the top six stocks continue to maintain yields exceeding 15%. These yields substantially exceed the 4-5% yields of the top large cap dividend stocks.
While December was volatile as expected, the markets avoided most of the fiscal cliff issues. Congress did agree to raise taxes on incomes above $450k, but the agreement was far less impactful than expected, so the dividend paying stocks could easily have another strong year.
Disclosure: I am long AMP, COP, DTV, KSS, MSI, NLY, WLP. I wrote this article myself, and it expresses my own opinions. I am not receiving compensation for it (other than from Seeking Alpha). I have no business relationship with any company whose stock is mentioned in this article.
Additional disclosure: Please consult your financial advisor before making any investment decisions.