Deere & Co (NYSE:DE) is the world's largest manufacturer of tractors and farm equipment, and is also one of the leaders in construction equipment. Deere operates all over the world, with 41% of its 2011 sales coming from its foreign operations, up from 37% the year before. If this trend continues as the company would like, Deere has the potential for some very nice gains ahead. As one of the most shareholder-friendly companies out there in terms of returning capital to shareholders, I believe it is worth a look for all investors.
Deere operates in three segments, with the largest being the Agricultural and Turf segment, which produces 75% of the company's revenues. This segment produces tractors, loaders, and other farm equipment, in addition to producing residential and small commercial equipment such as lawnmowers. The Construction and Forestry segment (18% of revenues) makes machines used in construction, earth moving, and timber harvesting. Finally, the Financial Services segment (7% of revenues) finances sales and leases of the company's products.
Deere has done well over the past decade, growing earnings at an average annual rate of 22%. The company also has an outstanding track record in two areas that long-term investors love; share buybacks and dividend raises. As far as share buybacks are concerned, DE repurchased 114.5 million of its shares during 2004-2008, and an additional 35.3 million from 2010 until now, with no buybacks during 2009. With 387.9 million shares outstanding currently, that means Deere bought back almost 28% of its shares over a 9 year period, a record that few other companies have topped.
Dividend-wise, Deere currently yields 2.18% annually, or $1.84, which it has increased every single year over the past decade, including 2009. The chart below illustrates the consistency in Deere's dividend raises, which should provide peace of mind to long-term shareholders.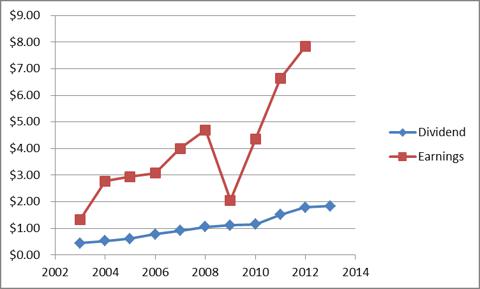 Even more than its great record of returning capital to its shareholders, the real reason to love Deere is its cheap valuation and its growth potential. Currently trading at 11.5 times fiscal year 2012's earnings (which ended October 31st), consensus estimates call for earnings per share of $8.35, $8.88, and $9.45 for fiscal years 2013, 2014, and 2015, respectively, or an average annual earnings growth of 7.4%. While this is not quite the earnings growth that we saw over the past decade, it still more than justifies the P/E multiple. Also worth noting is Deere's very good capital position, with $5 billion in cash and $5.45 billion on debt, for a net debt of only $450 million. This is very low for a company the size of Deere.
To sum it up, Deere is a long-term investor's dream, with a great record of buybacks and an ever-growing dividend. If Deere can keep growing its international business, particularly in markets such as India, China, Brazil, and Russia, the analysts' estimates for earnings are conservative at best. Assuming the estimates are correct, this gives a 2-year price target of $102.12.
Because of Deere's very low volatility, it can be extremely profitable to play Deere with options. I know that by playing it with options you forego the dividend, and I want to go ahead and clarify that I certainly advocate outright purchase of the stock as a great long-term investment. However, as an avid options trader, I would like to suggest a LEAPS approach to Deere.
First, I'd like to play Deere with a LEAPS call spread, which is one of my favorite ways to play for a price target. Essentially, your goal with this type of trade is to capture all of the gains between the current price and your target. To be conservative, the long end of the trade should be in the money, and the short end should be out of the money, the closest strike to your target price, rounded down. With that in mind, I know my short end should be the $100 calls that expire in January 2015, almost two years from now, currently trading at $6.85. I'm going to use these to offset my purchase of $80 calls of the same expiration for $15.80, for a net cost of $8.95. This trade makes money if DE is above $88.95 at expiration, which is only 1.3% above the current share price. Maximum profit of $11.05, or 123%, is achieved with a share price of $100 or greater at expiration, which I believe to be extremely likely since the stock has over two years to get there.
For the adventurous investor, this is a very favorable risk-reward way to turn a small gain in the share price into a huge gain on your investment. This can even be used as a supplement to buying the stock, and the $100 calls could be sold against actual shares, creating a smaller percentage risk.
Deere is a great company with very nice growth prospects, and you won't go wrong by either buying the stock, or using a relatively conservative options strategy that is a little more volatile but limits your potential losses to the cost of the trade.
Disclosure: I have no positions in any stocks mentioned, and no plans to initiate any positions within the next 72 hours. I wrote this article myself, and it expresses my own opinions. I am not receiving compensation for it (other than from Seeking Alpha). I have no business relationship with any company whose stock is mentioned in this article.