Central bank easing policies will undoubtedly debase fiat currency values, subsequently creating a long-term tailwind for precious metal prices. This has been my central thesis and is the primary basis for being bullish on silver in 2013. Beyond central bank policies creating tailwinds for precious metals, the fiscal cliff deal that occurred yesterday does little to nothing in solving the debt crisis in the United States. Expanding debt levels in the United States, combined with the easy money supply globally, is a tailwind for precious metals because many investors trade precious metals as competing currencies against the dollar. To hedge against inflation that will eventually occur, many investors and nations seek financial protection in the precious metals, which in turn, will increased demand.
An interesting consideration is that there is currently more gold available to retail investors than there is silver. This means that the price of silver is more vulnerable to significant increases should current demand levels rise. It is one reason I believe silver could outperform gold. Another reason I believe silver could outperform gold in the coming years is the historical ratio of gold to silver prices, as shown in Figure 1. This ratio was historically 16:1; however, the current price ratio is 55:1. In order for the ratio to return to historical levels, silver must hold its price while gold drops significantly to around $500 an ounce, or silver must appreciate at a faster rate than gold in the coming years. Based on the historic ratio, silver is theoretically worth about $105 an ounce, representing an approximate 245% premium to current prices.
Figure 1. Price History of Gold and Silver in the Last 100 Years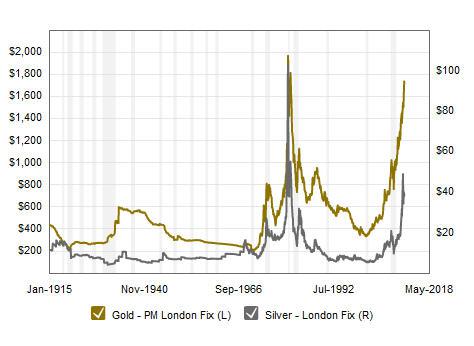 Aside from silver being a precious metal, it also has many industrial applications and therefore, will always have demand, especially when the global economy finally comes out of recession. Silver, as opposed to gold, has real-world everyday uses, as it's one of the most conductive metals out there and a key part of many electronics and batteries. It remains in high demand for film photography applications, even in a digital age. Silver is also an important element of surgical tools and other medical devices, and is an important component utilized in nanotechnology. With uses in electronics, nanotech and medical devices, more silver has been utilized in the past 30 years than has been mined, and inventories are now at historic lows.
Silver currently trades at $30.40 an ounce and given the appreciation of silver in the last few years, some silver companies have begun to pay shareholders dividends. I believe that silver, which has yet to appreciate in value compared to gold and platinum, will eventually increase significantly in value. Thus, companies involved in mining and trading of silver will see increased revenues and higher share prices. In turn, higher profit potential could lead these companies to maintain and increase their dividends in the coming years. In this article, I highlight four companies in the silver industry that currently return profits to shareholders in the form of dividends.
In rank order of yield, the following silver companies offer growth and pay dividends:
Silvercorp Metals (SVM)
SVM engages in the acquisition, exploration, development, and mining of precious and base metal properties in China and Canada. It operates four silver, lead and zinc mines comprising the Ying, TLP, HPG, and LM mines located in the Ying Mining District in the Henan Province of China. The company also holds interests in the XBG silver, gold, lead and zinc mine with a mining permit covering 26.36 square kilometers; and the XHP silver-gold, lead and zinc mine comprising a 14 square kilometer mining permit located in the Ying Mining District in Henan Province of China. In addition, it engages in operating the BYP gold, lead and zinc project in Hunan Province, as well as mining at the GC silver, lead and zinc project in Guangdong Province in China.
The recently updated reserve analyses indicate that there are significant high grade silver-zinc-lead deposits at its SGX mines site. Further, fiscal 2014 for the company, beginning March 2013, is projected to be its strongest in some time. Production is forecast to increase 64.4%, as production is projected to increase from 5.9 million ounces of silver in fiscal year 2013 to 9.7 million ounces of silver for 2014. Operating cash flow is forecast to increase 55% or $88 million from $160 million to $248 million, while capital expenditures are forecast to drop 54% or $41 million from $90 million in fiscal year 2013 to $49 million in 2014. Analyst estimates call for an increase of earnings to $0.55 for 2014.
SVM currently trades at $4.93 with a 52 week trading range of $4.89-$8.45 and with average volume of 1.2 million shares exchanging hands daily. It has a multiple of 18.7, yet a high PEG of 3.9. SVM pays the highest annual dividend of all the silver miners, as it yields 2.0% annually.
Hecla Mining (NYSE:HL)
One of the oldest and low cost silver miners in the United States, HL operates out of Coeur d'Alene, Idaho. HL seeks to discover, acquire, develop and produce silver, gold, zinc and lead mines in the United States. HL currently has two mines operating in Alaska and Idaho, and is the largest silver producer in the U.S. Its properties include land holdings and operating mines in four world-class silver mining districts in the United States and Mexico. HL operates the Green Creek mine in Alaska and the Lucky Friday mine in Idaho, and owns massive land packages in the Silver Valley of northern Idaho. HL also owns the San Juan Silver property in Creede, Colorado and the San Sebastian in Durango, Mexico.
In 2011, HL produced over 9.5 million ounces of silver at a cash cost of a paltry $1.15 per ounce. HL pays a unique dividend that is a minimum of $0.01 per common share. It also attempts to pay dividends that are tied to the payments it receives for the silver it produces. As this is highly correlated to the price of silver, it fluctuates throughout the year, but has ranged from $0.003 cents per share to $0.022 cents per share in 2012, resulting in an estimated 1.5% dividend yield this year.
HL currently trades with a 52.5 P/E ratio at $5.90 a share. The forward one year P/E is an attractive 13.5, however. The stock has a 52 week trading range of $3.70-$6.94. On average, about 4.4 million shares exchange hands daily.
Pan American Silver Corp. (NASDAQ:PAAS)
PAAS explores develops, and operates silver producing properties and assets. The company engages in silver mining and related activities, including exploration, mine development, extraction, processing, refining, and reclamation. It produces and sells silver, gold, copper, lead, and zinc. The company has several mining operations in Mexico, Peru, Argentina, and Bolivia.
I think PAAS is a strong mining company, but some of the assets, such as those in Argentina are subject to political risks, as the nation has been toying with the idea of partially nationalizing metals and mining assets for some time. PAAS currently operates the Manantial Espejo silver mine in Argentina's Santa Cruz province. Due to large budget gaps, the provincial Governor has proposed legislation to increase royalties collected from mining companies in the province. Further, after spending $80 million on its Navidad development project in Argentina, PAAS has suspended investment in the site because the Chubut, Argentina governor has also proposed legislation to add another 5% royalty on the company.
Despite the problems in Argentina, the company is attractive on a fundamental basis and the stock is cheap. It currently trades at $18.37 a share with a 52 week range of $13.49 to $27.11. It trades at a large discount to its peers in the space at only an 11.2 multiple. Further, it only trades with a 1.5 five-year PEG ratio, which is very bullish. The analysts covering the stock have a median $25.00 price target on the stock, with the low estimate being $19.00 and the high estimate being $30.00. Analysts also expect earnings growth in 2013 of 45% over 2012 earnings. Finally, the company pays a nice dividend that yields 1.1% annually.
Silver Wheaton (NYSE:SLW)
SLW operates as a worldwide silver streaming company. Silver streaming is basically a process by which the company purchases a mining firm's silver production in order to distribute that silver in the market. SLW has contracts to purchase silver in bulk at prices well below market value, and then proceeds to sell the silver at a higher price. The company has 14 long-term silver purchase agreements and two long-term precious metal purchase agreements whereby it acquires silver and gold production from companies located in Mexico, the United States, Greece, Sweden, Peru, Chile, Argentina, and Portugal.
According to the company, "the predetermined price that SLW pays for future silver production is approximately $4.00 per ounce, with a small inflationary adjustment, ensuring that costs are fixed." SLW represents an excellent investment to gain exposure to silver, as it offers significant leverage to the price of silver with minimal downside risks. No additional capital expenditures or exploration costs are required by SLW besides the initial payments the company makes to silver miners to secure the rights to purchase low cost silver. Further, SLW benefits from the production and exploration growth of its operating partners. It does not face the rising labor cost issues that actual miners face. So long as the mines are producing, SLW will have a consistent stream of silver and, in turn, a stream of revenue. The higher the price of silver goes, the better the top and bottom lines will be. This efficient business model creates long-term shareholder value.
SLW currently trades at $35.66 and has a 52 week trading range of $22.94 to $41.30. On average, about 3.8 million shares exchange hands daily. The company trades at a 22.8 P/E multiple, but only a 0.66 PEG ratio and currently yields 0.80% (the company reduced its quarterly dividend to 7 cents temporarily). Earnings per share are estimated to grow at a rate of 37% in the next five years.
Conclusion
Those investors who wish to gain exposure to silver long-term can consider investing in the individual silver companies in addition to physical coins and bullion. At current levels, I believe silver and silver companies are opportunity buys for the year 2013, especially for the long-term investor. Over the long term, the price of silver is set to appreciate as a result of central bank stimulus, which in turn, will feed the top and bottom lines of the silver companies. Thus with increased profit, there is a strong possibility that companies could increase the dividends paid to shareholders, which if reinvested back into the stocks over the long term could lead to compounded returns for years to come.
Disclosure: I am long SLW. I wrote this article myself, and it expresses my own opinions. I am not receiving compensation for it (other than from Seeking Alpha). I have no business relationship with any company whose stock is mentioned in this article.