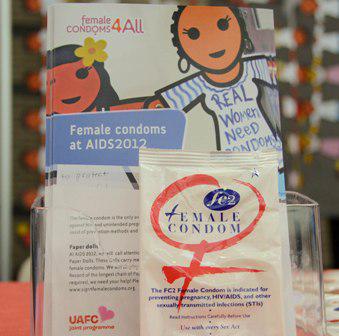 The Female Health Company (NASDAQ:FHCO) will experience an immense growth which will double net profits within a couple of years. The current stock price of $7.32 gives investors an opportunity to profit from a further acceleration of sales and earnings growth related to a broader availability, acceptance and awareness of the female condom.
Background
"Family planning is not a privilege, but a right. Yet, too many women-and men-are denied this human right."
Access to family planning is an essential human right that unlocks unprecedented rewards for economic development, according to a UNFPA report of last November.
222 million women in developing countries have an unmet need for family planning
Additional $4.1 billion in funding is needed to address current needs and those of the growing youth population
Making voluntary family planning available to everyone in developing countries would reduce costs for maternal and newborn health care by $11.3 billion annually, according to The State of World Population 2012, published on November 14 by UNFPA, the United Nations Population Fund.
Currently, millions of women do not have access to affordable contraceptives and other protective measures. Female condoms are a cost-effective and lifesaving tools, yet they represent only one percent of all condoms distributed worldwide.
After some extensive research we think the company described below is one of the few companies right now that is on the forefront of playing a key role in the global battle against HIV/AIDS and other sexuallly-transmitted infections.
The Female Health Company
Description
The Female Health Company , based in Chicago, Illinois, manufactures and markets the FC2 Female Condom® (FC2), which is available in the U.S. and approximately 138 other countries globally. The Company owns certain worldwide rights to the FC2 Female Condom®, including patents that have been issued by the U.S., the European Union, Canada, Australia, South Africa, Japan, The People's Republic of China, Spain, Mexico, Greece, Turkey and the African Regional Intellectual Property Organization (ARIPO).
FC2 patent applications are pending in various countries. The FC2 Female Condom® is the only available FDA-approved product controlled by a woman that offers dual protection against sexually transmitted diseases, including HIV/AIDS, and unintended pregnancy. The World Health Organization (WHO) has cleared FC2 for purchase by U.N. agencies.
Strategy
The company's strategy is to fully develop global markets for the FC2 female condom for both contraception and STI prevention. Since the introduction of its first generation product, FC1, the company has developed contacts and relationships with global public health sector organizations such as WHO, UNFPA, USAID, the United Nations Joint Programme on HIV/AIDS ("UNAIDS"), country-specific health ministries and non-governmental organizations (NGOs), and commercial partners in various countries. The company has representatives in various locations around the world to provide technical support and assist with its customers' prevention and family planning programs.
On July 11, 2012, World Population Day, the UK Government and the Bill and Melinda Gates Foundation held a Summit on Family Planning in London, England (the "London Summit"). It was attended by public health officials, government officials, and private sector companies that supply contraceptives and related products. The primary goal of the London Summit was to increase access to contraceptives to an additional 120 million poor women in 69 developing countries by 2020. Achievement of this goal will reduce maternal and infant immortality, HIV/AIDS babies and orphans and health care costs.
At the close of the London Summit it was announced that commitments of $4.6 billion had been made to fund the 2012-2020 program. This included commitments by the British Government, other specific countries, the Bill & Melinda Gates Foundation, other foundations, Bloomberg Philanthropies, and other private sector donors.
During the London Summit, the Female Health Company announced a program to support the London Summit's goal to provide contraceptives to an additional 120 million women by 2020. This program includes a plan for the company to invest up to $14 million over the next six years in reproductive health and HIV/AIDS prevention education and training in collaboration with global agencies.
Company Highlights
The company sold in FY 2012 61.6 million female condoms compared to 32.9 million in FY 2011.
Net revenues rose 89% to $35.0 million from $18.5 million.
Gross profit increases 109% to $20.6 million from $9.8 million.(58.9% of net revenues).
Operating income improved 232% to $10.9 million from $3.3 million.
Diluted EPS increased 179% to $0.53 vs. $0.19 in the previous fiscal year.
Cash flow from operations increases 48.6% to $10.4 million.
Quarterly cash dividend increased by 20%, to $0.06.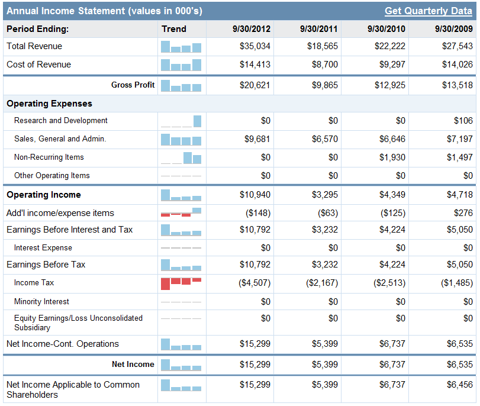 Source: NASDAQ website.
Investment Highlights
Institutional ownership
The company has 57 institutional holders, who hold 7,613,238 shares or 26.55% of the company. Management (all directors and executive officers as a group) own in total 25.6% of the outstanding shares. As you can see below, the stock has increased interest among institutional fund managers.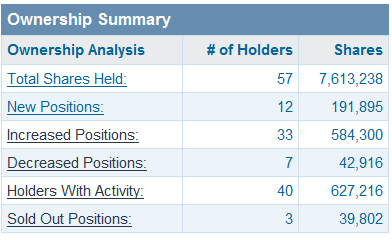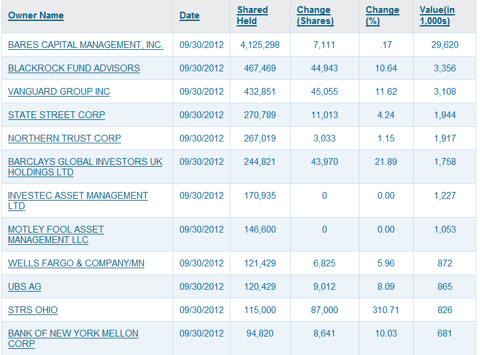 Source: NASDAQ website.
Studies
An economic analysis of the cost effectiveness of an FC2 HIV/AIDS prevention program conducted by Dr. David Holtgrave, the chairman of the Department of Health Behavior and Society at the Johns Hopkins Bloomberg School of Public Health was featured in the March 26, 2012 issue of AIDS and Behavior. The study showed that the Washington, D.C. FC2 prevention program, a public-private partnership to provide and promote FC2 female condoms, prevented enough HIV infections in the first year alone to save over $8 million in avoided future medical care costs (over and above the cost of approximately $445,000 for the program). This means that for every dollar spent on the program, there was a cost savings of nearly $20. In the article, Dr. Holtgrave concluded, "These results clearly indicate that delivery of, and education about, Female Condoms is an effective HIV prevention intervention and an outstanding public health investment."
Numerous clinical and behavioral studies have been conducted regarding use of the female condom. Studies show that in many cultures, the female condom is found acceptable by women and their partners. Importantly, studies also show that when the female condom is made available as an option along with male condoms there is a significant increase in protected sex acts with a concurrent decrease in STIs. The increase in protected sex acts varies by country and averages between 10% and 35%.
Global condom market
The global male condom market (public and private sector) is estimated to be $3 billion annually. The global public health sector market for male condoms is estimated to be greater than 10 billion units annually. Given the rapid spread of HIV/AIDS in India and China, UNAIDS estimates that the annual public health sector demand for condoms, both male and female, will reach 19 billion units by 2015. One of the biggest players in this market is Reckitt Benckiser (OTCPK:RBGPF), which controls the Durex brand.
Financial Thoughts
We expect sales and earnings to surge significantly in 2013, based on the $4.6 billion funding programme. Units shipped could rake 80 million this year and more than 100 million in 2014. Gross margins will remain in the 50-60% range (59% in FY 2102). In connection with the London Summit, the company plans to award major purchasers with free product equal to 5% of total annual units purchased beginning in fiscal 2013. This could affect the company's gross margin, that's why we think it will fluctuate in the 50-60% range.
FY 2013 dividend will be $0.06 per quarter or $0.24 annualized. For dividend-orientated investors, this makes a yield of more than 3%.
Total revenues could surge to $45 million with earnings per share between $0.65-$0.70 in 2013.
Funding requirements for capital equipment related to their production facility will be around zero. Last year the company increased its FC2 production capacity by about 20% to an annualized rate of approximately 100 million units. This capital expenditure was fully funded internally at a cost of approximately $700,000.
As a result, FHCO is generating cash from operations as it can redeploy such cash into its current business. The plan for the company to invest up to $14 million over the next six years in reproductive health and HIV/AIDS prevention education and training leaves the company still with sufficient excess cash. A higher quarterly cash dividend of $0.07 or even $0.08 in 2014 is a clear possibility.
Given the proprietary nature of its patented FC2 condom and the significant regulatory and other barriers to enter the female condom market, we believe the company will be attractive acquisition target for one or more global players in the healthcare or household sector.
We think Reckitt Benckiser would be an interesting fit, because the company could benefit from the non-expiring British tax loss carryforward that should be worth nearly $1 per diluted share to a potential buyer of the company.
A P/E of 15x the company's expected $0.65-0.70 per share earnings potential this year, would value the stock around $10.
Final Note
Last year The Universal Access to Female Condoms (UAFC) Joint Programme, a joint initiative of four Netherlands-based organizations, mobilized a global campaign to increase accessibility, availability and affordability of female condoms.
The press conference, "Busting the Myth: 20,000 Voices Prove We Want Female Condoms Now," highlighted the fact that many women and men around the world are calling for increased access to female condoms as a preferred form of dual-protection against unintended pregnancies and sexually transmitted infections.
However, in many countries, this method of protection is unavailable. Even in countries where female condoms are available, supply remains limited, inaccessible or unaffordable for those who need it most.
Currently, millions of women do still not have access to affordable contraceptive and protective measures. Female condoms are a cost-effective and lifesaving tool - yet they represent only one percent of all condoms distributed worldwide.
The company's FC2 female condom offers a woman dual protection against both unintended pregnancy and STI's, including HIV/AIDS, its market encompasses both family planning and disease prevention.
The Female Health Company is a compelling story that gives investors an incredible opportunity to profit from the emerging female condom market.
Disclosure: I am long FHCO. I wrote this article myself, and it expresses my own opinions. I am not receiving compensation for it (other than from Seeking Alpha). I have no business relationship with any company whose stock is mentioned in this article.