We know China is the first country to roll out a mega stimulus package (US$600B in total for two years), and it put it to work a few months ago. Many US investors have no idea how efficient the Chinese government is, and we are still in the middle of writing a draft of the stimulus package. Apparently the stimulus package is working!
Yesterday I checked Shanghai stock index (SSE Composite Index), OMG, and the Chinese market has clearly bottomed (see chart below). At least it is moving ahead of other global markets by a few weeks.
As a comparison, I have plotted both SSE and the DOW. SSE is apparently making higher highs and higher lows on its uptrend. The 20DMA is approaching 50DMA nicely. On Dec. 2nd, Chinese government clearly stated to support stock market and housing markets.
For investors, investing in China related companies seems a good bet for the moment. Here are a few candidates for you. The first one is ETF FXI which tracks Chinese stocks traded in US is a good vehicle to tap. Some other companies are Suntech Power (NYSE:STP), American Superconductor (NASDAQ:AMSC), A-Power Energy Generation (NASDAQ:APWR), Baidu (NASDAQ:BIDU), Yingli Green (NYSE:YGE), GE (NYSE:GE), etc. Both STP and AMSC are renewable energy companies, and both have sales in China and US. GE is also a renewable energy play here as its wind turbine has big market in China. Baidu is an internet search company.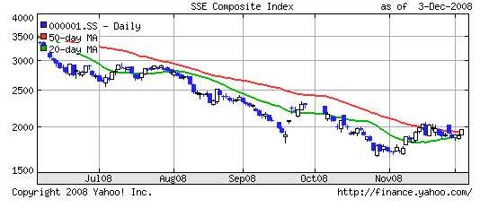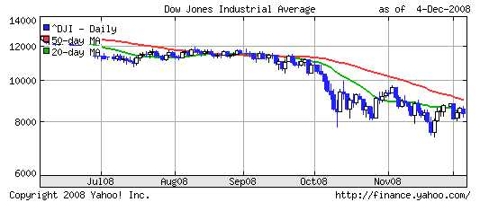 Disclosure: Author is long GE, STP, AMSC.