All three major indices took a breath and closed with a minor loss. Nasdaq led the loss with 0.38% decline. S&P 500 followed with 0.21% drop while Dow Jones shed 0.16%. QQQ, SPY, and DIA were all still above their 50-day and 200-day Moving Averages. Healthcare and transportation sectors led the gain with 0.28% increase while basic materials sector lost the most with 1.17% drop.
The market sentiment is driven by greed now with Fear & Greed Index at 80, increased from the previous close of 79. As reported by CBOE, the total put/call ratio for today was 0.84, and the index put/call ratio was 1.01. The equity put/call ratio was 0.53, and the CBOE volatility index (VIX) put/call ratio was 0.80. In the following, top stock had been identified through our daily options scanning process, with the scanning criteria where the daily call volume ratio was above 2.00 (2x of the average call volume) with a call volume above 10,000.
| | | | |
| --- | --- | --- | --- |
| Name (Ticker) | Call Volume | Average Call Volume | Daily Volume Ratio |
| First Solar, Inc (NASDAQ:FSLR) | 32,846 | 14,526 | 2.26 |
Source: Schaeffer's Research
First Solar, Inc.
FSLR manufactures and sells solar modules with an advanced thin-film semiconductor technology. The company's solar modules use cadmium telluride, or CdTe, to convert sunlight into electricity (CdTe, known as a thin-film technology). FSLR's current products costs of $0.74 are a step behind the lowest-cost Chinese companies, including Trina Solar Limited (NYSE:TSL), Yingli Green Energy Hold. Co. (NYSE:YGE) and JinkoSolar Holding Co. (NYSE:JKS). These three companies have total module costs of $0.70. It is crucial for FSLR to catch up with the cost reduction to avoid becoming a value trap for the investors.
The solar stocks were boosted on Thursday after MidAmerican Energy Holdings, a holding company controlled by Berkshire Hathaway (BRK.A & BRK.B), agreed to purchase the 579-megawatt Antelope Valley Solar Projects from SunPower Corp (NASDAQ:SPWR) for between $2 and $2.5 billion. As reported,
"The purchase is an endorsement for an industry that has taken a lot of beatings over the past few year. Economic headwinds have not been kind to solar manufacturers and related service companies. Hundreds have gone out of business as demand shrank and supply grew into damaging overcapacity. The industry consolidated and many experts predict that further consolidation will be necessary before a full-scale recovery."
Analysts' Calls and Earnings Estimate
On Jan. 3, S&P Capital IQ upgraded FSLR with an increasing price target to $26 from $16. On Jan 2, Zacks reiterated their neutral rating on FSLR with a $31.00 target price and reported,
"First Solar Inc., along with its solar peers, is currently witnessing a steep drop in Average Selling Prices. Also, the current macro scenario does not bode well for the solar industry, which thrives mainly on subsidies and grants. However, First Solar stands out among the pack due to its stable liquidity position, which is in sharp contrast to its cash-strapped peers. In order to counter the weak trend, the company is focusing more on utility-scale electricity power projects. Moreover First Solar is partially compensating for its drop in margins through a major restructuring of its operations initiated in April. In such a mixed scenario, we advise investors to be on the sidelines for now until the macro headwinds subside. We therefore maintain our Neutral rating on the stock with a target price of $31.00."
Analysts at Bank of America reiterated a buy rating with a $35.00 target price on Dec. 19, 2012. On Dec. 13, 2012, analysts at Deutsche Bank reiterated a holding rating. Lastly, analysts at Macquarie reiterated a neutral rating with $24.00 price target on Nov. 9, 2012.
For the full 2012 fiscal year, analysts are expecting an EPS of $4.61 with $3.62B revenue. Analysts are also estimating an EPS of $4.04 with revenue of $3.54B for 2013, which is 2.1% less compared to 2012, as seen from the table below.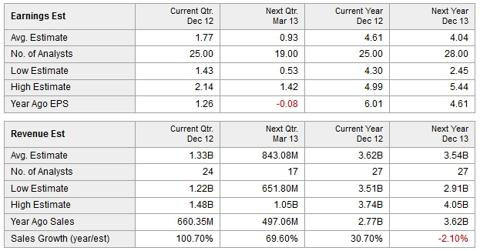 Source: Yahoo! Finance
Key Stats and Valuation
FSLR has an enterprise value of $2.60B with a market cap of $2.99B. FSLR has a total cash of $716.99M, mrq, and generates an operating cash flow of $445.38M with a levered free cash flow of $14.79M, ttm. By using the data obtained from Morningstar, FSLR's key stats will be compared to its peers in the solar industry, including Suntech Power Holdings Co. (NYSE:STP), YGE and TSL. FSLR has a higher revenue growth (3 year average) of 30.4, as compared to the industry average of 17.7. FSLR has lower operating margin of -23.5%, ttm, and net margin of -22.5%, ttm, comparing to the industry averages of -16.0% and -18.4%, ttm, respectively. FSLR generates ROE of -17.7, which is better than the industry average of -23.4. FSLR has a debt-to-equity of 0.1, which is much stronger than the industry average of 1.6.
FSLR has P/B of 0.8 and P/S of 0.9, which are higher than the industry averages of 0.7 and 0.4, but lower than FSLR's 5 year averages of 3.3 and 4.2. FSLR has a forward P/E of 9.9, which is below S&P 500's average of 14.2.
Technical Analysis
FSLR closed at $34.41 with 7.57% gain on Thursday. The volume of 10.02M was 2.26x of 30 day average volume of 4.44M. FSLR had been trading in the range of $11.43-$50.20 in the past 52 weeks. FSLR has a beta of 1.64. The MACD (12, 26, 9) indicator had been showing a bearish sign since Dec. 21; however, the MACD difference continued to converge. The momentum indicator, RSI (14), is showing a strong buying momentum at 70.43. FSLR is currently trading above its 50-day MA of $27.34 and 200-day MA of $21.02. The next resistance is $36.85, the R2 pivot point, as seen from the chart below.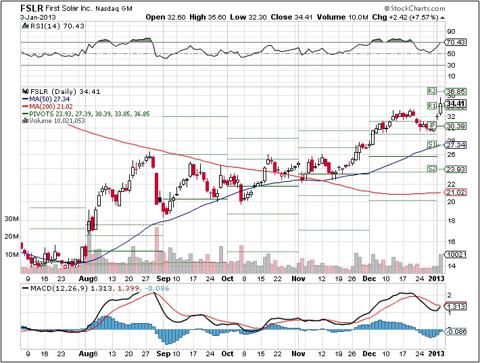 Source: StockCharts.com
Unusual Call Activities
The most active call contract on Thursday, excluding the options expiring on Jan 3, 2013, was Jan. 17, 2014 call at the strike price of $15.00 with a volume of 5,080 and an open interest of 5,679. The implied volatility is 32.8, and the chance of breakeven is 43.41. It is also noted that March 15, 2013 put at the strike price of $30.00 had the highest put volume of 7,128 with an open interest of 4,974. The implied volatility is 73.3, and the chance of breakeven is 30.65. The implied volatility for FSLR is 43.58 for 1 month, 53.24 for 3 months, and 74.50 for 1 year. For bullish investors, a credit put spread could be setup to fund the out-of-money call to reduce the cost and partially offset the time decay and volatility swing.
Note: All numbers/prices are quoted from the closing of January 3, 2013 with the data provided from Barron's, MorningStar, Schaeffer's Investment Research, Inc., Google Finance, and Yahoo! Finance. Investors and traders are recommended to do their own due diligence and research before making any trading/investing decisions.
Disclosure: I have no positions in any stocks mentioned, and no plans to initiate any positions within the next 72 hours. I wrote this article myself, and it expresses my own opinions. I am not receiving compensation for it (other than from Seeking Alpha). I have no business relationship with any company whose stock is mentioned in this article.