Linn Energy (LINE) is the 8th largest public MLP/LLC and the 11th largest domestic independent oil & natural gas company. The stock has performed well since its IPO due to their outstanding business model which fuels growth that is sustainable. Linn Energy is a solid company with a high dividend of $2.90 and is a buy below $40.
Below is a price chart for Linn Energy since their IPO in 2006.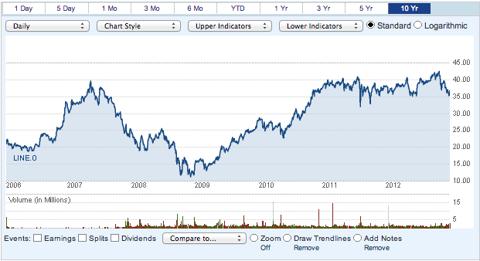 As shown above, Linn Energy had a drastic drop after the recession starting in 2007. From the beginning of 2009 to 2011 Linn Energy jumped to approximately $40. Since reaching $40 the stock has been stagnant, with occasional dips. Linn Energy is currently experiencing one of those drops.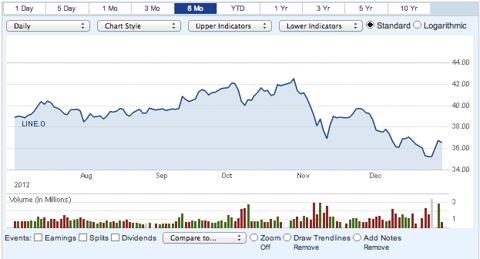 Above is a six-month price chart of Linn Energy which reflects the recent drop of close to $8 from its high. Historically these price drops have reversed and the steady increase in price continued.
Linn Energy's expected natural gas production is hedged 100% through 2017.
Linn Energy's expected oil production is hedged 100% through 2016.
Q3 2012 versus Q3 2011 daily natural gas production has increased 141%.
Q3 2012 versus Q3 2011 daily oil production has increased 36%.
Q3 2012 versus Q3 2011 daily natural gas liquid production has increased 157%.
Current cash and cash equivalents are approximately $1.154 million with $1.985 billion of available credit on their credit facility.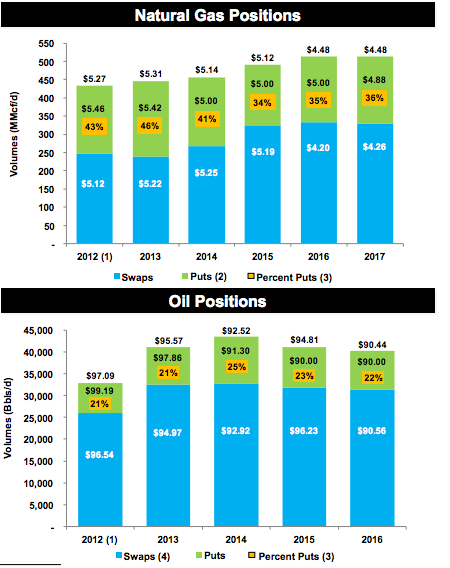 Natural gas and oil prices can be unpredictable, therefore hedging protects the company from price drops. This was the problem that Chesapeake Energy encountered. Chesapeake was not hedged in natural gas, but Linn Energy is hedged 100% through 2017. They are also hedged in oil 100% until 2016. This is a key factor to Linn Energy's success because it allows them to accurately estimate their income and the amount they can spend on acquisitions and other expenses. From 2013 to 2017 the average percent of puts for natural gas is 38.4%. From 2013 to 2016 the average percent of puts for oil is less at 22.75%.
Acquisitions: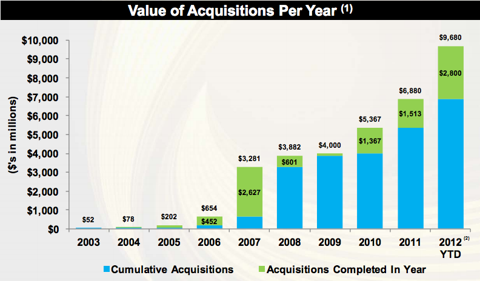 Since Linn Energy's start they have completed 54 separate acquisitions for a total cost of approximately $10 billion. From Q1 2012 to Q3 2012 Linn Energy has spent an aggressive $2.8 billion on acquisitions and joint ventures, expanding their natural gas, oil and NGL operations. A few of the purchases and joint ventures are as follows.
Hugoton Basin = $1.2 billion
Jonah Field Properties = $1 billion
Salt Creek Oil Field joint venture with Anadarko Petroleum Corporation = $400 million
From Q1 2011 to Q3 2011 Linn Energy spent $962 million on acquisitions. The increase in money expended on acquisitions year over year demonstrates the dramatic increase in Linn Energy's purchasing power.
Their business model of acquiring properties with proven reserves and developing the property has resulted in a significant increase in daily production year over year. Combined with the fact that only 64% of their proven resources are developed, Linn Energy's year over year increase in production is sustainable.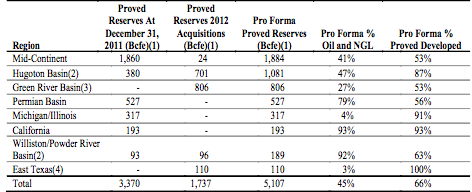 Linn Energy has a total of 5.1 trillion cubic feet equivalent of proven resources that should last approximately 17 years. The resources consists of 55% natural gas and 45% oil and NGLs.
Debt and Capital:
Linn Energy's cash and cash equivalents is only $1.154 million. Linn Energy finances acquisitions using their credit facility and by selling senior notes.
Currently Linn Energy has approximately $1.985 billion available under their credit facility. From Q1 2012 to Q3 2012 Linn Energy issued $1.799 billion in senior notes and borrowed $1.045 billion (net) on their credit facility. Linn Energy has a total of $4.856 billion of long term senior notes outstanding with the earliest maturity being $41 million coming due in 2017.
Conclusion:
Linn Energy has had substantial growth since its IPO in 2006. I believe that this growth will continue along the gradual upward progression due to their solid business plan and their hefty dividend. Linn Energy is a buy under $40 and a must buy under $38.
Disclosure: I am long LINE. I wrote this article myself, and it expresses my own opinions. I am not receiving compensation for it (other than from Seeking Alpha). I have no business relationship with any company whose stock is mentioned in this article.
Additional disclosure: While I express my opinion in this article, only you can determine if a specific stock is right for your portfolio. You should always do your own research before buying or selling any stock.