Clinical Trials and FDA Recommendations play vital roles in the life expectancy of drug companies. They also happen to be the two key variables I've chosen when considering positions in small-cap pharmaceutical companies with market caps under $500 billion. That said I've chosen one company that has reacted quite positively to news regarding recent clinical trials of one of lead development candidates.
Navidea Biopharmaceuticals (NYSEMKT:NAVB): According to its website, "Navidea is a biopharmaceutical company, engages in the development and commercialization of precision diagnostics and radio pharmaceutical agents". Navidea is primarily focused on the radiological development of the following programs in its pipeline: Lymphoseek (a Phase 3 radio pharmaceutical candidate designed for determining the spread of solid tumor cancers into the lymphatic system), AZD4694 (a Fluorine-18 labeled precision radio pharmaceutical candidate for use in the imaging and evaluation of patients with signs or symptoms of cognitive impairment such as Alzheimer's Disease) and RigScan (a tumor antigen-specific targeting agent intended to help surgeons locate cancerous or disease-involved tissue during colorectal cancer surgeries).
From a fundamental perspective, shares of NAVB currently carry a market cap of $310.05 million, have traded down 32.72% since July 9, and are also trading at a 9.70% premium to their 50-DMA and at an 8.98% discount to their 200-DMA.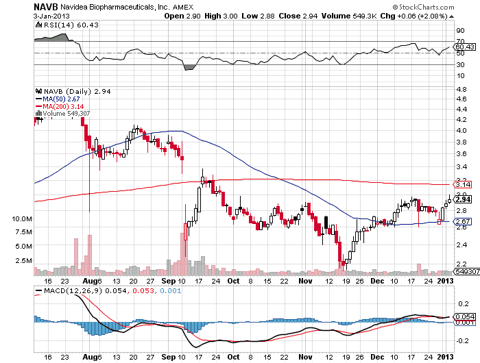 On January 3rd it was announced that Navidea "had accrued sufficient subjects in its NEO3-06 study in patients with head and neck cancer to enable the Company to conduct a pre-planned interim analysis This Phase 3 trial of Lymphoseek® (technetium Tc 99m tilmanocept) Injection, a novel intraoperative lymphatic mapping (ILM) agent, is designed to demonstrate the performance of Lymphoseek in identifying sentinel lymph nodes in subjects with squamous cell carcinoma on the head or in the mouth". If Navidea can continue to demonstrate key strides and meet crucial endpoints when it comes to Lymphoseek, potential investors should begin to consider a position at current levels.
According to Dr. Fred Cope, Ph.D. Senior Vice President of Research and Development for Navidea, noted that "In head and neck cancer it is not uncommon to remove 40, 50, or even 100 regional lymph nodes during full dissection surgery, which can result in substantial and long-term morbidity for patients…We believe that the NEO03-06 study may provide additional data to demonstrate Lymphoseek's usefulness in characterizing this important type of cancer, and potentially support its use as a sentinel lymph node mapping agent that can facilitate accurate cancer staging and decrease the extent of surgery for some patients, thereby reducing possible serious morbidity".
Final Analysis
Are there any negative catalysts potential investors should consider before establishing a position in Navidea? As is the case with any biotech company, potential investors need to keep in mind some of the negative catalysts that go hand-in-hand with Navidea. On one hand, any negative indication by the FDA with regard to Navidea's Lymphoseek, AZD4694 or RigScan could result in a sharp sell-off for the stock. On the other hand, weaker than expected earnings at any point over the course of the next 12-18 months could also send shares of Navidea down an unfavorable path.
For potential investors looking to establish a position in Navidea, I'd take a closer look at each company and keep in mind the primary positive and negative catalysts moving forward. Given the fact that Navidea is making considerable strides, I'd look to establish a small to medium position at current levels and add to that position once future developments are announced.
Disclosure: I have no positions in any stocks mentioned, and no plans to initiate any positions within the next 72 hours. I wrote this article myself, and it expresses my own opinions. I am not receiving compensation for it (other than from Seeking Alpha). I have no business relationship with any company whose stock is mentioned in this article.