Sprint Nextel (NYSE:S) is the third-largest carrier in the U.S., serving 48 million customers directly. The company offers wireless and wireline voice and data transmission services to subscribers in all 50 states, Puerto Rico, and the United States Virgin Islands under the Sprint corporate brand, which includes its retail brands of Sprint, Nextel, Boost Mobile, Virgin Mobile, and Assurance Wireless. Sprint Nextel is using two separate nationwide networks: code division multiple access, CDMA, and integrated Digital Enhanced Network, iDen. iDen network will shut down in 2013.
Reducing Risks with SoftBank Deal
Japan's SoftBank's $20 billion takeover of Sprint Nextel is the biggest-ever overseas acquisition by a Japanese company. The deal with SoftBank will provide strong capital to enhance Sprint's financial flexibility while dramatically reducing Sprint shareholders' risks. Sprint can move on quickly to regain its competitive edge and to expand its network and growth.
Clearwire Acquisition
Sprint may have overpaid for Nextel, but the deal with Clearwire is making a lot of sense and resolving a lot of past issues between Sprint and Clearwire. On Dec. 7, 2012, Sprint announced the agreement to acquire 50% stake in Clearwire Corporation (CLWR) it does not currently own for $2.97 per share. This transaction results in a total Clearwire enterprise value of approximately $10 billion, including net debt and spectrum lease obligations of $5.5 billion. As stated in the report, "Clearwire's spectrum, when combined with Sprint's, will provide Sprint with an enhanced spectrum portfolio that will strengthen its position and increase competitiveness in the U.S. wireless industry. Sprint's Network Vision architecture should allow for better strategic alignment and the full utilization and integration of Clearwire's complementary 2.5 GHz spectrum assets, while achieving operational efficiencies and improved service for customers as the spectrum and network is migrated to LTE standards." The report also noted that the transaction is also contingent on the consummation of Sprint's previously announced transaction with SoftBank. The Clearwire and Softbank transactions are expected to close mid-2013.
Spectrum, LTE, and China Mobile
With Clearwire acquisition, Sprint will control more spectrum in the country than any other carrier. As quoted from Forbes report contributed by Joan Lappin,
"Clearwire has 160 Mhz of spectrum in some markets and an average of 120 Mhz in the big urban markets where it really matters because that is where the traffic is that causes bottlenecks and poor service. The knock on 2.5Ghz is that it doesn't penetrate walls very well. One 800 Mhz cell site can propagate a signal across an extensive geographic area. But when conveying video and data streams in urban locales, what matters most is little interference and cross talk. Higher frequency spectrum is the winner in this battle when combined with lots of pico and nano cell sites. Clearwire can program as many as eight 20Mhz wide channels in an urban center. To be even more spectrally efficient, it doesn't have to offer 10 Mhz in each direction. Sprint is working hard to reclaim from its Nextel system bandwidth that will facilitate one 5×5 channel that can only be used as 5×5. There is simply no comparison in capacity."
The acquisition deal will infuse Clearwire with $800 million over 10 months to begin the work to deploy LTD-Advanced while it waits for the approval to acquire Clearwire. Clearwire's 2.5GHz spectrum is uniquely positioned to be used as a global LTE band, provided a certain band configuration is used. As reported,
"Clearwire has stated that it wishes to use the 2.5GHz spectrum assets it has for a capacity-based TD-LTE network. To that end, Clearwire's spectrum was codified in the 3GPP as band class 41, a TDD band that covers the entire frequency range." The problem for the plan was the lack of economic scale.
However, this could change if China Mobile (NYSE:CHL) starts ordering dual-band TD-LTE devices that work for both its band 40 TD-LTE trial network and Clearwire's future band 41 network. As further reported,
"China Mobile's 600+ million subscriber base makes it a very good target to force the economic potential of the band to rise. Additionally, SoftBank Mobile (the Japanese network operator owned by SoftBank) has a TD-LTE network operating on band 41 in Japan right now."
What's Next for Sprint Nextel, Clearwire, and SoftBank?
With Clearwire's huge spectrum and SoftBank's backing, Sprint Nextel could soon be a big force to compete in the new landscape as spectrum resources become scarcer and high-speed 4G LTE becomes a widespread standard. Sprint Nextel and Clearwire, together, have more than twice as much spectrum as either Verizon or AT&T, who had around 80MHz. The Japanese carrier also owns spectrum in the 2.5GHz band in Japan and will be looking to build a scale big enough with Clearwire's spectrum to incentivize handset makers to build 4G devices for his spectrum. As reported,
"Where this could potentially start hurting Verizon and AT&T is when Sprint/Clearwire build out their respective LTE networks and people realize that they are able to offer faster 4G services than the top two carriers, especially in the urban areas where 2.5GHz has a distinct advantage."
Pending Issues
After the acquisition, Sprint and Clearwire each has its own spectrum at different frequencies, so they are not compatible. To make the situation worse, they each must run on a different type of LTE. Sprint runs on FD-LTE, same as Verizon Wireless (NYSE:VZ) and AT&T (NYSE:T), and Clearwire runs on TD-LTD. The incompatibility issues has been long known, and Sprint and Clearwire have already been working on new devices that include radios for both version of LTE.
Highlight for the Products
As reported, Sprint Nextel's latest products are selling at unbelievable prices at Amazon.com (NASDAQ:AMZN), including the top product, the Sprint Galaxy Note 2, which can be acquired for only $149.99. International retailers are also selling other Sprint Nextel's products at record low prices this holiday season that mainly entail 4G LTE products. Analysts are concerned on how Sprint Nextel can regain their value after the holiday sales season. However, it is expected that demand for the products will experience a boost after holiday as consumers are induced socially by others. According to the same report, "The essential attributes of the Sprint Galaxy Note 2 include a 5.5-inch Super AMOLED display with 1,280 x 720 pixel resolution, Android 4.1 Jelly Bean out of the box, a quad-core Exynos processor with 2 GB RAM, 8-megapixel rear camera and 3,100 mAh battery," which can really surprise the customers.
Analysts' Calls and Earnings Estimates
On Jan. 2, 2013, Guggenheim reiterated the buy rating on S with a $6.50 price target. On Dec. 27, 2012, TheStreet reiterated a hold rating on S. Atlantic Securities reiterated an overweight rating on S with a $7.40 target price on Dec. 18, 2012. Lastly, analysts at Argus reiterated a buy rating on Sprint with a $7.50 price target.
Analysts, on average, are expecting an EPS of -0.46 with revenue of 8.93B for the current quarter ending in December, 2012. Analysts are predicting an EPS of -1.45 with revenue of 35.30B for the fiscal 2012. For 2013, analysts are projecting an improving EPS of -0.78 with revenue of $35.42B, with 0.30% increase compared to year 2012, as seen from the table below.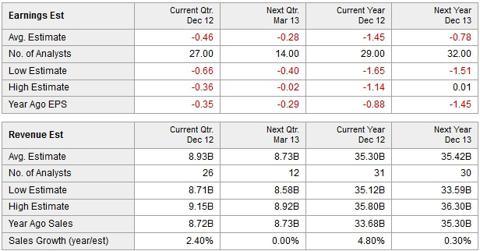 Source: Yahoo! Finance
Key Stats and Technical Analysis
S has an enterprise value of $32.37B with a market cap of $17.49B. S has a profit margin of -12.28% with an operating margin of -4.10%. The return on assets is -1.86% and the return on equity is -39.99%. S has a total cash of $6.33B with an operating cash flow of $3.87B and a levered free cash flow of $711.75M, ttm. S has a book value of $2.83 per share.
S closed at $5.82 on Thursday with 0.52% gain. The volume of 36.33M was 19.5% higher than the 30 day average volume of 30.40M. S had been trading in the range of $2.10-$6.04 in the past 52 weeks. S has a beta of 1.12. The MACD (12, 26, 9) indicator had been showing a bullish sign and the MACD difference continued to diverge. RSI (14) is showing a bullish lean at 65.24. S is currently trading above its 50-day MA of $5.61 and 200-day MA of $4.19. The next resistance is $6.04, the R2 pivot point, as seen in the chart below.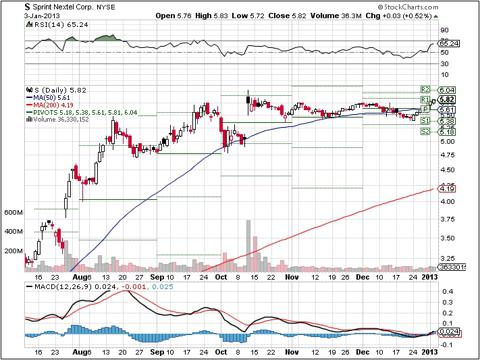 Source: StockCharts.com
Conservative Options Play
With promising outlook after the Clearwire deal, Sprint has much more upside potential than downside risk. For bullish investors, a credit put spread will be reviewed below, which will allow investors to acquire the stock at a lower price while gaining upside potential.
Short 1x May 18, 2013 put at the strike price of $5.00 for the credit of $0.41
Buy 1x May 18, 2013 put at the strike price of $4.50 for the cost of $0.20
The maximum profit is $0.21, and the maximum risk/margin requirement is $0.29 ($0.50 loss - $0.21 credit received). If Sprint stays above $5.00 on May 18, 2013, 72.41% return on margin will be gained. If S falls below $5.00 upon options expiration, S stock will be acquired at $4.79, which is 17.70% lower than the current price of $5.82.
Note: All prices are at the time of writing on January 3, 2013 and all calculations are before fees and expenses. Investors and traders are recommended to do their own due diligence and research before making any trading/investing decisions.
Disclosure: I have no positions in any stocks mentioned, but may initiate a long position in S, CHL over the next 72 hours. I wrote this article myself, and it expresses my own opinions. I am not receiving compensation for it (other than from Seeking Alpha). I have no business relationship with any company whose stock is mentioned in this article.