My favorite place to look for investment ideas is in the portfolios of legendary value investors. I figure if a stock has made it through the vetting process of an investor with decades of experience and an outstanding track record then it is worth my time to look at that stock as well.
One of the greatest investors of the last half century is a man who has racked up an incredible record investing in equities at Berkshire Hathaway (NYSE:BRK.A). No, not Warren Buffett. I'm referring to Lou Simpson, former portfolio manager for Berkshire subsidiary Geico.
Simpson retired from Berkshire Hathaway in 2010 and Buffett had some kind words for his departing employee:
Last summer, Lou Simpson told me he wished to retire. Since Lou was a mere 74 - an age Charlie and I regard as appropriate only for trainees at Berkshire - his call was a surprise. Lou joined GEICO as its investment manager in 1979, and his service to that company has been invaluable. In the 2004 Annual Report, I detailed his record with equities, and I have omitted updates only because his performance made mine look bad. Who needs that?

Lou has never been one to advertise his talents. But I will: Simply put, Lou is one of the investment greats. We will miss him.
In the 2004 Berkshire Hathaway letter to shareholders Buffett gave us a look at Simpson's 24 years of investment performance managing Geico's equity portfolio: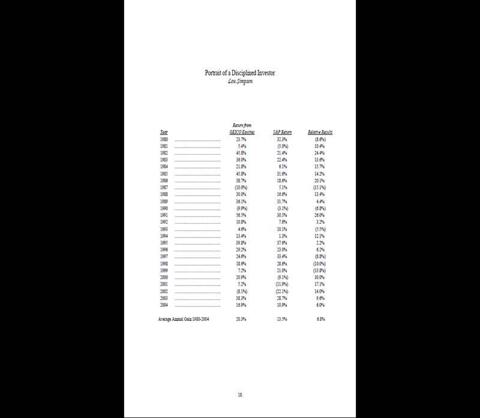 If you click on the extract from the 2004 Berkshire letter and enlarge it you can more clearly see that Simpson compounded money at an astounding 20.3% per annum.
Most of us would be thrilled with half of that these days.
Upon retiring Simpson did not rest for long as he started his own investment firm SQ Advisors. This for the first time allows us to examine directly the actual portfolio being managed by Simpson. And I think looking in that portfolio for investment ideas is well worth the time and effort.
As of the third-quarter 2012 SQ's portfolio had the following positions:
| | | | | |
| --- | --- | --- | --- | --- |
| # | Company | Ticker | Holding Value | Weighting |
| | | | | |
| 1 | Berkshire Hathaway | (BRK.A) | $127,353 | 10.93% |
| 2 | Fiserv | (NASDAQ:FISV) | $124,801 | 10.71% |
| 3 | TE Connectivity | (NYSE:TEL) | $107,635 | 9.24% |
| 4 | Lowes | (NYSE:LOW) | $103,566 | 8.89% |
| 5 | Wells Fargo | (NYSE:WFC) | $96,077 | 8.25% |
| 6 | DIRECTV | (DTV) | $90,787 | 7.79% |
| 7 | Charles Schwab | (NYSE:SCHW) | $82,043 | 7.04% |
| 8 | Cenovus Energy | (NYSE:CVE) | $80,691 | 6.93% |
| 9 | Valeant Pharmaceuticals | (NYSE:VRX) | $80,429 | 6.90% |
| 10 | Crown Holdings | (NYSE:CCK) | $79,090 | 6.79% |
| 11 | Brookfield Asset Mgmt | (NYSE:BAM) | $66,775 | 5.73% |
| 12 | Oracle | (NASDAQ:ORCL) | $66,748 | 5.73% |
| 13 | Dell Inc | (NASDAQ:DELL) | $58,670 | 5.04% |
| 14 | US Bancorp | (NYSE:USB) | $480 | 0.04% |
| | | | | |
| | | | $1,165,145 | 100.00% |
We see a portfolio that one might expect from someone who invests with the Buffett approach of "Concentrated Value."
The total $1.165 billion portfolio basically consists of only 13 positions. The top five positions make up almost half of the portfolio. But while concentrated the portfolio is spread across companies operating in different industries.
For me two positions stand out as ones that I should really consider buying.
The first is Simpson's former employer and his largest holding Berkshire Hathaway . Not only is Simpson an expert in valuing businesses, but Simpson spent the better part of 30 years inside of Berkshire Hathaway so he has a distinct advantage in valuing this particular business. Berkshire's stock price isn't going to double over the next six months, but combining the fact that it is undervalued now and is also growing at a decent rate will result in more than acceptable returns over the next five years with very little risk.
Hedge Fund manager and long time Berkshire shareholder Whitney Tilson values Berkshire (below) at $180,000 per "A" share, which is a healthy premium to the current share price and a valuation I feel is reasonable.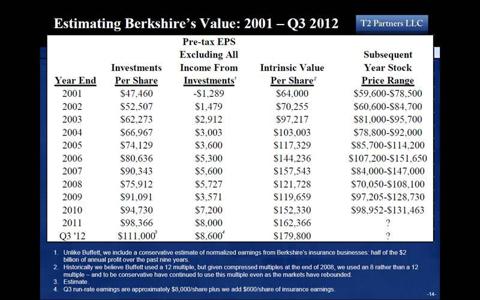 The second position of interest to me is Wells Fargo , which is Simpson's fifth-largest position. The reason that I find it interesting is because not only does Simpson hold Wells Fargo as a top-five position, but so does his former boss Warren Buffett. Both of these men have been watching and studying Wells Fargo for decades and having both of them putting a big percentage of their portfolio in the stock sends quite a message.
Buffett particularly just keeps buying and buying and buying shares of Wells Fargo. From 2008 through the end of the last quarter Buffett has taken Berkshire's stake in Wells from 290 million shares to 422 million shares.
All of the shares in Simpson's current portfolio likely merit attention. The man has a 30-year track record of excellence and he has put over a billion dollars in only 13 companies. Berkshire and Wells Fargo just happen to be my two favorites of the bunch.
Disclosure: I have no positions in any stocks mentioned, and no plans to initiate any positions within the next 72 hours. I wrote this article myself, and it expresses my own opinions. I am not receiving compensation for it (other than from Seeking Alpha). I have no business relationship with any company whose stock is mentioned in this article.