The other day I wrote this popular article in which I offered a simple way for folks to save, invest and keep spending in check, to have a more secure retirement. The magic number I used was $1,000,000 to "get there."
By using a dividend stock strategy to create a core portfolio of income producing securities, just about anyone who wants to retire has a far better chance than flying by the seat of their pants. That is the basic foundation of the "Team Alpha" portfolio.
Our Team Alpha portfolio now consists of McDonald's (NYSE:MCD), Exxon Mobil (NYSE:XOM), Johnson & Johnson (NYSE:JNJ), AT&T (NYSE:T), General Electric (GE), BlackRock Kelso Capital (NASDAQ:BKCC), KKR Financial (KFN), Procter & Gamble (NYSE:PG), CSX Corp. (NYSE:CSX), Realty Income (NYSE:O), Coca-Cola (KO), Linn Co, LLC (LNCO), Wal-Mart (NYSE:WMT), Cisco (NASDAQ:CSCO), Bristol-Myers Squibb (NYSE:BMY), Healthcare Select Sector SPDR (NYSEARCA:XLV), General Dynamics (NYSE:GD), and iShares S&P U.S. Preferred Stock Index Fund (PFF).
One of the most important aspects of any retirement portfolio (or any portfolio at all for that matter) is how it will impact our families if one of us are left to deal with the portfolio management, without the other. This issue affects many more women than men.
Truth be told, the typical baby boomer married couple has some fundamental problems of family financial planning, that should be more of a focus for any investment strategy.
Women Face More Financial Problems Than Men
Sadly, married women seem to face even greater challenges if their spouse dies before they do. Especially if the spouse was the financial "manager" and made all of the investment decisions on their own. That is not unusual, especially for couples my age or older. As much as we might feel as though we are enlightened, many husbands take on the "manly" responsibility of portfolio management, and proudly show their wives how well we are doing, and many times fail to tell them if we are about to go bankrupt.
Then one day, the hubby dies and his wife is left with a financial burden that they might not be well prepared for. I realize that there are many married couples who make every financial decision together these days, but the factual data still reveals many of the financially devastating affects on women during their golden years.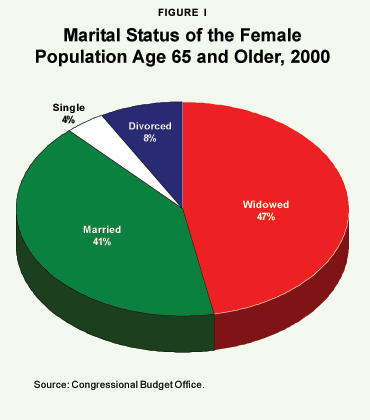 55% of women over the age of 65 were either widowed or divorced based on the 2000 report from the US CBO.
According to the U.S.Census Bureau, "the gap between rich and poor Americans grew in 2011 as the poverty rate remained at almost a two-decade high," while 25.7 million women live in poverty, which is another record high. Many of these women are widows. More than 40 percent of women who head families are now living in poverty.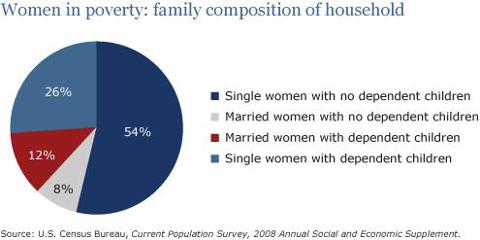 As outlined in this report:
In 2011, more than 5 million more women than men lived in poverty.
Families headed by a single adult are more likely to be headed by women, and these female-headed families are at greater risk of poverty and deep poverty; 34.2% of families with a female householder where no husband is present were poor and 16.9% were living in deep poverty; 16.5% of families with a male householder where no wife was present were poor and 6.7% were living in deep poverty; and 7.4% of married couple families with children were living in poverty, 2.4% were in deep poverty.
Children living in single female-headed families were more than four times as likely to be living in poverty, and eight times as likely to be living in deep poverty, than children living in married couple families.
The problem is far greater on a global scale, as this article reports:
"Women make up half of the world's population and yet represent a staggering 70% of the world's poor. For the millions of women living in poverty, their lives are a litany of injustice, discrimination and obstacles that get in the way of achieving their basic needs....."
The problem is also faced by every race.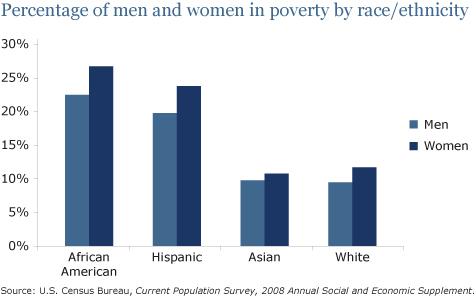 There are no specific age groups that are singled out either.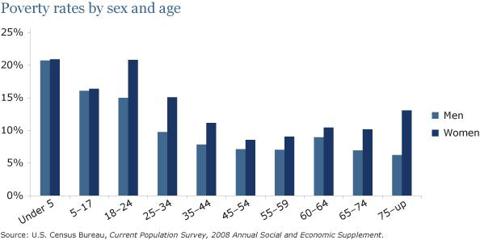 Social Security Is Also A Problem For Women
Again, the issue is far more alarming for married women than single women. While women in general still only earn roughly 77% of what a man earns doing the same job, married women of the boomer generation and earlier have usually relied on their husbands income as their main source of security during their working lives.
The same is true during their retirement years. Husbands usually retire prior to their wives (if the wife works) and begins collecting HIS Social Security. After awhile, the wife decides to begin collecting THEIR Social Security. In most cases, since the husband has been the main breadwinner, the wife does not qualify for maximum benefits on their own. If they qualify for less than 1/2 of what their husband receives, they are entitled to receive no less than half of the larger breadwinners benefits (this scenario does happen to either gender, but is far more prevalent for women).
So taking this scenario as our focus, let's say the husband receives $2,000 per month in benefits. His wife can receive her own benefits of 1/2 of their husbands, or greater if qualified. Usually, the amount comes down to 1/2 of their husbands. Both husband and wife will then collect about $36,000/year.
For arguments sake, let's fast forward 13 years. The husband is 82 and the wife is 78. He passes away, and his wife will now need to get by on $24,000 per year from Social Security. If that is her only income, she will be plunged directly into poverty, and a very precarious financial future.
Please refer to this web site to familiarize yourselves with many more Social Security details.
If the wife was left with a portfolio of investments totaling $1,000,000, then she is obviously in much better shape. However, if she has no experience in managing a portfolio, she can run into major issues rather quickly.
What Steps Can Be Taken To Avoid Financial Catastrophe?
Obviously, the woman with the $1,000,000 portfolio is much better off than the woman who has been left with little or nothing. The management of the portfolio can be a daunting task.
The first things we should look at is by turning the clock back to NOW, to avoid many of the pitfalls.
Both husband and wife must be equally involved in all financial decisions, especially investment management.
Make certain that your spouse knows everything pertaining to the family finances. Where the money is coming from, where it has been going and what the goals and objectives are for financial security.
If there are any pensions received, make certain that each spouse is aware of the payment arrangement. For myself, I have pensions that will remain the same if I should die before my wife. While there are different options, they should each be reviewed carefully for your particular circumstances. Perhaps a term life insurance policy makes sense to cover the monetary needs of a surviving spouse, while taking the pension without a surviving spousal benefit. There are also provisions for a 50% spousal benefit, which combined with a lower cost term life insurance policy to bridge the gap, could be the way to go. It all depends on your individual needs today, as you prepare for tomorrow.
If you can qualify, I would suggest looking into a long-

term

care insurance policy for each of you. The medical costs for long term care could be astronomical and could conceivably destroy family finances completely. I myself have LTC insurance through Genworth Financial, which I found through AARP. By looking at these products in your late 50s or early 60s, you could keep the costs low and probably have not reached the age where some of the health issues have begun to crop up, thereby leaving you ineligible to obtain LTC insurance.
Always maintain a separate cash reserve account that can pay all expenses for at least a one year period (I have a five year reserve). This will come in handy in case a surviving spouse is in a state of flux upon the passing of their spouse.
As with any stage of life, circumstances do change. An unfortunate reality is that many women will be on their own at an age where even managing a portfolio could be a monumental task, if not impossible. If that becomes the case, I would suggest using one of the great brokerage firms, like Fidelity, and take advantage of one of their managed mutual funds.
By moving your investable assets into a fund that you can also have an automatic withdrawal feature. You can still have complete access to all of your money (unlike those annuities that I love to pick on), and also receive a monthly check, automatically deposited into a cash management or checking account directly.
I happen to like the Fidelity Asset Manager 20% Fund (MUTF:FASIX). It currently has only a 20% allocation in equities and the balance in money market funds and government bonds.
From Fidelity here is the description of the mutual fund:
"Maintaining a neutral mix over time of 20% of assets in stocks, 50% of assets in bonds, and 30% of assets in short-term and money market instruments though FMR may overweight or underweight in each asset class. Allocating the fund's assets among stocks, bonds, and short-term and money market instruments, either through direct investment or by investing in Fidelity central funds that hold such investments."
FASIX is a Morningstar 4 star rated fund.
The fund has a 6.48% annual rate of return over the life of the fund with a 1.20% dividend yield.
This fund is set up for capital preservation,

NOT

for growth or income, but it has performed well in spite of that.
An automatic withdrawal program can be established with Fidelity to receive regular payments.
While the fund is not a risk free investment, it does take much of the risk out of an equity portfolio and attempts to keep enough money in the equity world to hopefully keep up inflation.
Keep in mind that the goal here is to keep a surviving spouse (or even a couple that has no desire to manage a portfolio any longer) in a much more financially secure position for the remainder of their lives.
The Bottom Line
As we age we get a little slower and perhaps we might not want the daunting task of portfolio management any longer. This is an even greater possibility when one spouse passes away.
By taking the steps now to avoid financial calamity (mainly for the wife), you can avoid the stresses of having to face these issues when the stress of the life change is more than anyone could want anyway.
It is an important part of all financial plans that investors can make, and should not be neglected in my opinion.
Disclosure: I am long XOM, JNJ, GE, T, MCD, WMT, O, BKCC, KFN, LNCO, BMY, CSCO, PFF, XLV, CSX, GD, KO. I wrote this article myself, and it expresses my own opinions. I am not receiving compensation for it (other than from Seeking Alpha). I have no business relationship with any company whose stock is mentioned in this article.