Don Yacktman is commonly known as one of the world's most successful mutual fund managers. An article in Fortune describes his claim to fame:
The 71-year-old with a broad build and bald pate is thriving in the slumping, post-crisis world of stock mutual funds. During the past decade his flagship Yacktman Fund (YACKX) has returned 10.5% a year, almost double the S&P 500's return, while his more concentrated Yacktman Focused Fund (YAFFX) has returned 11%. His record since the middle of the financial crisis is even more impressive. After prescient bets on beat-up stocks like Viacom and News Corp., the fund skyrocketed 99% from the end of 2008 through mid-November, scorching 98% of competitors as well as the overall market.
The chart below provides a visual interpretation of the Yacktman Fund crushing the returns of the S&P 500 since the turn of the century.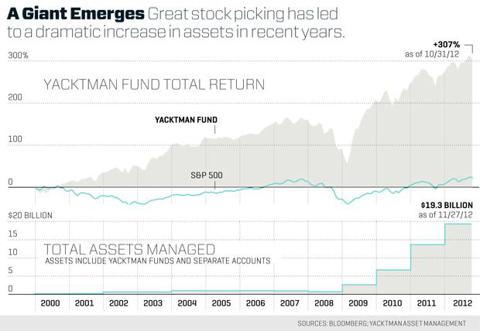 Click to enlarge
One of the Yacktman Fund's top holdings, which seems to demand investors' attention is Cisco Systems (NASDAQ:CSCO). In what might be the biggest understatement of the new year, Yacktman is bullish on Cisco. This is evident when looking at his recent holding history. During 2012 Q4 and 2013 Q1, he increased his position in the company by 37% and 14%, respectively, at an average price of around $18. Cisco now comprises 5% of the Yacktman Fund, which is good for the fourth-largest holding.
In an August interview with GuruFocus, Yacktman had the following to say about the company:
We prefer our larger positions in Microsoft (NASDAQ:MSFT) and Cisco , in part because of their balance sheets. Cisco has more than $5 per share in net cash and generates approximately $1.50 per share in free cash flow. The stock is at $17, so less the $5 per share in cash, you are paying about $12 per share for the business. With a 12.5% free cash flow yield (net of the cash) Cisco does not even need to grow for us to have a solid investment.
Yacktman seems to have a valid point here. Not even taking earnings growth into consideration, Cisco was cheap considering the large amount of cash on its books. However, the company no longer trades at $17. In the five months following the interview, Cisco has risen 20% and now trades at $20.45. This prompts the following question: Is it still a good investment at its current price?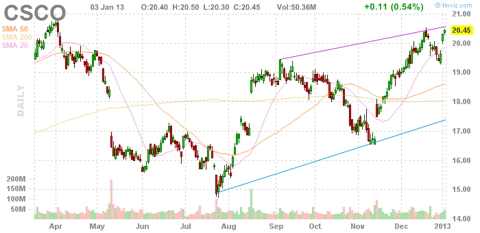 Click to enlarge
Chart from FinViz
Considering Mr. Yacktman is a value investor, I decided to take a look at how the "Father of Value Investing" Benjamin Graham would score the company at its current price. Using a Graham analysis, Cisco passes five of the seven criteria for initial consideration of the defensive investor:
Adequate size (Annual sales exceed $340 million): Pass -- Cisco's FY2012 sales were in excess of $46 billion.
Strong financial condition (Current ratio > 2, and Long-term debt < Working capital): Pass -- Cisco's current ratio is 3.38, and its long-term debt ($16.3 billion) is less than its working capital ($40.8 billion).
Positive earnings for the last five years: Pass
Uninterrupted dividend payments for the last 20 years: Fail -- Cisco only started paying dividends in 2011Q3.
Minimum increase of at least one-third in per share earnings in the past 10 years (2.9% average annual growth rate): Pass -- Cisco's EPS has grown 198% (11.54% average annual growth rate) in the last 10 years.
Current price should be no more than 15 times average earnings for the past three years: Pass -- Cisco's P/E (using average EPS for the past three years) is 14.87.
Price/Book value should not be more than 1.5, although this could be justified if the P/E multiplied by Price/Book is less than 22.5: Fail -- Cisco's Price/Book value is 2.06 and current P/E X Price/Book is 27.2.
Although Cisco doesn't pass all the criteria, it's important to note how close it came. The fourth criterion would be a "pass" had the test been that of an enterprising investor (having some level of dividend payments warrants a "pass" in this test). The seventh criterion was a bit further off - either Price/Book would need to be at 1.7 (holding P/E constant) or P/E would need to be at 10.92 (holding Price/Book constant) in order for Graham to view the stock as acceptable for the defensive investor.
Although Graham would consider Cisco to be overpriced at $20.47, there is an argument in favor of buying the company at the recently inflated price:
Cisco's P/E recently bounced off its five-year low of 8.9 in July. With a five-year average P/E of 15.9, Cisco's current P/E of 13.2 seems attractive in historical terms (source: Forbes.com).
Forward P/E is 9.74. Note that this is near the long-term low that I've just mentioned.
The dividend has increased rapidly since its recent beginnings. At $0.56 (2.75% yield), it is now more than twice the original amount ($0.24) that was announced in March 2011.
Cisco plans to return 50% of its FCF to investors through dividends and stock repurchases. There is currently around $5.6 billion that remains authorized under its repurchase program.
Conclusion
With Cisco inching closer to its 52-week high, I'm sure some investors are hesitant to buy in at these prices. However, I believe it's quite possible that its ascension over the past 2 months has been a correction of the market - for a quality company in the DJIA, Cisco had been trading at a major undervaluation. Given that the main issue of debate is Cisco's current price, I would recommend either buying on a pullback or dollar-cost averaging your shares.
Disclosure: I have no positions in any stocks mentioned, and no plans to initiate any positions within the next 72 hours. I wrote this article myself, and it expresses my own opinions. I am not receiving compensation for it (other than from Seeking Alpha). I have no business relationship with any company whose stock is mentioned in this article.