The much anticipated NFP Report, often a surprise to the market, proved to be a dud. While the total number of new jobs created was about as expected, continuing the tepid expansion, there were some changes of note within the report.
The average work week increased by 0.1 per hour to 34.5 hours per week. There were 45K more health care jobs, 30K new construction hires, and 25K more in manufacturing. Retail jobs dropped by 19K.
There was a revision in last month's unemployment numbers, which resulted in an upward adjustment of last month's rate up to 7.8%, where it remained for this month. The labor force participation percentage remained at 63.6%, tying the lowest since the recession year 1981. The U-6, which measures the underemployed who are seeking more fulfilling and better paying jobs, remained unchanged at 14.5%. Overall, a boring report.
Yesterday, we had suggested that traders should consider purchasing the EURUSD (FXE, UUP) should the NFP cause the market to retreat to the 1.30 handle. Indeed, the market did violate that support level, but the cause seemed to be reaction to comments in the FOMC notes. It was implied that some members were beginning to anticipate, perhaps prematurely, the time when the Fed's expansion of their balance sheet would slow. Those comments, combined with some stale longs, probably gave us the sell-off.
For those who bought the break, I would not be too proud of the acquisition. It is easier to make a bear case for the USD or the euro than a bull case. Sure the USD market may have rallied because the initial fiscal challenge may have been resolved, but with the solution is a price.
The President has lauded his tax hike for the rich, claiming only they will have a tax increase. Fairness in the U.S. is back in fashion. Remember, however, the U.S. income tax is roughly paid by only the top 50% of workers. But all workers have Social Security tax deductions taken from their paycheck. The amount deducted is going back up by 2% to 6.2% effective immediately. This tax increase will be paid immediately by all wage earners, including the self-employed.
This tax increase will result in a drag, probably 1 to 1.5%, on the U.S. GDP. Combine this with the unknown costs of Obamacare, and it is my guess those estimating U.S. growth at the top side of 3.0% have smoked and inhaled -- deeply. Just as the higher taxes will be a drag on the economy, so will Obamacare. I view with suspicion claims that the U.S. economy will out perform the European economy by a wide margin.
This afternoon, we also got the important U.S. PMI-ISM Non-Manufacturing Composite Index. This was a good number, 56.1, better than last month's 54.7, and the best number since 57.3 last March. Again, this suggests the U.S. economy is on the solid road to recovery. Time will tell.
Without a strong view, I am reluctant to suggest a trade on Friday. First, there are two days when global events may result in unexpected market changes. Second and more important, you have a tendency to judge events in relation to that position. Your objectivity is compromised. Finally without a position, you are free to go either way come Monday.
(click image to enlarge)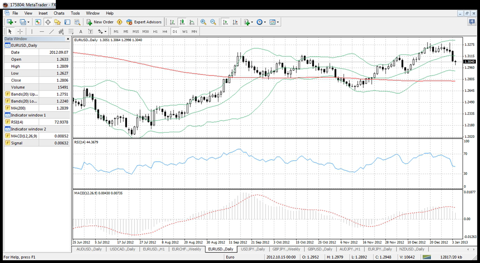 Click to enlarge
Disclosure: I have no positions in any stocks mentioned, and no plans to initiate any positions within the next 72 hours. I wrote this article myself, and it expresses my own opinions. I am not receiving compensation for it. I have no business relationship with any company whose stock is mentioned in this article.