Much has been written in the past few months about declines in housing prices across various regions of the US. Generally, analysis will talk about the median price declines in metro areas like Las Vegas, Phoenix, New York City, or the Bay Area and will feature headline numbers from Case-Shiller, NAR, or Zillow. What's missing from almost every analysis is commentary about what's happening within these metro areas.
Take for instance the Case-Shiller index which defines the San Francisco area to include the counties of Alameda, Contra Costa, Marin, San Francisco, and San Mateo. Now, as anyone familiar with this area knows, these five counties represent a wide range of geographies and socioeconomic profiles. Not surprisingly, it also includes a wide range of real estate markets – from sub-prime Armageddon in the city of Hayward to relative stability in San Francisco. Indeed, many a San Francisco real estate agent will insist that the city's comparatively minimal house price decline is proof that there's something "special" about the city by the bay which makes it immune to the housing plague that's gripped so many other neighboring cities.
However, some simple analysis indicates that this theory may be about as well founded as the idea that there is something "special" about dot.com companies that exempt them from rational economics.
I've compared the boom and bust of housing prices in each of 10 cities in the broader San Francisco metro area (Stockton and Tracy are technically outside of the Case-Shiller five county area but are useful reference points). In each of the 10 cities, I looked at price trends on a price per square foot basis of 3BR homes to adjust for the changes in housing mix that often skews "median price" analysis one way or the other. For each city, I gathered data on (a) the $/SqFt in 2000, (b) the peak $/SqFt level, (c) the date of this peak price, and (d) the current $/SqFt level.
Using this data we can see several potentially telling trends. First, housing prices generally peaked first in the furthest outlying cities. Outlying cities like Santa Rosa and Stockton, for instance, peaked in Jan-06 and Feb-06 respectively, as the subprime market showed its first signs of weakness. Closer cities such as Alameda didn't peak until more than a year later in April '07 and San Francisco not until July '07.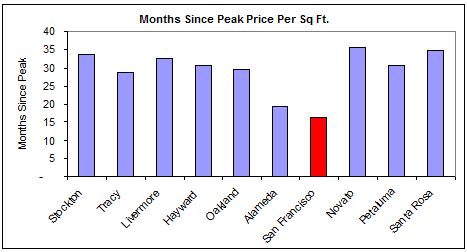 Knowing that housing prices in Stockton and Santa Rosa have been on the decline for about twice as long as Alameda and San Francisco, it probably shouldn't be a surprise that they've also fallen much further from peak levels to current (as of Nov'08). Indeed, Santa Rosa and Stockton have fallen 44% and 59% respectively, while Alameda and San Francisco "only" 18% to 24% - and many neighborhoods in the heart of San Francisco have fallen much less or even posted modest increases.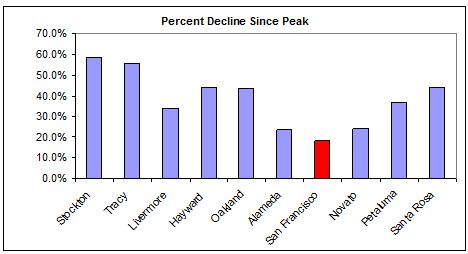 But wait! Didn't prices in outlying real estate markets like Stockton boom much more than in San Francisco and neighboring cities? Certainly they did. Stockton, for instance, was up over 225% since 2000 (!!!) while Alameda and San Francisco increased a modest 153% and 125% from their year 2000 base. Even considering this fact, house prices in Stockton and Santa Rosa are just 35 and 38% above their year 2000 nominal level, and 6-9% above the level assuming a healthy 3% per year appreciation. San Francisco is 85% above the level implied by 3% annual gains since 2000. In fact, you'd need to assume an 8% annual appreciation since 2000 to justify current prices – and if you remember San Francisco in the year 2000, it was clearly not a struggling economy.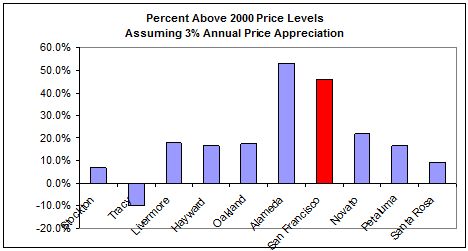 What may be happening here? It seems pretty clear that the house price decline struck first in the places with highest percent of subprime mortgages and particularly ludicrous price appreciation. These were the cities with a powerful catalyst– a huge segment of home buyers clearly not able to make payments on their houses, thus a surge of foreclosures and a downward spiral of property values. As prices declined in Stockton, a potential home buyer considering the virtues of Stockton vs. Tracy (only about a 20 mile drive between them) were marginally more interested in the Stockton house that had recently come down in price vs. the Tracy house, so prices there declined, foreclosures, etc...
Repeat this process several times and it seems reasonable that price declines "diffuse" from the most at risk markets inward to the relatively less inflated ones. While there are very few buyers who are considering homes in either Stockton or San Francisco, there are many who would consider Stockton vs Tracy, Tracy vs. Livermore, Livermore vs. Hayward, and so forth.
So, it doesn't seem out of the question that the house price decline in attractive urban markets like San Francisco may have much further to fall in the coming years and may not reach a bottom as soon as the cities hit first by the housing bust. Declines of 30% would bring prices down to a normal level.
click to enlarge