The New York Times painted the picture:
The number of people out of the labor force — meaning that they were neither working nor looking for work and that the government did not consider them unemployed — jumped by 637,000 last month, the Labor Department said. The number of part-time workers who said they wanted full-time work — all counted as fully employed — rose by an additional 621,000. Take these people into account, and the job market may be in its worst condition since the early 1980s. It is still deteriorating rapidly, too.
Friday's worse than expected unemployment report sent the Dow up 3.09%. Sad, isn't it, that the message Wall Street keeps sending to Main Street is one of greed over compassion (or even logic).
Statistically, in the last 12 months, one million jobs evaporated:
click to enlarge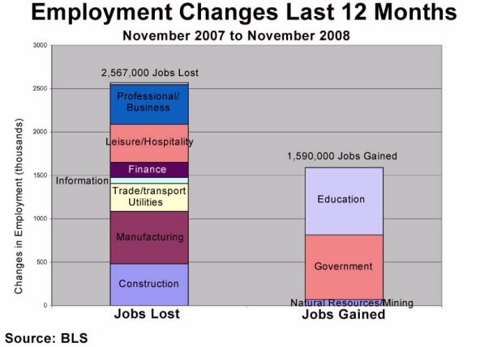 Click to enlarge
The rise in unemployment since November 2007 is over 3,000,000 people according to the BLS. Of course this increase does not account for people who have just given up looking for jobs during this period.
Additional Employment Unreported Statistics
Many retirees have been hard hit by this recession depending how they invested their money. BusinessWeek reported:
Seniors who thought they were set for life just a year ago now face the prospect of going back to work for two, five, even 10 years. They're sprucing up their résumés, calling old work contacts, and flocking to employment sites. There are no reliable stats yet on how many retirees are looking for work, but there are clear signs the number is growing. RetirementJobs.com, the largest career site for people over 50, saw traffic more than double, from 250,000 visitors in July to 600,000 in November. In April, before the worst of the market downturn, a survey conducted by the seniors group AARP found that 17% of responding retirees over 50 were considering or already going back to work.
Since 2000, the employment/population ratio began falling after growing for many decades. Had this ratio not changed, there would be over 1 million additional jobs in this November 2007 to 2008 period. What caused this shift in the employment model? According to the New York Times:
Already, the share of men older than 20 with jobs was at its lowest point last month since 1983, and very close to the low point of the last 60 years. The share of women with jobs is lower than it was eight years ago, which never happened in previous decades.
The Cost of Obama's 2.5 Million Jobs
The cost of each employee to a company is much larger than the wages the employee receives. Besides the hidden insurances and taxes levied, a company has overhead and profit. Most jobs, especially in infrastructure, require more than a shovel. There are tools and equipment the employee must use.
Depending on the type of job, the cost of each man hour can easily exceed $100. To directly create 2.5 million jobs cost $600 billion per year. If you actually wanted to build something you need to add the cost of the materials, and the cost of government to manage.
Even if you buy into Keynesian job creation multipliers to create 2.5 million direct and indirect jobs, you would need to spend at least $400 billion per year. I do not think the multipliers work for created employment in a recessed economy with slack capacity.
Will the 2.5 Million Jobs Be the Right Jobs?
This is not 1929 and this recession will not look like the Great Depression even if a depression occurs. There were no social safety nets during the Great Depression so the government created many "make work" projects for people to be able to eat. The government used a shotgun approach to create jobs.
Going back to the 2.5 million jobs lost in the past year, the construction industry accounted for less than 500,000 of the losses. We should be careful in spending money creating jobs. We need to ensure that we are creating jobs useful 10 years down the road.
The newly elected government is swiftly trying to put together a stimulus plan. Because of all of the expenditures to date to fight this recession, it is feared piling on more and more debt will prevent economic recovery. I recommend waiting on new stimulus programs until this recession plays out more, and we can be very surgical in stimulating the economy. This is the time for a scalpel, not a shotgun.
Disclosures: None