Pilgrim's Pride Corp. (NYSE:PPC) surprised by nearly 200% in its third-quarter report from late October, which has understandably boosted the share price and earnings estimates for this chicken producer. Moreover, this Zacks No. 1 Rank (Strong Buy) has a compelling valuation, including a price-to-sales (P/S) ratio of just 0.24 and a price-to-book (P/B) multiple of as low as 2.07.
Impressive Third-Quarter Results
On Oct. 26, Pilgrim's Pride Corp. reported third-quarter earnings of 17 cents per share, topping the Zacks Consensus Estimate by 183.3% and reversing the year-ago loss of 72 cents. The company continues to focus on managing its core business, pricing strategy, cost control initiatives, and enhanced sales mix. Net sales of $2.07 billion surpassed the Zacks Consensus Estimate of $1.95 billion and grew 9.5% year over year.
Gross profit was $106.1 million compared with a loss of $62.4 million in the year-ago quarter, driven by top-line growth, pricing strategy, and cost control efficiencies. A reduction in selling, general and administrative expenses also led to operating income of $61.7 million compared to an operating loss of $125.1 million last year.
Rising Earnings Estimates
Over the past 60 days, all five estimates for 2012 were revised upward, lifting the Zacks Consensus Estimate by 10.9% to 51 cents per share. This indicates year-over-year growth of 123.4%. The Zacks Consensus Estimate for 2013 increased 58.1% to 68 cents as four of five estimates moved upward. This reflects a year-over-year increase of 31.5%.
Attractive Valuation
Along with low P/B and P/S multiples, Pilgrim's Pride has a low forward P/E ratio of 13.85 (a P/E ratio under 15.0, a P/B ratio below 3.0 and a P/S ratio lower than 1.0 generally indicate value). The trailing 12-month return on equity (ROE) also looks attractive at 10.4%, compared with the peer group average of 10.3%.
Shares of Pilgrim Pride have been rising since the end of October 2012, after reporting solid third quarter results. Moreover, the stock is currently trading above its 50- and 200-day moving averages, which stand at $6.46 and $6.30, respectively. In fact, the stock has been consistently trading above its 50-day and 200-day moving averages since mid-November 2012. Volume averages roughly 633,000 daily.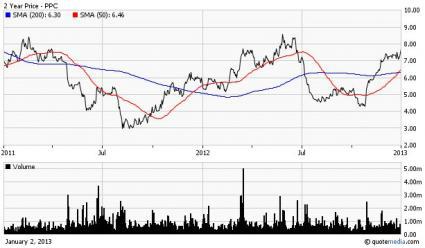 Pilgrim's Pride is the second-largest chicken producer in the world, with operations in the United States, Mexico, and Puerto Rico. The company exports chicken products to customers in approximately 105 countries, including Mexico. Pilgrim has a market cap of $1.88 billion. Among its peers, Smithfield Foods, Inc. (NYSE:SFD) carries a Zacks No. 1 Rank (Strong Buy) while Tyson Foods, Inc. (NYSE:TSN) carries a Zacks No. 2 Rank (Buy).
Read the full Snapshot Report on PPC (email registration required).