Clinical Trials and FDA Recommendations play vital roles in the life expectancy of drug companies, especially when they begin to reach the latter stages of developments. They also happen to be the two key variables I've chosen when considering positions in small-cap pharmaceutical companies with market caps under $500 billion. That said I've chosen one company that has reacted quite positively to news regarding recent clinical trials of one of its lead development candidates.
Amicus Therapeutics (NASDAQ:FOLD): According to its website, "a biopharmaceutical company, focuses on the development of pharmacological chaperone monotherapy programs and pharmacological chaperones in combination with enzyme replacement therapy, better known as ERT." Amicus is primarily focused on the development of the following three drug candidates, although there are several more under development: Migalastat HCI (a Phase 3 Phase III clinical trial for the treatment of Fabry disease), AT3375 (a preclinical stage for the treatment of Parkinson's disease) and AT2220 (a treatment co-administered with ERT for the treatment of patients diagnosed with Pompe disease).
From a fundamental perspective, shares of FOLD currently carry a market cap of $182.47 million, have traded down 40.23% since July 9, and are also trading at a 25.13% discount to their 50-DMA and at an 39.72% discount to their 200-DMA.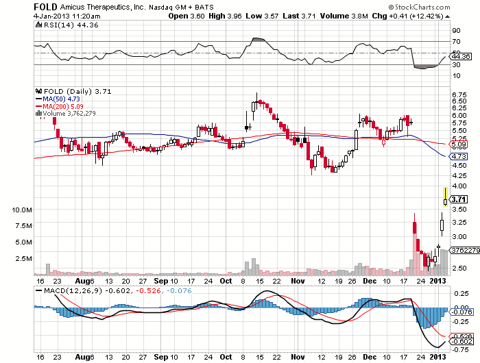 On January 4th it was announced that Amicus "announced positive preliminary results from all four dose cohorts in a phase 2 study of its treatment for Pompe disease, a lysosomal storage disease characterized by progressive skeletal muscle weakness and respiratory insufficiency". If Amicus can continue to demonstrate considerable strides and meet crucial endpoints when it comes to AT2220, potential investors should begin to consider a position at current levels.
John F. Crowley, Chairman and Chief Executive Officer, stated, "Study 010 has established human proof-of-concept that AT2220-ERT co-administration increases GAA enzyme activity in muscle. We look forward to initiating our repeat-dose clinical study to investigate the effect of AT2220-ERT co-administration on ERT stability and activity, ERT-related immunogenicity, and other clinical measures. We believe that co-administration may deliver significant benefits compared to ERT alone and become an important therapy for people with Pompe disease." If Amicus can successfully initiate and execute its repeat-dose clinical study and meet and/or exceed its primary endpoints, then I see no reason why investors should not own the stock at current levels.
Final Analysis
Are there any negative catalysts potential investors should consider before establishing a position in Amicus? As is the case with any biotech company, potential investors need to keep in mind some of the negative catalysts that go hand-in-hand with Amicus. On one hand, any negative indication by the FDA with regard to Amicus' AT2220, AT3375 or Migalastat HCI could result in a sharp sell-off for the stock. On the other hand, weaker than expected earnings at any point over the course of the next 12-18 months could also send shares of Amicus down an unfavorable path.
For potential investors looking to establish a position in Amicus, I'd take a closer look at each company and keep in mind the primary positive and negative catalysts moving forward. Given the fact that Amicus is making considerable strides in terms of its drug AT2220, I'd look to establish a small to medium position at current levels and add to that position once future developments are announced.
Disclosure: I am long FOLD. I wrote this article myself, and it expresses my own opinions. I am not receiving compensation for it (other than from Seeking Alpha). I have no business relationship with any company whose stock is mentioned in this article.