Since my initial negative mention of dollar store companies Family Dollar (NYSE:FDO), Dollar General (NYSE:DG), and Dollar Tree (NASDAQ:DLTR) in a piece entitled Dollar Store Stock Overpriced published February 5, 2012, shares of these companies have significantly underperformed both the S&P 500 and the Retail ETF (NYSEARCA:XRT).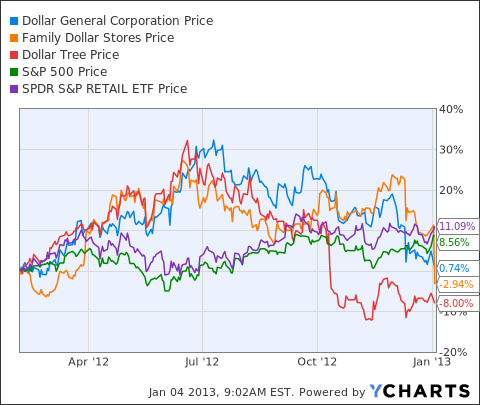 DG data by YCharts
Previous Valuations
In my previous article, I compared valuations for DLTR, DG and FDO to other retailers.
Dollar Stores
DLTR traded at 23 times earnings.
FDO traded at 17.8 times earnings.
DG traded at 20.9 times earnings.
Other Retailers
Current Valuations
Dollar Stores
DLTR trades at 15.8 times earnings.
FDO trades at 15.5 times earnings.
DG trades at 15.4 times earnings.
Other Retailers
TGT trades at 13.3 times earnings.
KR trades at 20 times earnings.
M trades at 11.6 times earnings.
WMT trades at 14.16 times earnings.
Relative Valuations Have Improved
Currently, valuations for the dollar stores are now more in line with other retailers than they were before. Therefore, I am turning less bearish on the group as a whole relative to other retail stocks. That is not to say that I am turning bullish on the group.
Improving Economy Headwind
In my previous piece, I said:
The improving economy is a potential negative for dollar stores. As the economy improves, some consumers will likely switch back to more expensive stores that offer higher quality products.
Of late, all of the dollar stores seem to be reporting disappointing earnings. In its most recent quarter, FDO reported a slight decline in earnings from a year ago and lowered its full-year earnings guidance below expectations. Competitor DG also raised concerns about the outlook going forward. While the improving economy has likely had some negative impact on the dollar stores, I believe the increasing competition has likely had a more meaningful impact.
Competition
In a piece entitled 3 Reasons To Avoid Dollar Tree, published May 14, 2012, I argued that increasing competition would serve as a negative going forward for DLTR. I continue to believe that the effects of increasing competition from the likes of WMT will hurt dollar store profit margins going forward.
Conclusion
Given the improvement in relative valuations, I am no longer as bearish as I was on the group. That being said, I am still not a buyer of the stocks. To me, the full impact of increased competition has not yet been felt. I would look to sell DLTR, DG and FDO into any rallies and I would not be a buyer on dips.
Disclosure: I have no positions in any stocks mentioned, and no plans to initiate any positions within the next 72 hours. I wrote this article myself, and it expresses my own opinions. I am not receiving compensation for it (other than from Seeking Alpha). I have no business relationship with any company whose stock is mentioned in this article.