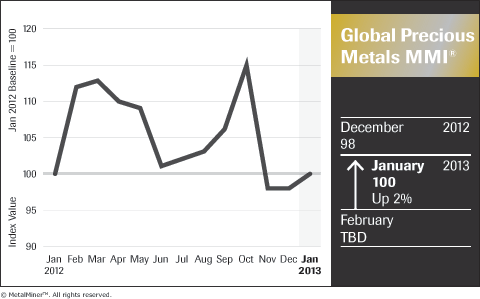 Well, after a rather volatile year (although mainly in the positive zone), the monthly Global Precious Metals MMI® ended 2012 by nudging right back up to the January 2012 baseline of 100.
The December reading represented an increase of 2 percent, up from 98 in November.
So where will that take us into 2013?
From a technical perspective, we defer to Reuters' market analyst for commodities and energy technicals, Wang Tao, who stated in a recent report that a stronger dollar will take the shine off of precious metals in early 2013. Tao expects to see spot gold drop into a range of $1,397-$1,447 per ounce over the next three months, "as indicated by its wave pattern and a Fibonacci retracement analysis." (Silver prices are also set to drop, he says.)
We're not as fancy as Fibonacci, but from our perspective, we would suggest buyers and investors look no further than the debt uncertainty that still remains at the core of U.S. federal legislation. The "kick the can down the road" approach regarding U.S. fiscal and monetary policy may force speculators to push prices higher.
Over the past month, however, the trends for U.S. gold and silver transactional prices looked to reflect Tao's outlook.
Price Drivers of Precious Metals Index Rise
Mainly, the price of Chinese gold bullion drove the rise by finishing the month 2.8 percent higher.
To a lesser degree of impact, the price of Japanese palladium bar rose 6.7 percent over the past month. For the second month in a row, the price of U.S. palladium bar increased, rising 3.2 percent. Japanese gold bullion finished the month up 1.7 percent per gram. Chinese palladium bar saw its price rise 1.5 percent.
Tempering the index rise were U.S. silver and gold prices. After rising 5.7 percent the previous month, U.S. silver prices dropped 9.1 percent. The price of U.S. gold bullion dropped 3 percent after staying flat the previous month.