On Friday, Dec. 4, while the Dow gained 259 points for a 3% rise, Penn West Energy Trust (NYSE:PWE) dropped 7.25%, closing at $10.49, and hitting a 52 week low of $9.97 on the day. Investors on both sides of the border are now either:
a) puzzled and confused
b) angry
c) scared
d) elated by high yield
e) thinking of averaging down
or
f) all of the above. (My own guess is that "f" might prevail.)
Obviously, a 30% yield cannot be sustained. The truism "If it looks too good to be true, it probably is" certainly comes to mind. This might be a good time for some review, and readers are encouraged to participate with their own findings. This is what we have found thus far (all dollars are CAD in millions):
It appears that Canada's announcement of the SIFT (Specified Investment Flow-Through) legislation on June 22, 2007, had a great impact on the valuation of PWE compared to its industry yardstick, the USO. For the first half of 2007, PWE outperformed the USO. After SIFT was announced, PWE dropped below, with that gap widening as the credit crunch took hold of economies world-wide.
Appearance of PWE's 3rd Quarterly Report, for nine months ending September 2008, seems to have created another slide steeper that the USO downtrend. In spite of the highly publicized acquisitions of Canetic and Vault, PWE had to reduce its previous guidance for 2008 of 195,000 boe per day downward an unspecified amount. Combine this with dropping oil prices and you have a recipe for reduced dividends.
Close reading of this 3rd Qtr report discloses that the Canetic and Vault acquisitions did not create any expected economies of scale. Compare 9 months ended September 2007 with 9 months ended September 2008: the G and A expenses rose from $51 to $110. That is an increase of 115%. Even if you back out management compensation of Unit Trust Right awards charged to G and A ($25 in 2008 and $11 in 2007), there is still an increase of 112%. Management needs to do a better job of explaining this.
On page 26 of the 2008 Quarterly Report received by US shareholders (Canadians seem to have received a different report, and identical comparisons have not been possible), Office Leases are a line item under Contractual Obligations and Commitments. This expense grows from $6 in 2008; $28 in '09; $48 in '10; $64 in '11; $61 in '12 (a thankful drop); and total $673 thereafter - though it is promised these will be reduced by $388 in future sub-lease recoveries.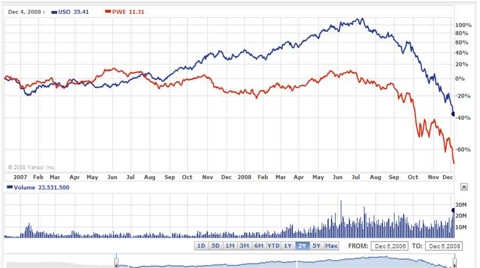 It appears that PWE is no longer just an oil-producing revenue trust - - - it has taken a major leap into real-estate!
And this may have something to do with the weakness in PWE share price. Here are excerpts from a Calgary Herald article dated May 31, 2008:

By Mario Toneguzzi, Calgary Herald

It's being described as one of the most significant office lease deals in Calgary's downtown commercial real estate market.

Two new office towers -- initially called the Homburg-Harris Centre at 9th Avenue S.W. and 1st Street S.W. across the street from the Palliser Hotel -- have been 100 per cent leased by Penn West Energy Trust.

The site, encompassing both towers, has also been renamed the Penn West Plaza. "This is extremely significant," said Keith Rockley, vice-president of human resources and corporate resources for Penn West. Rockley said the company's growth was part of the reason for the move.

In November, Penn West Energy Trust, the country's largest conventional oil and natural gas trust, acquired Canetic Resources Trust for $3.6 billion.

Penn West's relocation began Friday as the company moved into two floors of the east tower, said Shauna McIntosh, manager of corporate resources for Penn West. The entire east tower -- 10 floors -- will be occupied by the end of June, she said. The ground floor of the building will be reserved for retail shops. The second floor is Penn West space with some common area shared with the Plus-15.

The company's main reception area will be on the second floor. Floors three to 10 will be 100 per cent occupied by Penn West. The east tower is about 220,000 square feet and the building will house about 660 people. Penn West also has entirely leased the west tower comprising almost 400,000 square feet and 20 floors. It will be ready for occupancy by late 2009 or early 2010.

The company currently occupies 18 floors, nearly 200,000 square feet, in Bow Valley Square for about 600 staff. It also has five floors and about 110,000 square feet in Fifth Avenue Place.

Rockley said Penn West may sublet some of the west tower if the company doesn't require all the space but that decision won't be made for at least two years. The total square footage of 600,000 in the two new towers is more space than the company currently has in downtown Calgary. "That number factors in some growth. We will review our growth strategy in approximately a year's time and at that time decide whether to sublet some of that space or not, depending on the growth in the next year," said McIntosh.
Those closing words by McIntosh are not conducive to building confidence that "economies of scale" is a relevant term for either PWE management or its Board of Directors. Investors might be forgiven for harboring doubt about future prospects, particularly if they felt they had invested in a "Canroy".
On the positive side, some facts do remain that could be heartening:
Thompson Reuters has listed PWE as "outperform" (dated 12/04/08).
Recently two analysts posted C$25 and C$22.50 as target price for PWT. Given an 18% discount, this would price PWE at $18 to $16.20 in US dollars - well above latest close of $10.49.
November dividend, payable Dec 15, is C$0.34, or $0.28 US. At current price, this amounts to an annual yield of 32%. If the divvy were cut in half, down to $0.14/month US, on an annual basis the yield would still be 16% on a share price of $10.49.
As an investor, my skepticism has not been erased.I am inclined to watch, and in President Reagan's words, "trust, but verify".
The annual report and 10-K will be required reading, and I hope management and the Board will speak to the issue of "economies of scale" by projecting decreases in staffing, G and A, leasehold expenses, and also establish tighter controls over their own Unit Trust Awards.
There may be moments in time when averaging down could be a prudent move. However, it would be best to wait until share price is well inside the Entry Zone - and the Entry Zone has leveled back to horizontal. Meanwhile, current shareholders should sit back and enjoy not only the dividends, but the fact that you are now a bona fide real estate investor. Newcomers seeking high yields might want to heed another Latin advisory: "caveat emptor".