Stocks To Trade:
Today, we are looking at an earnings trade in Southern Company (NYSE:SO), and longs in Sprint Nextel (NYSE:S) and Facebook (NASDAQ:FB).
For an earnings trade, we are looking at Southern Company. SO is scheduled to report earnings on January 21, and we are expecting an exciting move into that report. Southern is predicted to see 33% growth in earnings and 25% growth in revenue year/year, which we believe gives the company solid upside into the report and limited downside. The company is benefiting from the fiscal cliff decision, as it held high yield stocks under siege during its month-long moment in the sun throughout December. The issue for SO was that the company would see a hit to its attractiveness if dividends were going to be taxed at higher levels. With the resolution, that is no longer the case. SO attracts a lot of investors with its strong yield due to its low growth as a utility company. The company's yield currently stands at 4.5%. Due to the combination of strong earnings growth for a low-growth company and the risk of the fiscal cliff being off the table, SO looks very solid. We like adding the stock long into earnings while selling the Feb16 42/40 bull put spread for a 9% potential gain if SO closes above 42 on Feb16. The stock has not broken 42.00 in basically 52 weeks. That level looks very safe.
Trade: SO, Long and Feb16, 42/40 Bull Put Spread
Max Gain: 9%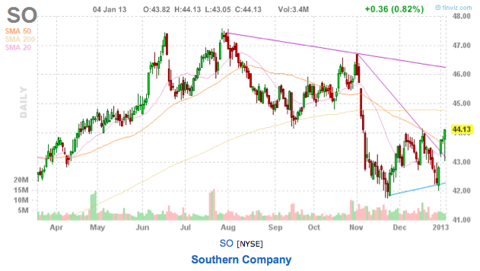 For longs, we like the looks of Sprint Nextel and Facebook . Sprint looks primed for a breakout if it can get over $6, which has been strong resistance for the past six months. On a breakout, the stock could really rocket higher. The catalyst for Sprint has been a combination of factors. The overall strength in the market has helped. On top of this, S is benefiting from the new announcement of the company's "pay-as-you-go" plan. The plan will allow users to buy month-to-month, and has been successful for competitors like Virgin Wireless. The plan will make Sprint the first of the major competitors (Verizon and AT&T) to offer a month-to-month option. Further, investors are cheering Sprint's acquistion of Clearwire, which helps make the company more whole. The stock is up about 10% since the announcement on December 17. The deal will bring Clearwire's 2.5GHz spectrum to the Sprint portfolio, making it easier for Sprint to complete its 4G/LTE transition. That transition will allow for Sprint to be much more attractive in the future. $6 resistance has been very strong, so look for a break of that to cause technical bullishness.
FB is also looking very attractive right now, as the stock broke a key resistance we were watching at 28.50. We believe FB is a great play for a bull put spread right now, as it will allow for us to take advantage of continued strength in the stock that should last until the company's next earnings report. The key for FB is that in its last earnings report, it showed that it has the ability to make money through its mobile service, showing over $150M in ad revenue in its latest quarter. That stream of revenue barely existed at the beginning of 2012. As long as the investment community believes that FB can continue to make money through mobile, the stock will continue to do well. The company's next earnings report is on January 30, so we can take advantage of the Jan19 expiring earnings before earnings occur. 27 has been very solid support for the company over the past two months. We like the 27/26 bull put spread for potential 18% gain.
Equity Trade: S, Long
Breakout Point: $6
Options Trade: FB, Jan19, 27/26 Bull Put Spread
Max Gain: 18%
Tomorrow's Outlook:
Market is closed for the weekend.
Charts courtesy of finviz.com.
Disclosure: I have no positions in any stocks mentioned, and no plans to initiate any positions within the next 72 hours.
Business relationship disclosure: The Oxen Group is a team of analysts. This article was written by David Ristau, one of our writers. We did not receive compensation for this article (other than from Seeking Alpha), and we have no business relationship with any company whose stock is mentioned in this article.