We'll try not to rehash the market excitement about Hormel's (NYSE:HRL) $700 million acquisition of the Skippy peanut butter brand from Unilever NV (NYSE:UN). So far, companies aspire to make the type of purchase which is accretive to both revenues and earnings in the first year, and which may also smooth out earnings moving forward. Hormel's management has delivered market outperformance over time, and their largest acquisition ever seems to fit their goals, from adding to branded products to international expansion including China, where their other products may be cross-marketed.
While many look at trailing 12-month data, Thomson Reuters StarMine also shows how the data looks based on aggregate analyst forward projections. Four forward 12-month ratios of Enterprise Value/Sales, Enterprise Value/ EBITDA, Price/Earnings and Price/Book are all within 11% of their 10-year high values, in the table below.
While high values may point toward a loftier valuation in a vacuum, but these valuations may persist for a long time, such as in the extreme case of Amazon (NASDAQ:AMZN). (Amazon's forward 12-month P/E ratio in January 2010 stood at around 55x, where the most recent reading is 148.5x.) This is not to imply that Hormel resembles Amazon, rather, that historically high valuations must be considered in the context of other factors. The significant factors here may include the synergies of adding Skippy to the existing product mix, and another step into international markets, which carry the potential for higher long-term growth compared to the more mature U.S. market.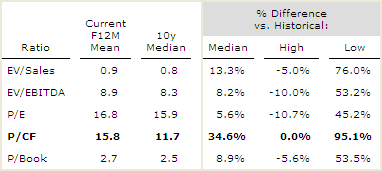 A fifth ratio, the forward 12-month Price/Cash Flow, currently shows a value of 15.8x and exceeds the recent new high of 14.6x (see chart).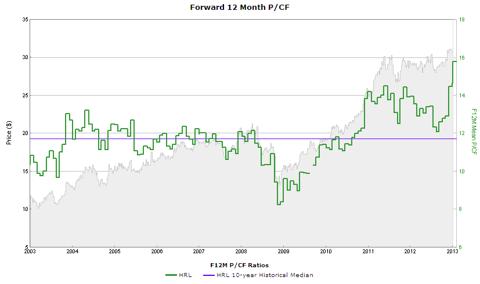 Click to enlarge
Without the Skippy acquisition, one would be cautious about such levels. But Hormel's management seems to have at least a recent history of minimizing downside earnings surprises and delivering more upside surprises, as shown by the "Surprise %" shown in this StarMine table:

Click to enlarge
Also the bottom rows showing "Standardized Unexpected Earnings" ([actual minus consensus]/standard deviation of estimates on report date) and "Post-Report 30 Day Price Change" are an indication of upside surprises being of a greater magnitude than downside surprises. A recent example of this was the Midwest drought of 2012, where analysts mean earnings estimates for the August 23, 2012 report were $0.412 compared to the company's actual results of $0.41, and also for the November 20, 2012 report date, where the analyst mean of $0.497 was close to the actual company report of $0.49.
The Skippy acquisition may offer a valuable lesson into the value of branded products, as well as international expansion. A mere international presence will not guarantee rosy results, even in the world's second largest economy, China. The good news is that the execution risk is somewhat mitigated by the current presence of Skippy, the #1 peanut butter brand in China.
Execution risk aside, the company seems to feel that another protein will complement their longer term strategy that has been centered on ham and pork products, and also focused inside the U.S. Hormel's 2012 revenues were 94% U.S. and 6% outside the U.S. Adding $100 million of Skippy's $370 million in revenues is outside the U.S. to the existing $490 million of Hormel's $8.23 billion in 2012 sales moves the international exposure by one percentage point, to 7%.
What is neither easy to calculate nor forecast are the synergies of adding Skippy to the product mix in the U.S. market, and also any new products that may come out of the acquisition.
Investors looking for above-average earnings growth potential compared to the S&P 500 as well as a lower than average risk of unpleasant surprises have rewarded Hormel shares, which have doubled since 2009.
Disclosure: I have no positions in any stocks mentioned, and no plans to initiate any positions within the next 72 hours. I wrote this article myself, and it expresses my own opinions. I am not receiving compensation for it. I have no business relationship with any company whose stock is mentioned in this article.