Advances in biotechnology continue to drastically change the world we live in through radical ways. It was not much longer than 80 years ago that Penicillin was discovered, opening the door to a new era of modern drug discovery. Yet since that time, the world has evolved into being able to create scientific tools and products that allow men to observe and manipulate the very genetic material of organisms. It is through such technological innovation that has led to this point that new drugs, technologies, and practices have evolved. By becoming a cornerstone to societal advancement, biotechnology has become a forward-looking hope and promise of future profits by an investing community that is both willing and patient.
For speculators in biotechnology, the nature of investment is often filled with long periods of stagnation. When it comes to this field in particular, research and development plays a long and tedious role. Companies are often not measured on the basis of their present day earnings capabilities, but on the expected degree that one day they will be able to yield a healthy profit. It is for this reason that turning to conventional wisdom of those "in the know" can often be a telling sign for investors looking to trade companies in this field.
Following insider transactions can often be a fortuitous read into the upcoming direction of a company's stock. In particular, one can often take the most confidence when following the lead of a company's head officer himself. When a Chief Executive Officer buys his own company's stock, it can often be a strong symbolic commitment from the one in charge. After all, the CEO tends to be the one who is most familiar with the company's everyday operations.
But not every person invests on the same timeframe or rationale as these officers. In the same sense, not every large insider purchase should also be treated with the same level of confidence by individual investors. The following five companies have recently had significant insider purchases by their CEOs. While they each express a form of value on some level, investors should continue to formulate their own conclusions on the basis of the underlying risks that remain. All of the following data was taken as January 4, 2013.
| Company | Mkt Cap. | Price/Book Ratio | Current Ratio | Total Cash | Operationg Cash Flow |
| --- | --- | --- | --- | --- | --- |
| AVEO Phamaceuticals, Inc. (NASDAQ:AVEO) | $373 million | 2.63 | 5.96 | $190 million | ($102 million) |
| Opko Health, Inc. (NYSEMKT:OPK) | $1.53 billion | 10.12 | 1.90 | $42 million | ($26 million) |
| Pacific Biosciences of California, Inc (NASDAQ:PACB) | $106 million | 0.79 | 9.71 | $119 million | ($73 million) |
| Progenics Pharmaceuticals, Inc. (NASDAQ:PGNX) | $107 million | 2.47 | 6.38 | $41 million | ($37 million) |
| United Therapeutics Corporation (NASDAQ:UTHR) | $2.62 billion | 2.55 | 3.16 | $503 million | $270 million |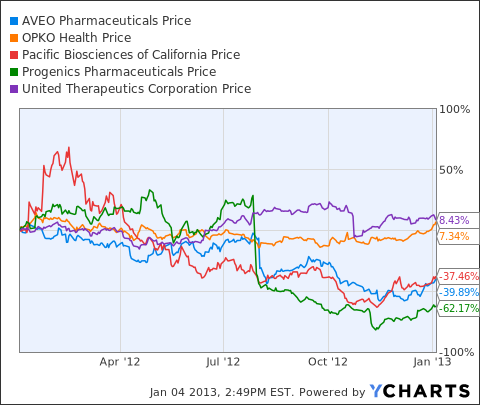 | Symbol | Shares Outstanding | CEO Name | Last Purchase Date | Purchase Description | Shares Owned | Form 4 Link |
| --- | --- | --- | --- | --- | --- | --- |
| AVEO | 43.73 million | Tuan Ha-Ngoc | 12/13/12 | 75,000 @ $6.65 | 0.43 million | Link |
| OPK | 298.18 million | Phillip Frost | 01/03/13 | 25,000 @ $5.03 | 135.60 million | Link |
| PACB | 56.16 million | Michael Hunkapiller | 12/03/12 | 154,100 @ $1.75 | 1.50 million | Link |
| PGNX | 33.92 million | Mark Baker | 12/26/12 | 1,142 @ $3.01 | 0.16 million | Link |
| UTHR | 50.80 million | Martine Rothblatt | 12/27/12 | 4,167 @ $52.40 | 0.71 million | Link |
A Few Thoughts To Consider:
· In mid December, Mr. Ha-Ngoc's purchase was joined by additional insider purchases by company directors Robert Young, Henri Termeer, and Raju Kucherlapati. This represented a short-lived, but note-worthy cluster-buy scenario in Aveo.
· Mr. Phillip Frost has continued to daily purchase large tracts of shares in OPK. For the last two years, he has taken a very significant position in Opko and now indirectly owns almost half the company's outstanding shares. It remains likely that his large purchases have continued to directly contribute to the company's recent increase in share price.
· After a rough launch of its premiere product PacBio RS, Pacific Biosciences has gained increasing praise from its academic client base after fixing numerous bug issues. In a noteworthy event, CEO Michael Hunkapiller elected to receive a $1 salary going forward after making several large insider purchases. CFO Ms. Susan Barnes elected to do the same, as noted in my article found here.
· Though the end of November and the beginning of December marked the resumption of Mr. Baker's automatic purchases in PGNX, the CEO made several large direct purchases on the open market in the middle of November.
· Ms. Martine Rothblatt reinitiated her automatic purchases in UTHR in mid-December 2012. Previously, she has done this in December 2011 and June 2012, when the stock was in the low- to mid-40s range. It may be noteworthy to also consider that she was exercising options and selling shares in the mid- to high-60s range through most of 2011.
Disclosure: I am long OPK, PACB. I wrote this article myself, and it expresses my own opinions. I am not receiving compensation for it (other than from Seeking Alpha). I have no business relationship with any company whose stock is mentioned in this article.